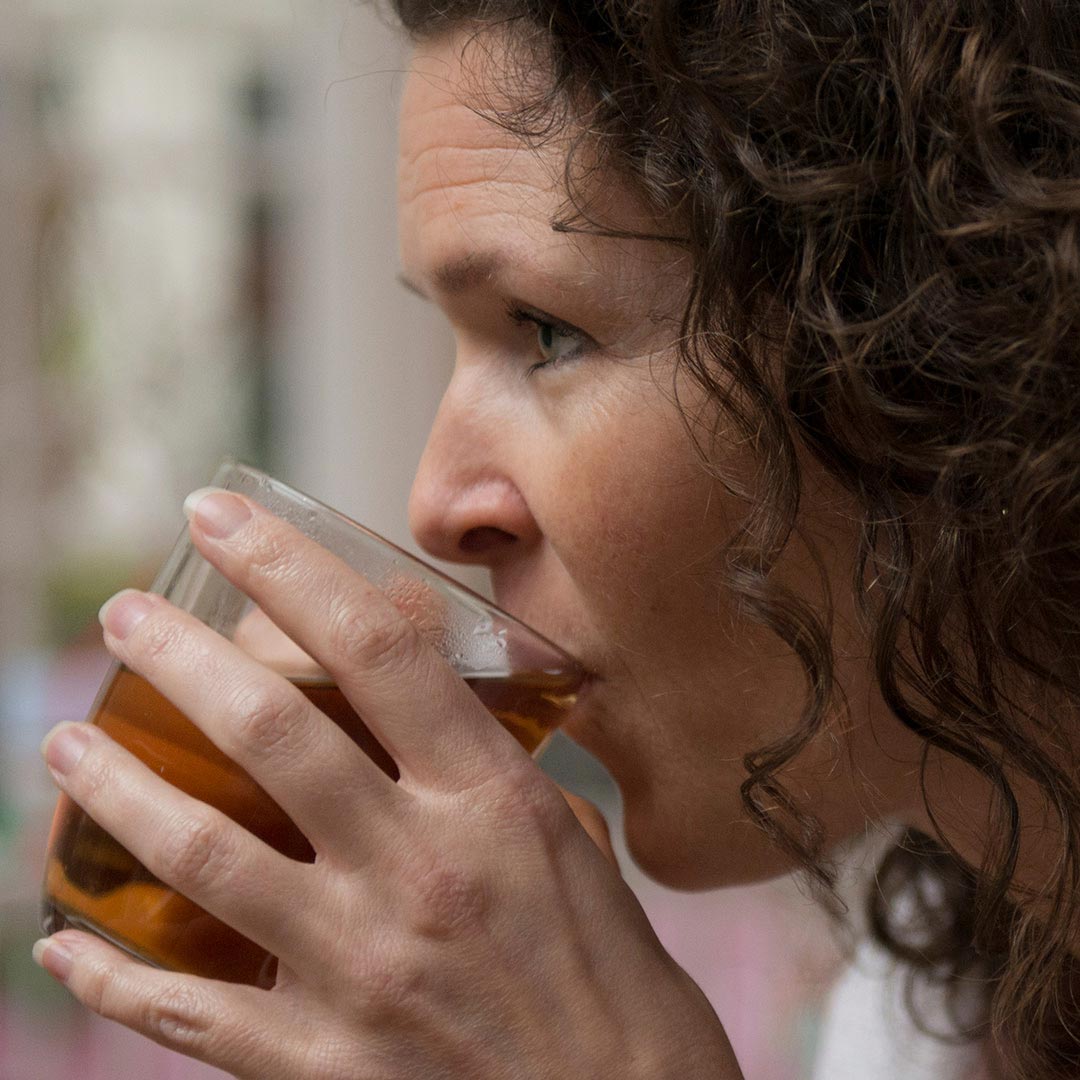 Thank you so much for visiting The Slow Living Guide! I hope it inspires you and gives you tools to invite more slow elements into your life.
I'm Marjolyn and in this picture you see me as you're likely to find me at any given moment on any given day. Tea is my fuel and I couldn't imagine life without it. If you have a minute to spare, pour yourself a lovely cuppa as well and I'd love to tell you a bit about myself and why I started this website.
I'm an introvert with a natural preference for cosiness, small groups of people, meaningful conversations, harmony and quietness. I love tea, candles and comfy clothes. I try to keep life simple, own no more than I really need, enjoy the wonders of nature and look after our precious planet as good as I can. I can make puzzles all day, I sing in a classical choir, I make lists for everything and my favourite holiday involves a cottage in the mountains or countryside to spend quality time with my husband and teenage daughter and son.
It wasn't until a burnout that I realised life was living me instead of the other way around. The fast pace of today's world might energise some people, but it left me completely drained and overstimulated. I started thinking about what I really wanted to do with my life. I quit my fulltime management job in 2014 to take some time off and discover what I wanted to do. Turned out there really wasn't a quick answer to that question.
Over the years, I've slowly started to find pieces of the puzzle: I wanted to spend more time creating, to help others to thrive, to focus on small and simple, to build one-on-one relationships, to be part of a group of like-minded souls, to surround myself with positivity, beauty and gratitude.
Somewhere along my journey I learned about the concept of slow living and it immediately struck a chord. It's not so much something I'm good at, but something I long for and deem important. And even though I'm Dutch, I found out that the English way of slow living really resonated: the colourful language, the beautiful nature, the traditions, the seasonality, the cosy cottages, and not in the least the wonderful like-minded people I've met.
As I was navigating all the inspiring content I found on the subject, I was so happy to discover that there are so many people out there that acknowledge that we need to redefine our definition of success. That we need to make time for the things that matter most to us in order to live more fulfilling lives.
ABOUT THE SLOW LIVING GUIDE
Finding all this content about slow living also made me feel quite overwhelmed. It seemed a matter of luck if I'd find an inspiring coach, a talented maker or a beautiful place with similar values as my own. I've found that there are so many like-minded businesses out there, but they are scattered over the internet.
So, I wondered: what if I'd create a place where they could come together and make it easier for them to connect with their people? A platform that would become the place to be if you wanted to be inspired on slow living? A positive force in spreading this slow living ethos and meanwhile support women that run their own small independent business?
And so, The Slow Living Guide was born. I'd like to think of it as a meeting place for those who are looking for and those who are offering inspiration on slow living. All the content of this website is meant to guide you towards living a slow, simple, soulful and sustainable life, whatever that looks like to you.
The Slow Living Guide is a carefully curated directory of brands and inspiring resources to help you live a slow, simple, soulful and sustainable life.
SLOW
Living at a slower pace, making time to enjoy what matters most to you and feeling good about it is the essence of this website. TSLG supports independent small businesses that embrace the elements of slow living both in their life and work and inspire by sharing their journey.
SIMPLE
When you think of it, there's really not so much that you need in order to be happy. This site is about enjoying the simple things and simplifying your life. No fancy or complicated lifestyle must haves or must do's to be found here.
SOULFUL
All content on this site comes from people who have a heartfelt desire to make a positive change in the world, who encourage you to live your best life and who advocate finding the joy in small things every day.
SUSTAINABLE
It's important to pay attention to and take care of the world around us. Sustainability is an important part of the slow living ethos. TSLG supports small businesses that make a genuine effort to limit their impact on the environment.
Where would you like to go?
There isn't one universal definition of the concept of slow living, but somehow one intuitively has a notion of what it means. It's living intentional and being mindful of what you're doing and why.
Learn more about the concept, art and ethos of slow living with tips on how to embrace it in different areas of your life: home – food – clothing – community – nature – mindset – travel.