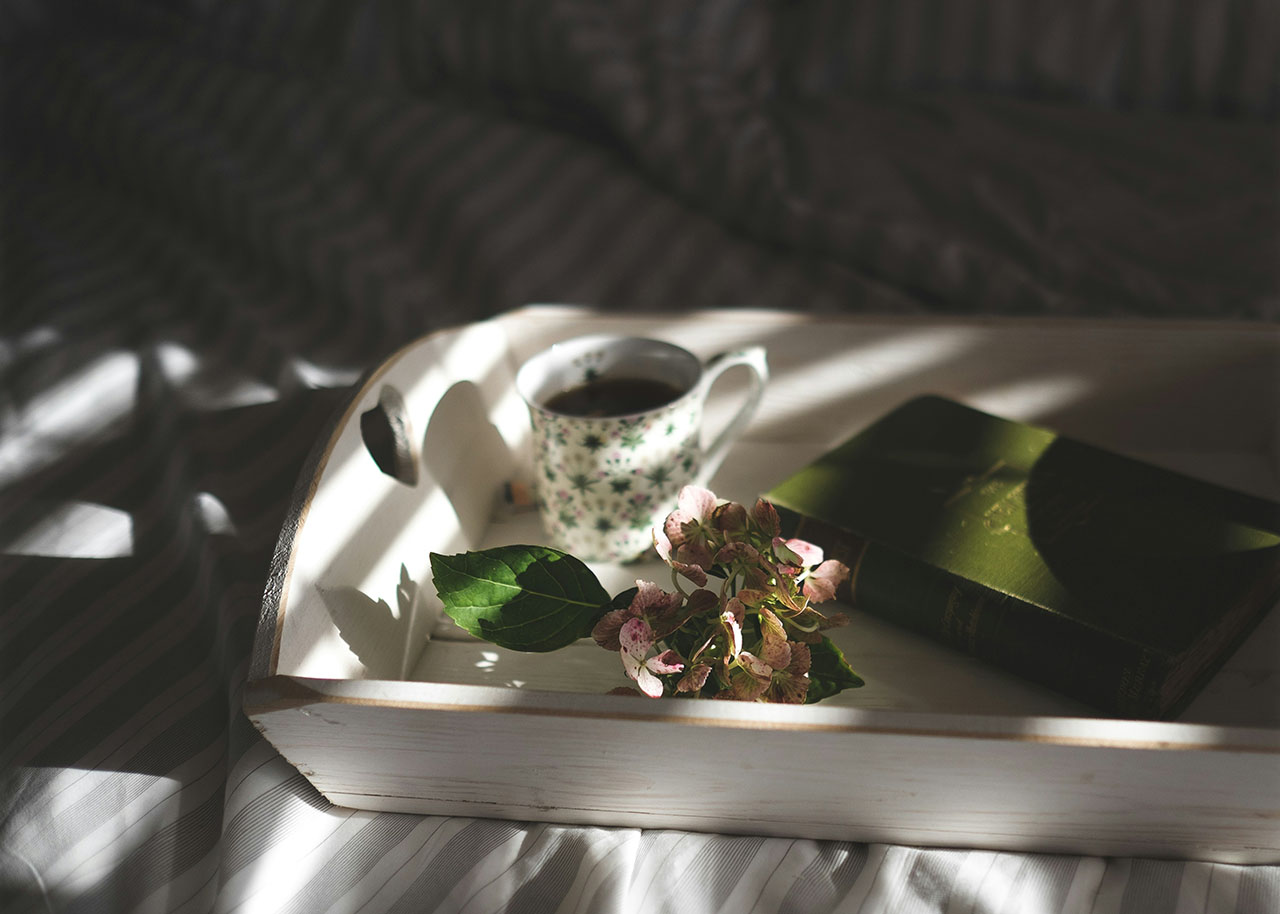 There isn't one universal definition of the concept of slow living, but somehow one intuitively has a notion of what it means. It's living with intention and being mindful of what you're doing and why. That's why words like simple, cosy, calm, warm, slow, natural, connection, harmony, joy and seasonal are often associated with it. And it's activities like reading, drinking tea, cooking, walking, handcrafting, gardening and photographing that evoke this feeling.
In this fast paced world, it's more than ever important to stay connected to the things that matter most to us. To be intentional with our precious time. But how to do that and where to start? Below you'll find more information about the fundamentals of slow living. Learn about simple ways to invite more joy, calm and simplicity in your life in this beginner's guide to slow living.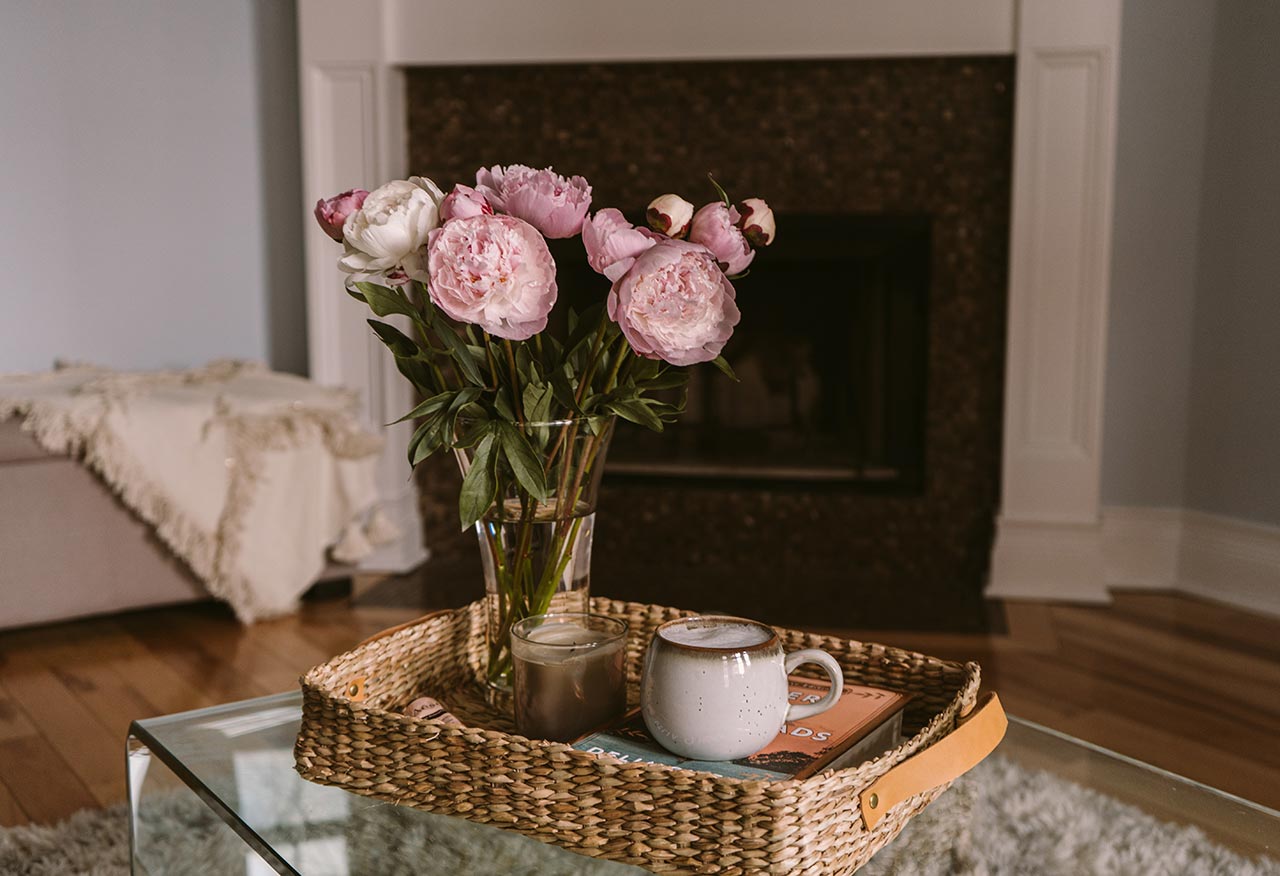 Home
Your home is your shelter, your safe haven, your escape from the world and the place where you recharge yourself. Make it as cosy as you can! In our changeable climate, with lots of rainy days and long winter nights, the home is traditionally considered the refuge where families gather to regain their strength to deal with the outside world. Home is your 'snuggle headquarter', so you'd want it to be cosy and comfortable. When you look for cosiness outside the home, it's often found in places that remind us of a cosy home: with soft lighting, comfortable furniture and a pleasant ambiance. Here are some tips on how you can easily turn your home into your slow living nest.
Tips for creating a cosy home
#1 – Let natural light in
Open your curtains and windows and welcome the light and fresh air in. There's no faster way then getting a bit of the outside indoors then by making sure your windows are clean and exposed. This way you can catch as much light and vitamin D as possible.
#2 – Use soft lighting
Soft lighting creates an atmosphere of ease and gentleness. Tone the lights down when it's time to chill. Make sure you have multiple sources of soft, warm light instead of one source of bright light. Add dimmers to adjust the lighting according to your mood or activity. And light candles, lots of candles!
#3 – Curl up by the fireplace
If you have a fireplace, don't hesitate to use it! It's the ultimate place to sit quietly by yourself or spend time with others, gaze at the fire and feel the cosiness and warmth. In summertime you can enjoy the fire outside, by building a bonfire in your backyard, on the beach, on your campsite. The smell of burning logs will always remind you of these happy moments.
#4 – Choose cosy furnishing
Wrap yourself in warmth and softness with some fluffy throws and pillows on your couch. Or use them to build yourself a cosy nook for reading and chilling. Sink back, put your feet up and relax while feeling comfortable and safe. Put flannel bed sheets on your bed when it's winter and don't forget that chunky bedspread! Fresh bedding and towels are also a treat to yourself.
#5 – Stick to neutral colours & natural materials
Stick to a neutral, warm colour scheme like greys, creams and browns. There's no room for overly bright or cold colours if you want to create a slow ambiance. You can add colour through your accessories and change these with the seasons. Darker ones for winter, lighter ones in the summer. Use wood for furniture or accessories and play with different textures.
#6 – Create a cosy nook
Create at least one spot in your home dedicated to relaxing. It could be a reading nook, a spa styled bathroom or maybe even your own quiet room. Get out all the fluffy pillows, candles and flowers and make a spot for you to chill and be still. Just to shut off the world and recharge yourself.
#7 – Add greenery
Add some greenery to your home. Houseplants have a calming effect, purify the air and are very decorative. Make it a habit to have some fresh flowers in your home every week. Grow your own herbs in the garden or at your kitchen sink. Bring the smells of outdoors in: pines, fruits, herbs, leaves.
#8 – Cherish your life accessories
Ceramics, books and vintage goods are considered to be very cosy items. They all tell the story about your life and add character to your home. So cherish your favourite tea mugs, those books you've read a thousand times but never get tired of and that old lamp you found at that little antique shop on your holiday. But mind tip # 9…
#9 – Keep only what you need & love
All the things that surround you on a daily basis must be useful and/or make you happy. All other stuff you really don't need. Not only does it take precious space in your home, it also has an effect on the mind. Getting rid of your clutter is a process that has a cleansing effect on your space and head alike. You might want to check out the principles of a minimalist lifestyle.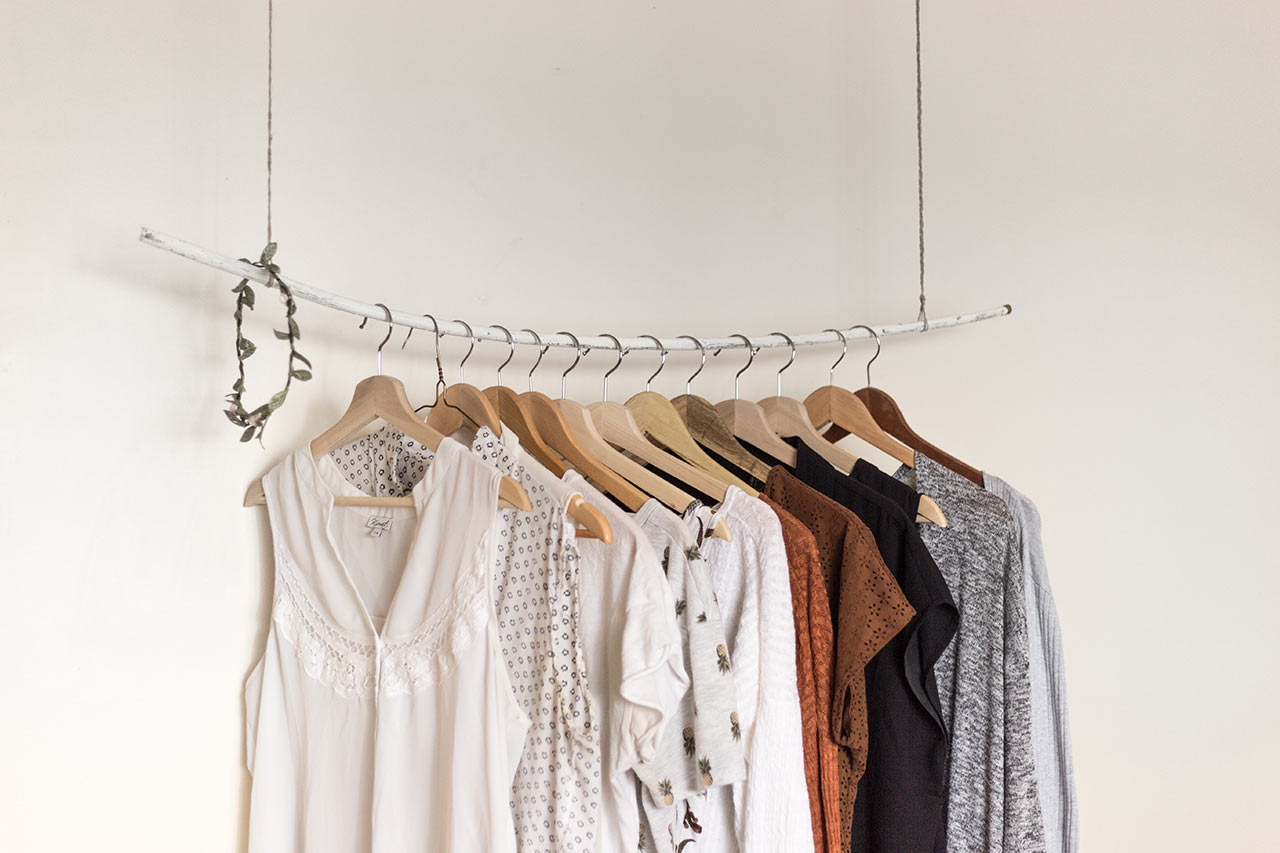 Clothing
When it comes to fashion, slow living is all about keeping it casual. But that doesn't mean you can't be stylish at the same time. Whether you're a total homebody or love to get out of the house, make sure you feel comfortable in what you're wearing. Is it snuggly socks, furry boots, chunky jumpers, oversized tees? After a busy day outside the home, slipping into your favourite home outfit is a great way to leave the hustle and bustle behind you. Comfortable clothing helps you get into lower gear and unwind instantly. Look at your wardrobe and find out what it takes to make it really work for you.
Tips for creating a comfy wardrobe
#1 – Get comfortable
If you want to dress slow-style, it's all about comfort. Go for natural, soft, warm and sturdy materials like wool and leather. Buy a size up for an oversized, loose fit. Don't wear too much make up or overly style your hair, 'au naturel' is the motto here.
#2 – Dress for the weather
Ever heard of the saying 'There's no such thing as bad weather, just bad clothing?' Take a look outside and dress accordingly. If you're properly dressed, even the worst weather is not so bad. And think of that hot shower when you get home! When it's cold, wear mittens, a scarf and/or a hat. When it's wet, use a raincoat or an umbrella. When it's snowing, wear (snow)boots.
#3 – Jumpstart decluttering your home
Use your wardrobe as a start of decluttering your home. According to tidying guru Marie Kondo, your clothing is the perfect place to start if you want to get rid of all the clutter in your home. Only keep what you love, everything else needs to go.
#4 – Create a capsule wardrobe
Become a wardrobe minimalist and create a capsule wardrobe. This is a collection of a few essential items of clothing that don't go out of fashion, such as skirts, trousers, and coats, which can then be augmented with seasonal pieces.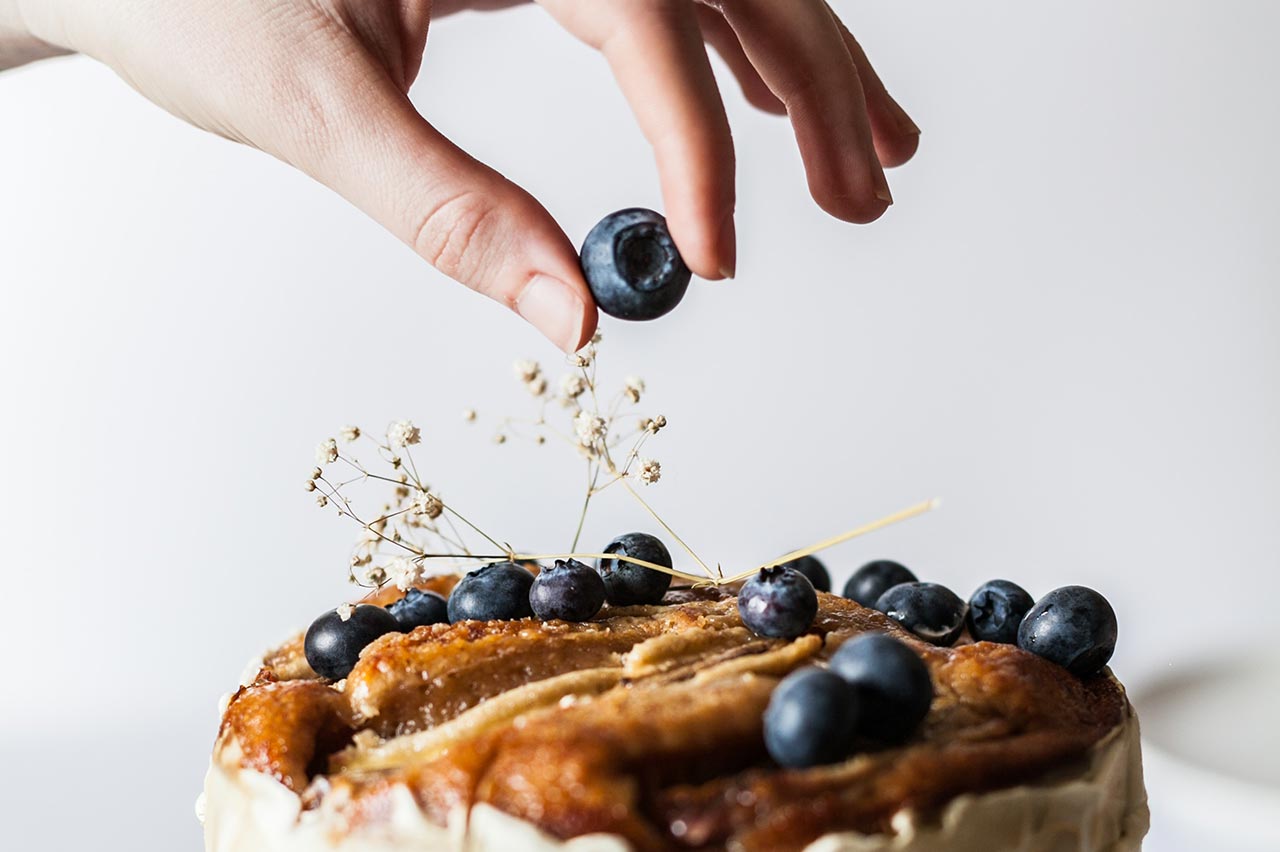 Food
Savouring a hot drink on a cold day, sipping wine at sunset, sharing pastries with friends… Slow living is all about indulgence when it comes to food. Since the beginning of times, meals were the time to get together, share stories, prepare the catch of the day on the fire that also brought warmth, comfort and protection. It created a feeling of belonging: this is your tribe and here you're safe. Ok, nowadays we have fully equipped kitchens and central heating and we don't have lions chasing us. Other than that, we still need to feel warm, comfortable and protected. Your meals still offer the perfect opportunity to sit down, share events of the day and connect with your tribe or just yourself.
Tips for creating a comforting meal
#1 – Eat homemade
You don't have to be an experienced chef to enjoy a slow food experience. The cooking itself is a big part of the slowing down. There's nothing like a home cooked meal and the rule of thumb is: the longer it cooks, the cosier it is.
#2 – Enjoy dinner out
Don't feel like cooking? Dinner out in a really cosy place is the next best thing. You can focus on your company while being looked after. Look for venues with a lovely ambiance, friendly staff and delicious food that make you feel like home.
#3 – Use local & seasonal
Live in tune with the seasons and eat food that's typical for your area and time of year. It's not only better for the environment, it's also likely to taste better and gives you an opportunity to really experience the season and its characteristics.
#4 – Savour something hot
Warm foods and drinks are comforting, especially on those cold and dark winter days. Warm yourself with mulled wine, hot tea or cocoa or have some homemade soup or stew that's been simmering on the stove for hours or even days.
#5 – Create traditions
Create a food tradition that everyone can look forward to: seasonal dinners with your siblings, a yearly high tea with your college friends, a monthly potluck dinner with your friends, neighborhood drinks, themed weekdays with your family, etc.
#6 – Try new things
New experiences make you grow. Stimulate your senses by using some ingredients you haven't tasted before. Or learn how to cook a dish you haven't tried before.
#7 – Share food
Togetherness is an important ingredient of slow living. What better way than to enjoy a meal together? Cook or bake something delicious and share it with friends, family or neighbours. Serve your meal on large plates to share.
#8 – Be mindful
Pay attention to what you're making and what you're eating. Let fresh ingredients go through your hands, cut the vegetables by hand, smell the herbs, chew slowly and taste the different textures and flavors. Treat your meal as an experience.
#9 – Organise an event
Foods and drinks make a perfect theme for organising a festive event. Have a tea, wine or chocolate tasting, throw your best friend an old fashioned high tea party or have a BBQ potluck style where everyone brings something homemade.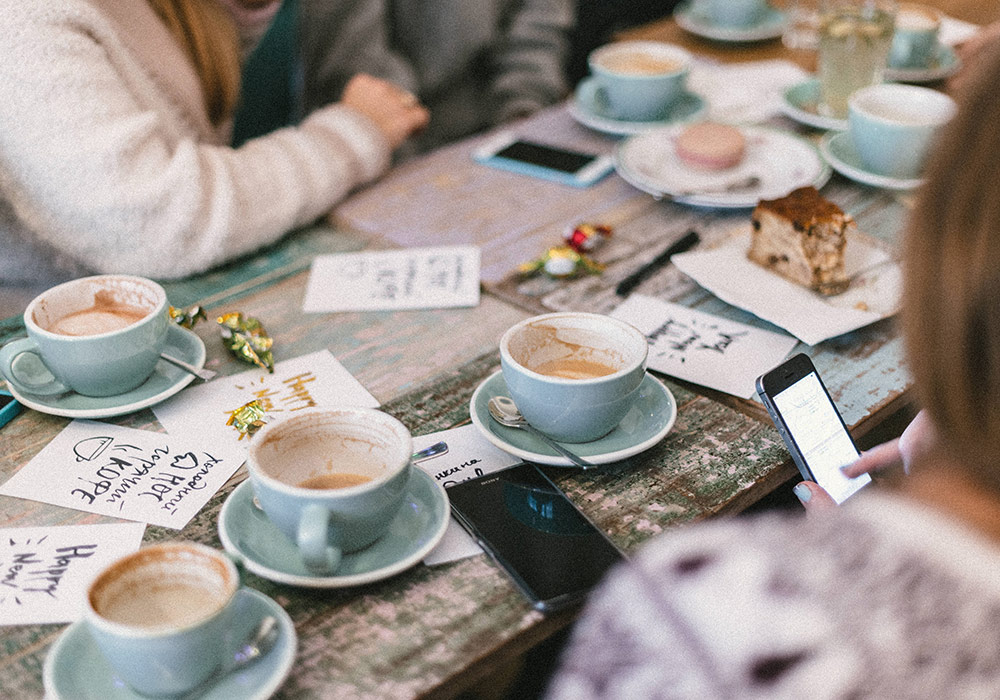 Community
Sharing moments with family and friends is important when it comes to wellbeing and happiness. It creates a feeling of belonging. Whether you're an introvert or extrovert, people are social creatures by nature. There's a strong connection between the way people feel about their relationships and their overall happiness in life. The relationships we value most are those in which we experience things together. The ones in which we feel understood and there's mutual trust and support. Spending time with a group of 3-4 members of our community is generally considered most cosy and comfortable. The perfect compromise for introverts and extroverts to hang out together, somewhere in between socialising and relaxation.
Tips for connecting with your people
#1 – Make time
Maintain your relationships consciously. Don't wake up one day and regret that a lifetime has passed and you weren't there. Show your appreciation, get involved, be attentive. It doesn't have to be on a daily base as long as you make a conscious and heartfelt decision about how and when you want to get social.
#2 – Share life
Not all of us are naturals when it comes to sharing what's on our minds. But letting people in on your life, goals, successes, failures, quirky features and also knowing this from the other strengthens bonds. By letting the world know what you're up to, you also enlarge the chance of meeting people that share your interests and world views.
#3 – Find your tribe
Everybody has a tribe, find yours! If it's not the people that are around you now, then find out where they are. There are always like-minded people that get you. Hang out with them face to face or virtually.
#4 – Start traditions
It's great to start traditions. Traditions give something to look forward to and give you the warm feeling of being part of something. It could be the yearly long weekend skiing with your friends, spending New Year's Eve at a particular place, eating a family recipe at grandma's birthday every year; the possibilities are endless.
#5 – Create memories
Creating memories together is creating narratives. Years from now, you'll be sharing stories and reminisce by the campfire: do you remember that time we did so and so and we laughed so hard that we almost wet our pants? It's often the little moments that make the best memories.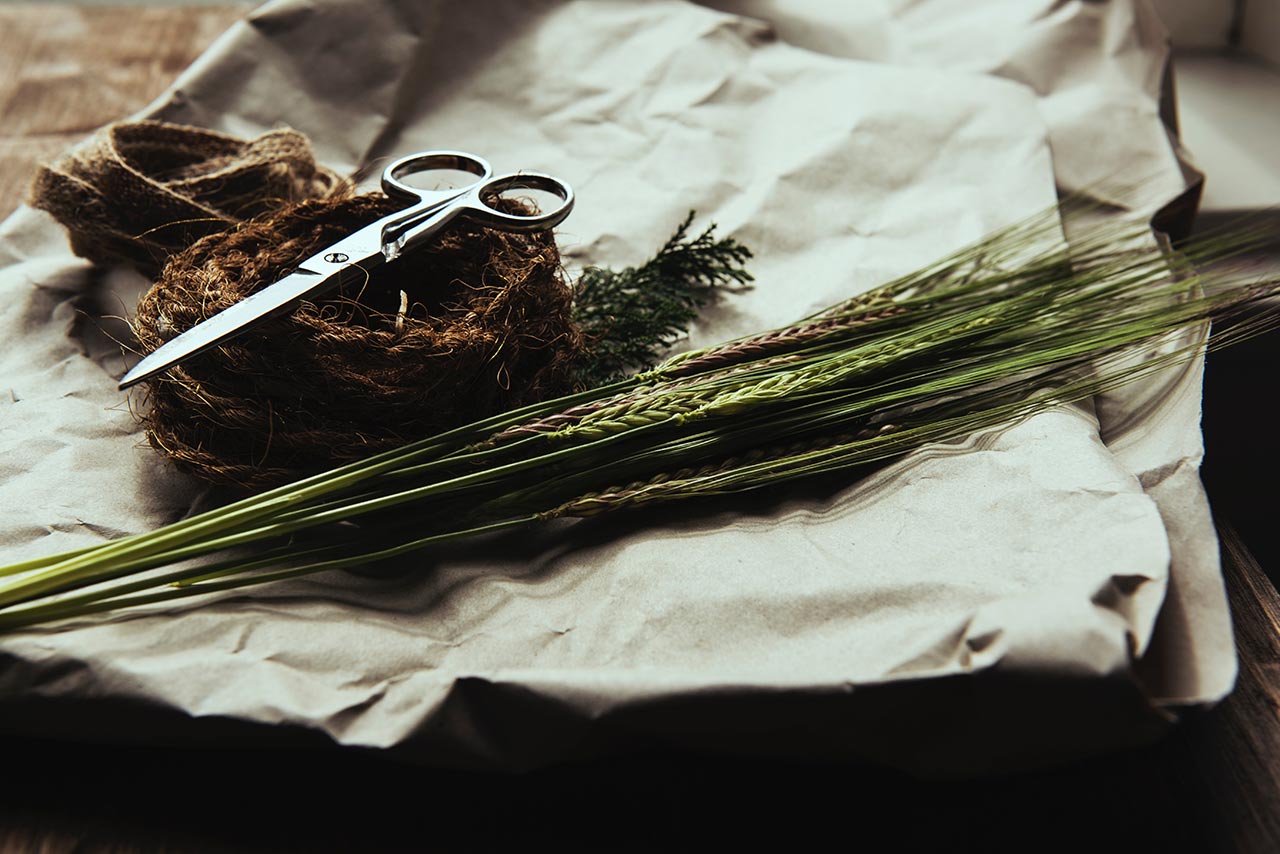 Creativity
Nothing is more fulfilling than creating something with your hands. Arts & crafts like knitting, woodwork or painting are delightful ways to get yourself out of your head. Because of the focus and concentration these activities require, it takes your mind of other thoughts and worries and it taps in on your creative side. It has the ability to make you forget about time and your surroundings. There's no greater sense of pleasure than finishing a project that's a result of your creativity and skill. It's working with natural materials, the quietness and the accomplishment that make arts & crafts activities very rewarding on its own. On the other hand, they can add even more cosiness to an already cosy setting: sitting by the fireplace, with a cup of tea, enjoying a bit of music or fine company. That's slow living at its best!
Tips for getting creative
#1 – Get a creative hobby
Get a hobby that involves using your hands and your creativity. There are so many activities to choose from: knitting, sewing, woodworking, colouring, arranging flowers, crocheting, writing, crafting, pottery, painting, sculpting, quilting, etc. There's bound to be something you like! And if you don't know how to do it: take up a class, watch a tutorial or start a group.
#2 – Give a home made gift
Give someone a homemade gift. It's a lovely way to show your appreciation and love, as a homemade gift requires time and effort and might be just the perfect tailor made treasure. You can also get creative with a gift that's usually not considered very creative, like money. This way you'll allow someone to save for something they really love ánd make it fun to give and get.
#3 – Exercise mindfulness
Use arts & crafts as an exercise in mindfulness. Mindfulness and art making both use the right side of your brain. This is the side where all your creativity, intuition, visualisation and emotion houses. Using this side of our brain gives you the ability to create and to be experiential. Immerse yourself in a creative project, and you'll easily lose track of time.
#4 – Wonder how it's made
Look at something handcrafted you have and wonder how it's made. Did it take a lot of craftsmanship to create? Do you feel the love, time and energy the maker put into it? Is it a one of a kind item? What's its story? Were you the first owner or did it have a life before you got it? Ordinary items can become extraordinary if you know the story behind it.
#5 – Create memories
Creating memories together is creating narratives. Years from now, you'll be sharing stories and reminisce by the campfire: do you remember that time we did so and so and we laughed so hard that we almost wet our pants? It's often the little moments that make the best memories.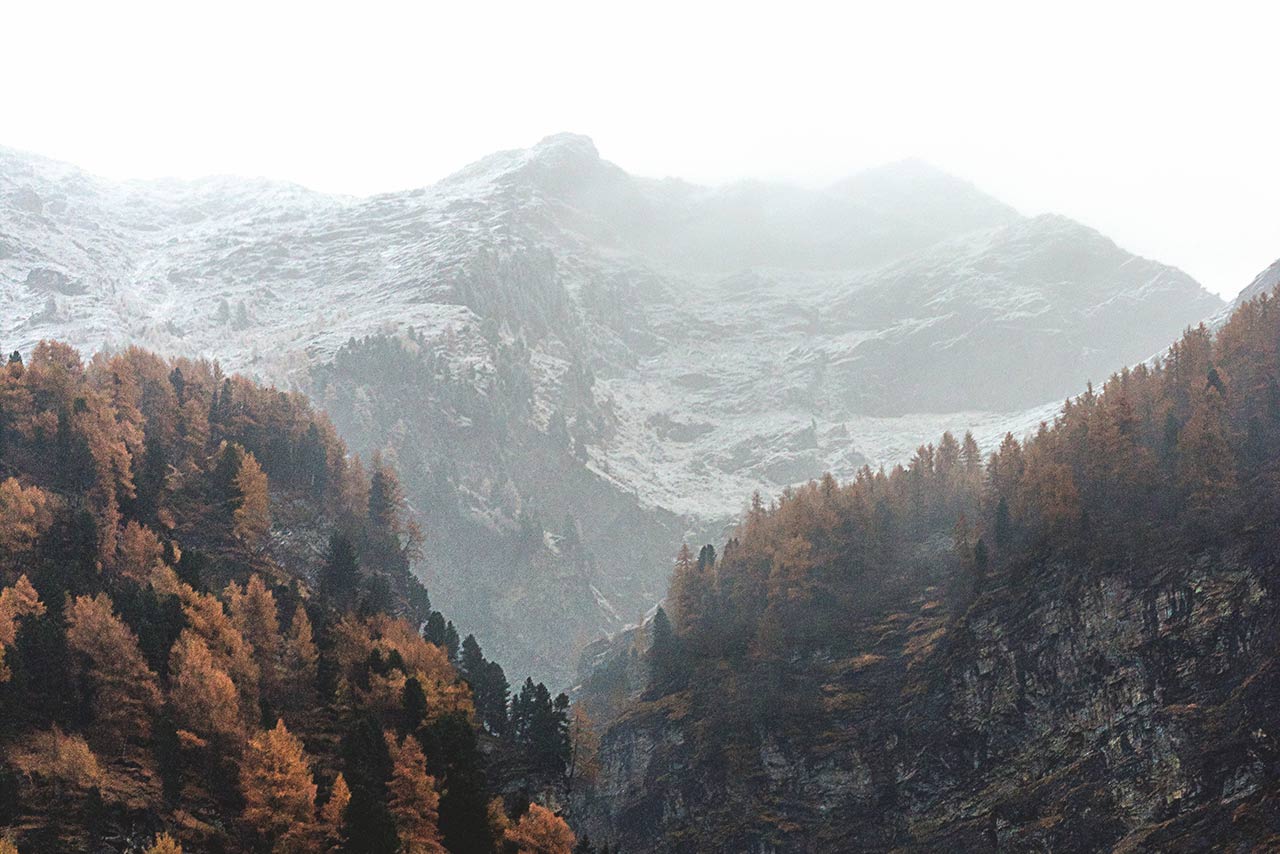 Nature
Being outside in nature, enjoying all it has to offer and living in harmony with the seasons are at the core of slow living. Sunbeams on your face, beautiful flowers in the garden, snow storms raging outside… Being out in nature offers many benefits to both your physical and mental health. It reduces stress, improves your memory, encourages physical activity and relieves depression. The slow-factor of nature also lies in the shelter we seek from the elements of nature. When you're all cold and wet from a bike ride home through the rain and you change into warm, fluffy house wear and have yourself a hot cocoa. Or when you've been out skiing all day and you're chilled to the bone and you warm yourself by the fireplace while hearing the wind blowing around the house. At those moments when we feel warm and safe, protected from the outside world; can it get any cosier than that?
Tips for enjoying nature
#1 – Embrace simplicity
Being in nature brings a certain simplicity to your life. When you head out in nature, there's no need to engage with all your electronic gizmos, your to do lists and keeping up socially. You only have few things to concern yourself with. It's a simple, rustic and slow way of life which is wholesome for the soul.
#2 – Exercise outdoors
Take your exercise outdoors. There are many sports you can practice outside throughout the year. If you're into active sports, go walking, running, biking, surfing or street dancing. But you can also take less intensive activities outside: meditation, yoga or thai chi. A great way to organise follow-through, is joining a group.
#3 – Just go outside
No matter the season, just go outside whenever you can. Take a walk in the woods or your local park, go out for a picnic, take a lunch stroll, collect leaves in autumn, meditate in your garden, go for a bike ride, eat outside, have a BBQ with friends. Take in the fresh air, clear your head and continue your day with new energy.
#4 – Stimulate your senses
No better place to stimulate the senses than outside in nature. Listen to the sound of the rain, watch the magnificent colours of sunset, smell the earthy air of autumn, feel warm sand or dewed grass on your bare feet, taste the sweetness of strawberries or the saltiness of sea water. You just have to notice.
#5 – Grow your own food
Grow your own food. Taking care of your own produce and picking ripe treasures is a short track to achieve mindfulness. Herbs are a great way to start, even if you don't have green fingers. They're easy to grow in your garden or at the kitchen sink, smell delicious and you can use them in your cooking.
#6 – Appreciate what's on your doorstep
Don't forget to appreciate the beauty of nature that's right on your doorstep. Even if you've seen it a thousand times before; try to look with different eyes. Notice the changing colours, the flowers blooming, a field in the foggy morning or just a hedgehog in your backyard. You can find beauty everywhere.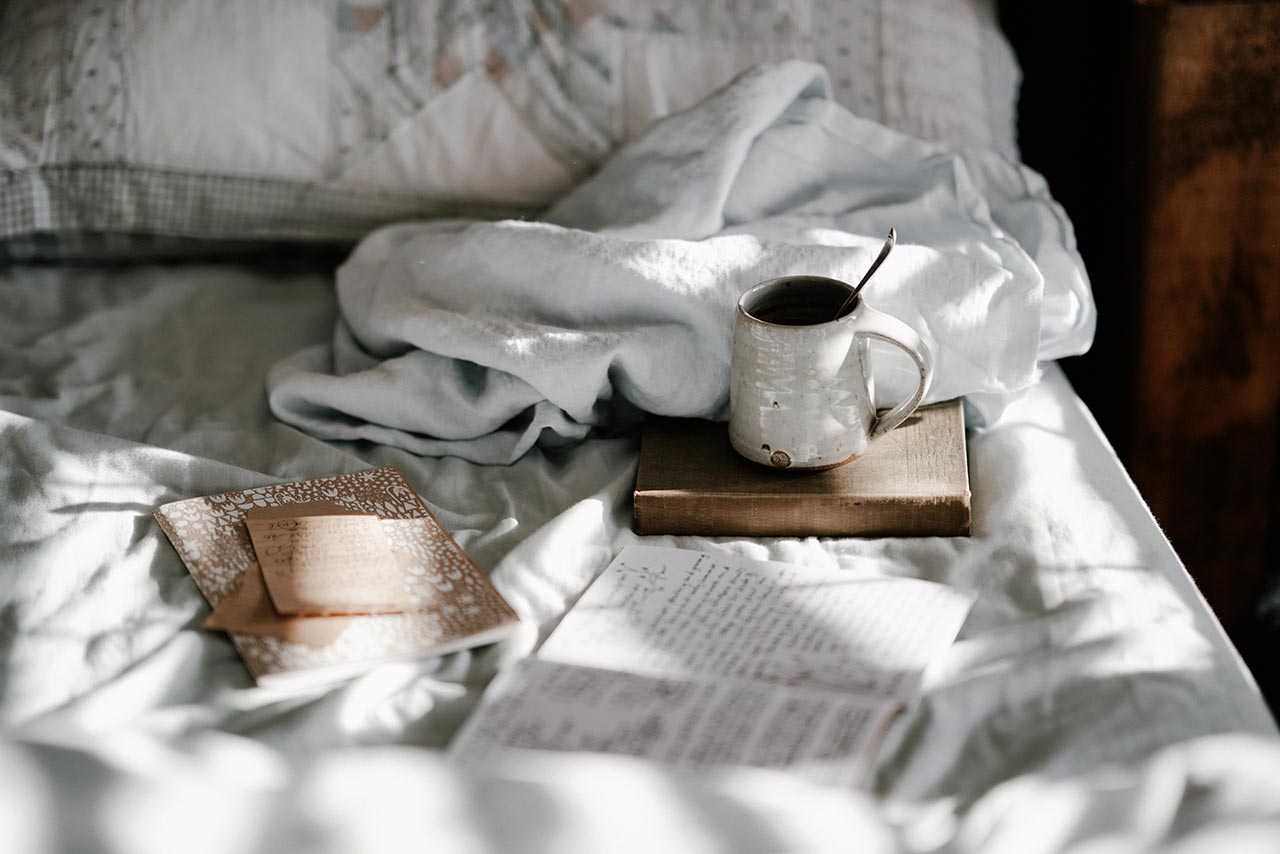 Mindset
Your mindset and attitude towards life has a major impact on your ability to see and embrace your blessings. Be grateful, be positive…and celebrate! Wellbeing is a key element of slow living. Slow living encourages you to live well and notice the small joys along the way. There's more to it than surrounding yourself with cosy things and wrapping yourself in snuggly blankets. It's your mindset that's equally – or even more – important. You don't need all kinds of extraordinary events in your life to be happy. Slow living is really more about feeling a general contentment and gratitude mindset on a day-to-day base than living your life from one high to the next.
Tips for slowing the mind
#1 – Be present
Slow living is all about being present in the here and now and savouring the moment. Unplug. Switch off. When you're always 'on', there's a good chance you won't even notice a small moment of joy when it's right in front of you. Put down phones, turn off the TV, put away your to do list and get rid of everything that prevents you from taking in this very moment.
#2 – Practise gratitude
It's a good habit to regularly stop and think about what you're thankful for. If you're focused on what you don't have, you'll never be happy. Start a gratitude journal and write down three things every day that you're thankful for. Also express your gratitude towards others. Write a thank you note to somebody who changed your life or bring a loved one flowers for being there for you.
#3 – Focus on the positive
With all that's going on in the world, it's sometimes hard to imagine that things will turn for the better. But let's not forget that there are a lot of good things in the world and your life, too. You have a choice what to focus on. Try to make a positive difference and remember that energy flows where attention goes. Celebrate small wins and be proud of how far you've come.
#4 – Take care of yourself
A lot of people struggle with the fast pace of life and balancing responsibilities at home and at work these days. If you have trouble relaxing and feel guilty about not spending enough quality time on yourself or your loved ones, it's time to revise your priorities and put self-care on top. Spend a day on your own, take a long bath, reflect on your life goals and adjust if necessary.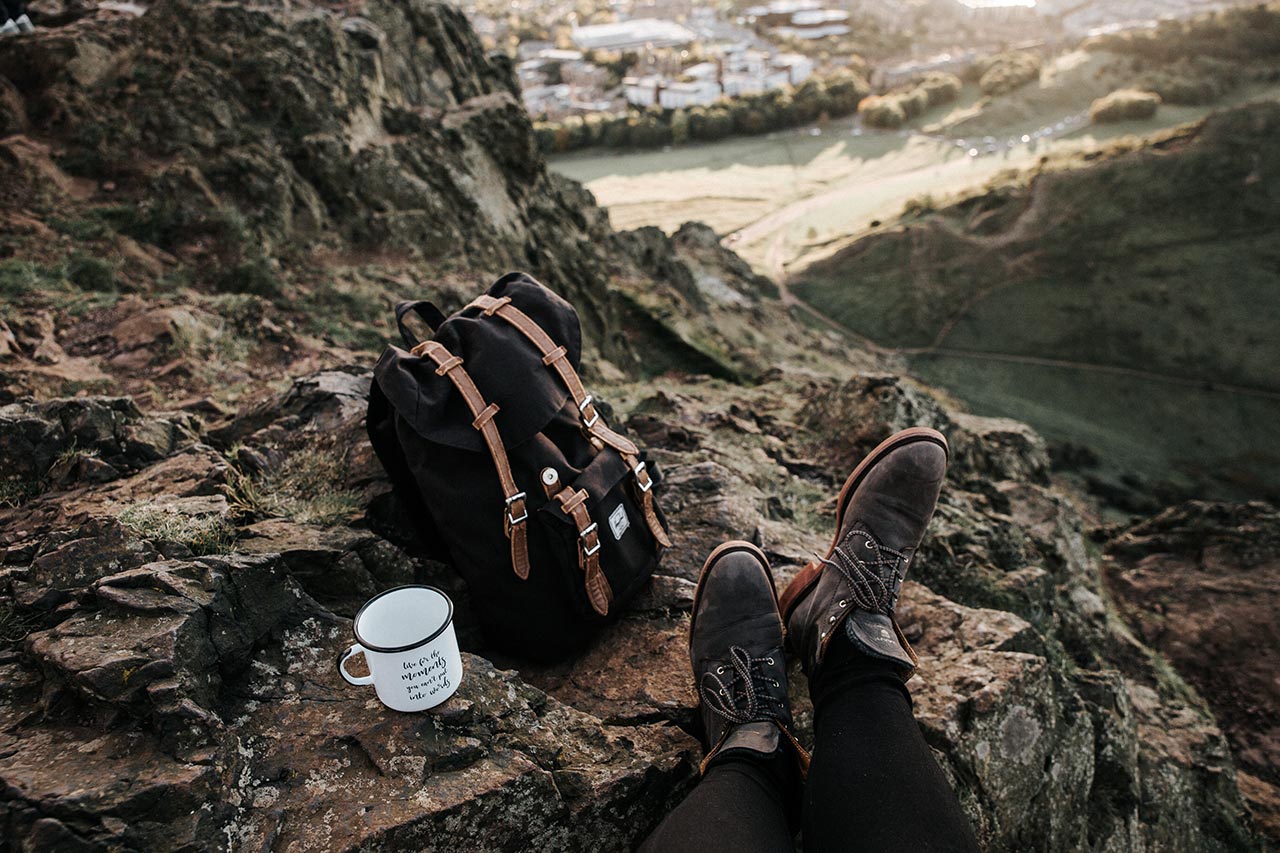 Travel
Sometimes you may feel like you're stuck in a rut in your daily life. Other times you just yearn for a real adventure. Maybe you're craving some peace and quiet in your hectic life or feel disconnected from family or friends. Leaving your day-to-day life and worries behind and going on a trip is a wonderful and powerful way to break the daily grind, work on the completion of your bucket list, find inner peace and reconnect with loved ones (including yourself). You don't have to go far; travel to a peaceful place just outside the city limits and it can make as much of a difference as going half way down the globe. Find some tips below for the slow living approach to travelling.
Tips for slow travel
#1 – Live in the moment
When you travel, you don't have to concern yourself with daily chores and action plans. The opportunity to live day to day is one of the best parts of travelling and it's a recipe for slow living. Basically, all you need is a roof over your head, decide what or where you're going to eat and what activities you want to pursue (if any). Travelling helps your body and mind reset in a way you can't achieve at home.
#2 – Break with daily routines
The great thing about travelling is that it gets you out of your daily routines instantly. The moment you leave your home, you'll need to access a different skill set. It requires resourcefulness and maybe stepping a bit out of your comfort zone to ask a stranger for directions, set up a tent for the first time or go ziplining when you're afraid of heights. Everything you do that's out of the ordinary is fuel for your mind and makes you grow.
#3 – Expand your horizon
Travelling helps to open your mind. By being exposed to new people, places and cultures, you'll realise there's not one way to live your life. A different setting helps you discover and consider new ideas. You'll gain new perspectives and come home with different notions and possibilities.
#4 – Recharge regularly
Not everyone's idea of a relaxing and rejuvenating get away is the same. For one person it might be basic camping in a forest. For another it's indulging a luxury wellness retreat. Know what kind of getaway energises you and take that kind of break regularly to recharge.
#5 – Reconnect with yourself
Leaving your daily surroundings offers a wonderful opportunity to reflect on your life. Take time to let your mind wander and see where it goes. Being away from home can bring new perspectives on what you want out of life, work and relationships.
#6 – Strengthen relationships
The shared experience of travel brings people together. A family getaway, a weekend with friends, a romantic trip for two or celebrating a milestone can reinforce important relationships. With the demands of today's fast paced world and relatives and friends often spread across the globe, travelling together offers an opportunity to connect with each other and create shared memories away from the hectic pace of life at home.
#7 – Appreciate home
One of the best things of travelling is…coming home. When you're caught up in your daily life, it's easy to loose sight of what you have. Exploring other places will renew your appreciation for your home and your life. Once you're back, you'll feel that there's really no place like home.
If you've made it so far, well done! You now have a better understanding of the fundamental elements of slow living. Hopefully you've found some valuable takeaways to help you incorporate more slow moments in your day to day life. 
Visit our directory and blog for more inspiration. Would you like to receive regular inspiration in your mailbox? Then sign up for our monthly newsletter Snail Mail with a variable mix of slow living inspiration, small sustainable brands, news, events, exclusive offers & occassional freebie.
Marjolyn is the founder of The Slow Living Guide. She's an introvert with a natural preference for cosiness, small groups of people, meaningful conversations, harmony and quietness. She loves tea, candles and comfy clothes. It's her mission to support small sustainable brands by offering them a home on this website and inspire people to live a slower, simpler, more soulful and sustainable lifestyle.
Would you like to receive inspiration from The Slow Living Guide regularly?
Sign up for the newsletter here.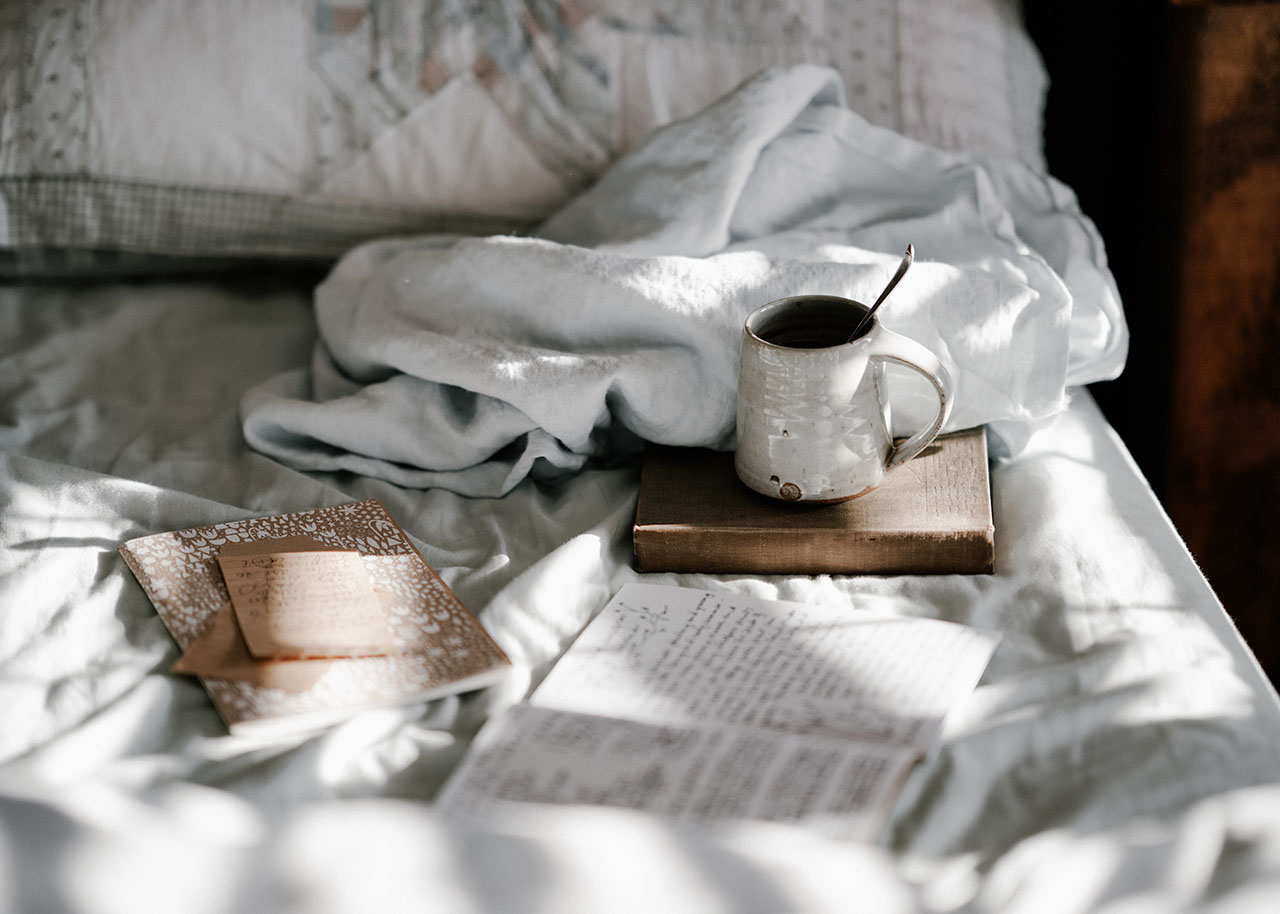 Your slow living reading list
Revamping your home's exterior not only enhances its charm and comfort but it also elevates its curb appeal.
Transforming your living space into a warm and cosy haven doesn't have to come with a hefty price tag. In this guide, we explore practical and cost-effective measures to make your home snug without breaking the bank.
Outsourcing can contribute to the overall success of your business. Discover key processes that can significantly benefit from outsourcing.