Blue Brontide  |  Sammy Sonier
'Sustainability is all about meeting the needs of the present without compromising the ability of future generations to meet their needs.'
Sammy is the founder of Blue Brontide, a beautiful eco-friendly children's toy brand. She created her lovely business after realising just how many plastic toys are going to waste after just a few months of playing. With a desire to offer children's items that were not only beautiful but also built to last, she started her own business. She now offers gorgeous quality heirloom toys, tableware, and more and her little boy is chief product tester!
We talk to Sammy about what sustainability means to her and how she wants her business to be a force for good. Her never-ending flow of ideas, her love of the seasons, running a business while looking after little ones, her passion for her garden, and always being short on time – she finds that in the end it all comes down to finding the right balance between work, family, and play. 
words by Marjolyn Poutsma and Sammy Sonier / images by Lola Jones Photography
It's lovely to talk to you! Can you tell us a bit about your background and what inspired you to start your business Blue Brontide?
'I'm Sammy, the face behind Blue Brontide and mummy to nearly 4-year-old Alfie, chief product tester at Blue Brontide! Before creating Blue Brontide, I worked in numerous jobs – customer services for a vintage fashion line, insurance (urgh), composite laminator, amongst other various roles before I decided to head out on my own journey and work for myself.
Blue Brontide was created with the whole concept in mind that children's items should not only be beautiful but built to last.
After having Alfie, I found that as he grew, what once was the most essential must have item often ended up being just another plastic 'thing'. It ended up taking space and being disposed of with more new stuff taking its place. With a bit of research, I found that over 40% of babies' products have a lifespan no longer than 4 months! Hence Blue Brontide was born with a desire to shift this concept of children's products with an 'expiry date', to become the eco-friendly baby and kids' collection that's designed to keep and be passed on to new members as the family grows.
Heirloom quality toys, tableware and more…I hope my customers can find a treasure amongst our pages to keep and cherish.'
You offer the most delightful and beautiful children's toys. Where do you source your products from and what are the qualities you look for in your suppliers?
'As well as my own line of products I also stock beautiful children's items designed & made by small independent sustainable brands based across Europe.
I choose products that are made in small batches and never mass produced, made in sustainable materials from brands that respect our planet and the people on it. All the brands on Blue Brontide give back by either working with certain charities, planting trees, or donating a percentage of their profits. I'm proud to be supporting and highlighting these brands' beautiful products.'
Sustainability is a core value of your brand. What's your take on this subject and how is this reflected in the various parts of your business? 
'As both a consumer and a business owner I think sustainability is key, so it's always been at the very heart of what I want to do here at Blue Brontide. Sustainability is all about meeting the needs of the present without compromising the ability of future generations to meet their needs. Therefore, all the products on my website are created with a minimum of waste, in sustainable and organic materials, always 100% plastic free and made with consideration to the environment. I've strived to ensure that all the products I make or choose to stock have a life-long lifespan. They are hopefully being passed down the family so fewer items will make their way to landfills.
I also offer 100% plastic free shopping and packaging, and 1 tree is planted with every order through Ecologi. I like to call this buy one, get one tree!'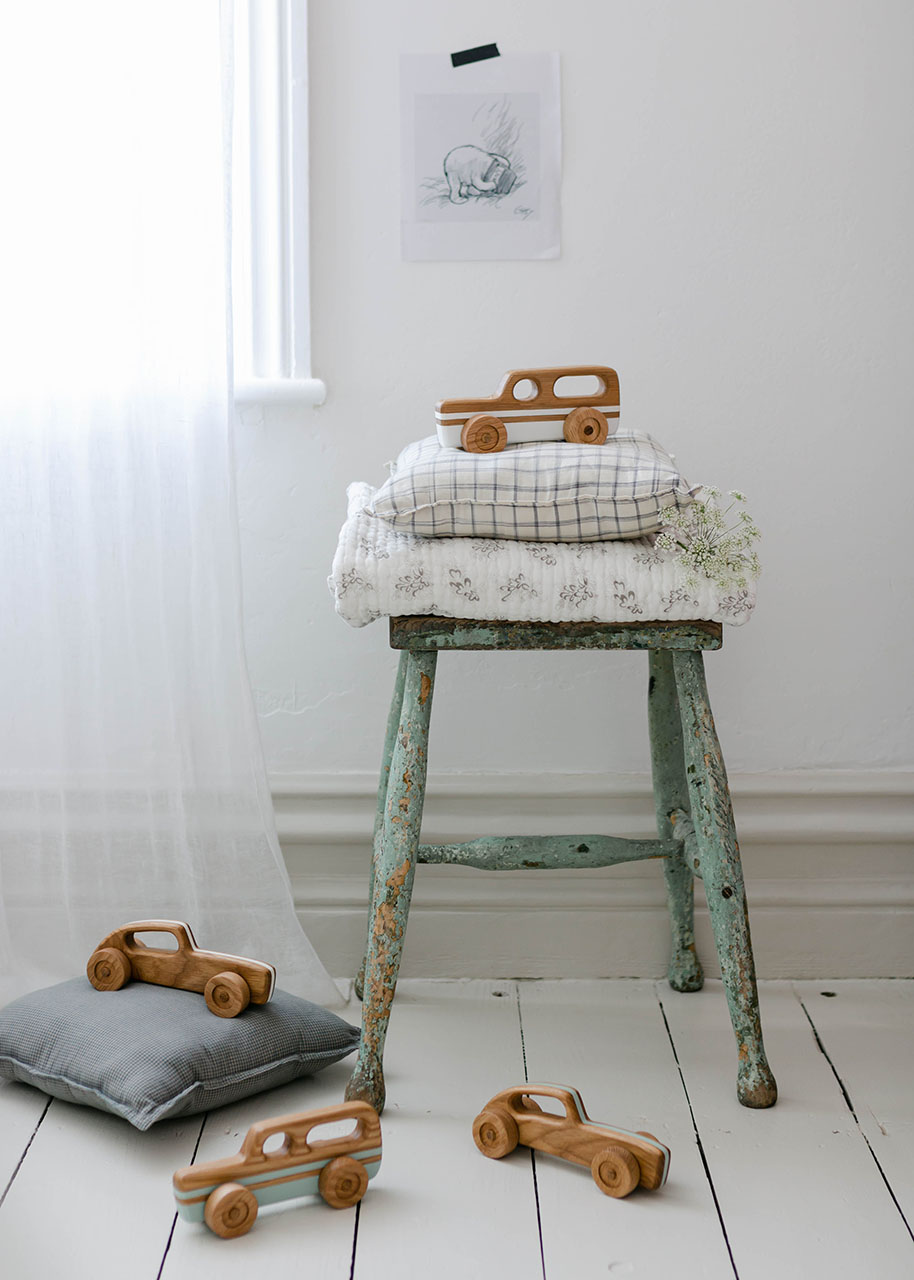 What are other signature elements of your brand?
'I think the key signature element of Blue Brontide is that every item is built to last. Our motto is 'made for keeps and designed to be passed down the family, gathering memories and stories along the way'. We don't do seasonal trends, all the items at Blue Brontide are timeless and built for longevity.
You regularly add new products to your collection. Where do you get your ideas for new items from?
'I honestly have so many ideas that I can't complete them all! I could do with a whole team of designer/makers, but it's just me so I jot all my ideas down and choose my favourites to work on and go from there. I'm always working on something so that's why there's always something new being added to the website.'
Is there a season of the year you love most?
'I'm not sure I have a favourite. I do love Autumn, it's such a pretty season. But I love Spring for all the newness and the flowers blooming, Summer for the lovely sun, and winter for the festivity and snow.'
Which item in your collection is your bestseller and why do you think people like that one so much? Do you have a personal favourite?
'It has to be the 'Eco Wooden Bear Breakfast Set'. He's the perfect breakfast time companion, he's happy to hold your boiled eggs & soldiers, join you at parties as a treat board and join you on teddy bear picnics. He's made from solid oak wood, ecologically friendly and fully biodegradable and…everyone loves a cute bear!
I think my own favourite items are the retro station wagons in duck egg. I designed them with inspiration from iconic station wagons from the '60s and I just think they make adorable heirloom 1st birthday gifts!'
Do you have any plans or news that you'd like to share with us?
'I've just brought out a new range of handcrafted heirloom wooden flower presses, all made in solid sustainable oak wood and each has a hand-painted floral design. They are designed for budding botanists and nature-lovers of all ages to preserve blooms, leaves, seaweed and nature finds!
I wanted to create a flower press that's built to last as a timeless treasure that can be passed on from generation to generation with tales to tell and fond family memories of preserving flowers together. A one-of-a-kind gift for young nature enthusiasts.'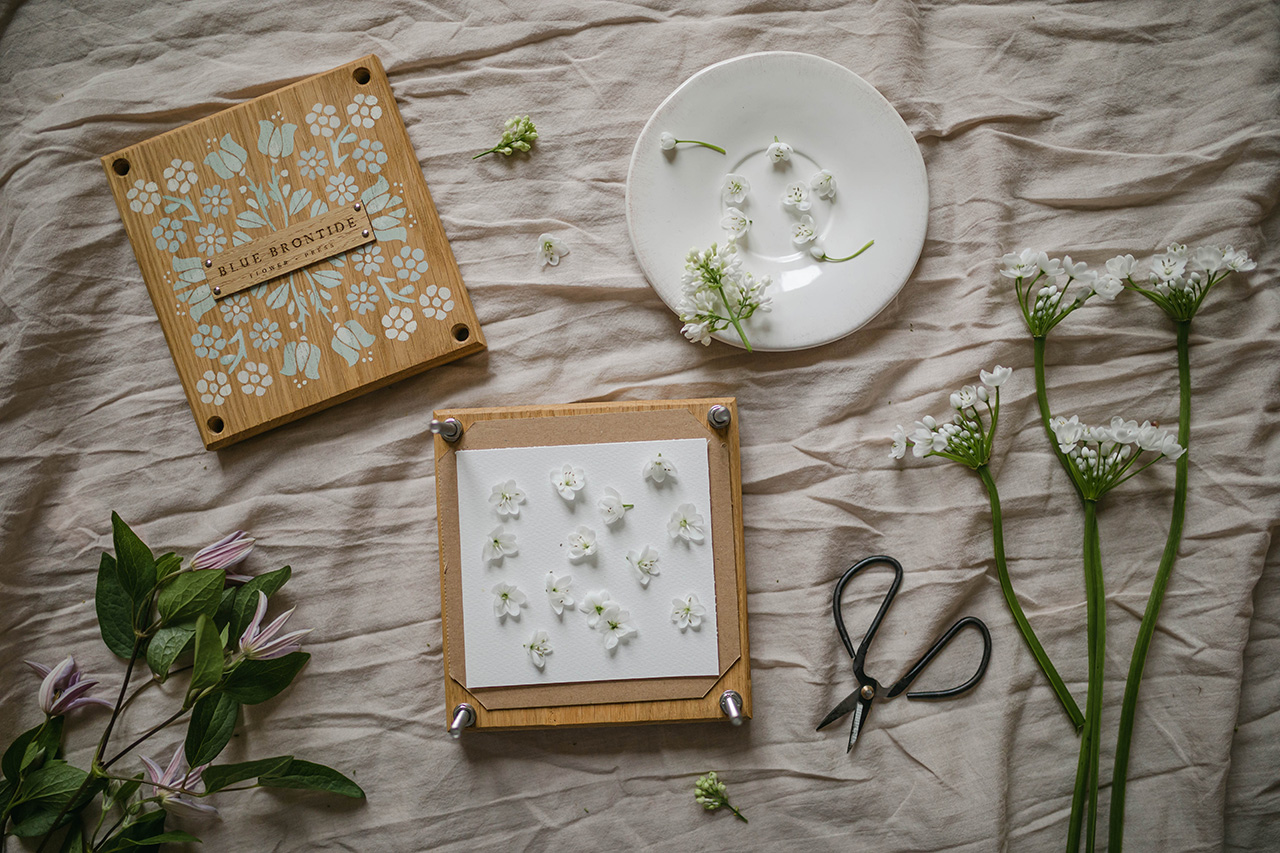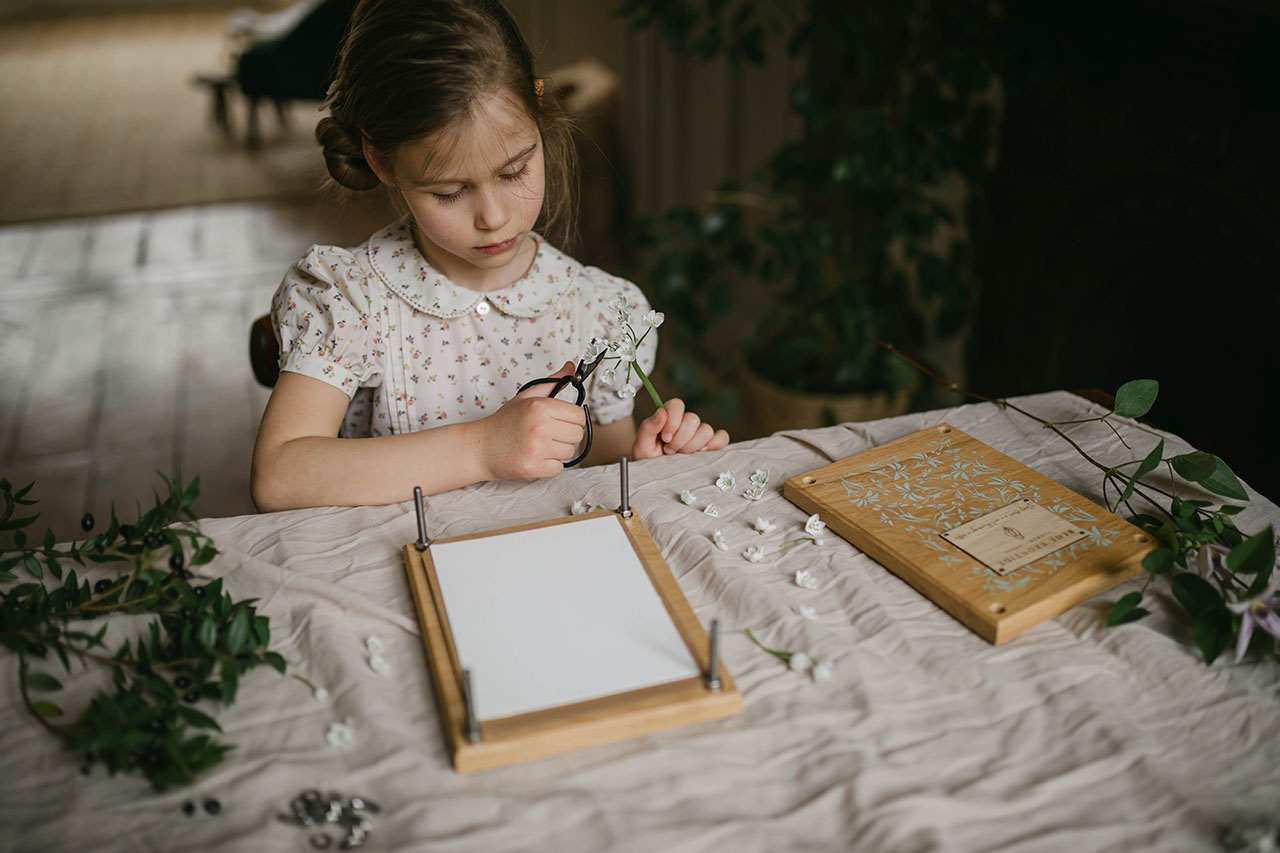 What part of running your business do you enjoy most?
'The creativity, the designing and making something from start to finish and getting lost in the process.'
Is there anything you struggle with as a small creative business owner?
'Time. I think it's the same for most small business owners. There just doesn't seem to be enough time in the day to get everything completed. And as a parent, there's the added struggle of juggling work and looking after little ones. But somehow, as all parents know, you somehow manage to balance it all. I'm trying to work more cleverly by using automations for social media. I find planning and lists help in a big way with prioritising the most important tasks. And it's also very satisfying to tick jobs off on your to do list!'
What are your other passions or interests?
'I'm passionate about my garden. I enjoy growing veg in my little veg patch, growing wildflowers, planting sunflower seeds with my little one to see who can grow the tallest one and looking after my chickens. I love the whole homesteading lifestyle and it's a lifestyle I'm trying to emulate. While we do have a long way to go, little by little our family has become more self-sustainable.'
What does slow living mean to you?
'To me slow living means taking time to enjoy the little things, like taking time to prepare and enjoy meals together as a family or reading a story to my little one before bedtime. I think it's about finding the right balance between work, family, and play.'
What materials/resources do you use?
'Beautiful oak wood and eco-certified water-based paints. These are the materials I use for all the items I create. So, whether I'm creating tableware, toys or flower presses, there's a consistency across the range due to the materials being the same.'
How do you get in the mood to work?
'Crime podcasts. I know, a little dark right, but so interesting! I get lost in the psychology and sociology of each case whilst working. I think in another life I could have been a criminologist.'
What's in your mug beside you:
'It's some form of tea, green tea, earl grey, breakfast tea… I'm a true Brit!'
Who inspires you?
'It changes depending on what I'm working on. I've been working on my flower presses recently and as I was looking at and researching a lot of books on pressing flowers, I stumbled across this beautiful book 'Floriography'. It's an illustrated guide to the Victorian language of flowers by Jessica Roux. The images are stunning and the symbolism and meaning of flowers makes for a very interesting read.'
How do you relax after work:
'A walk on the beach or the local woods with my family and Dudley, our much-loved dog, or a nice cold beer sat in the garden.'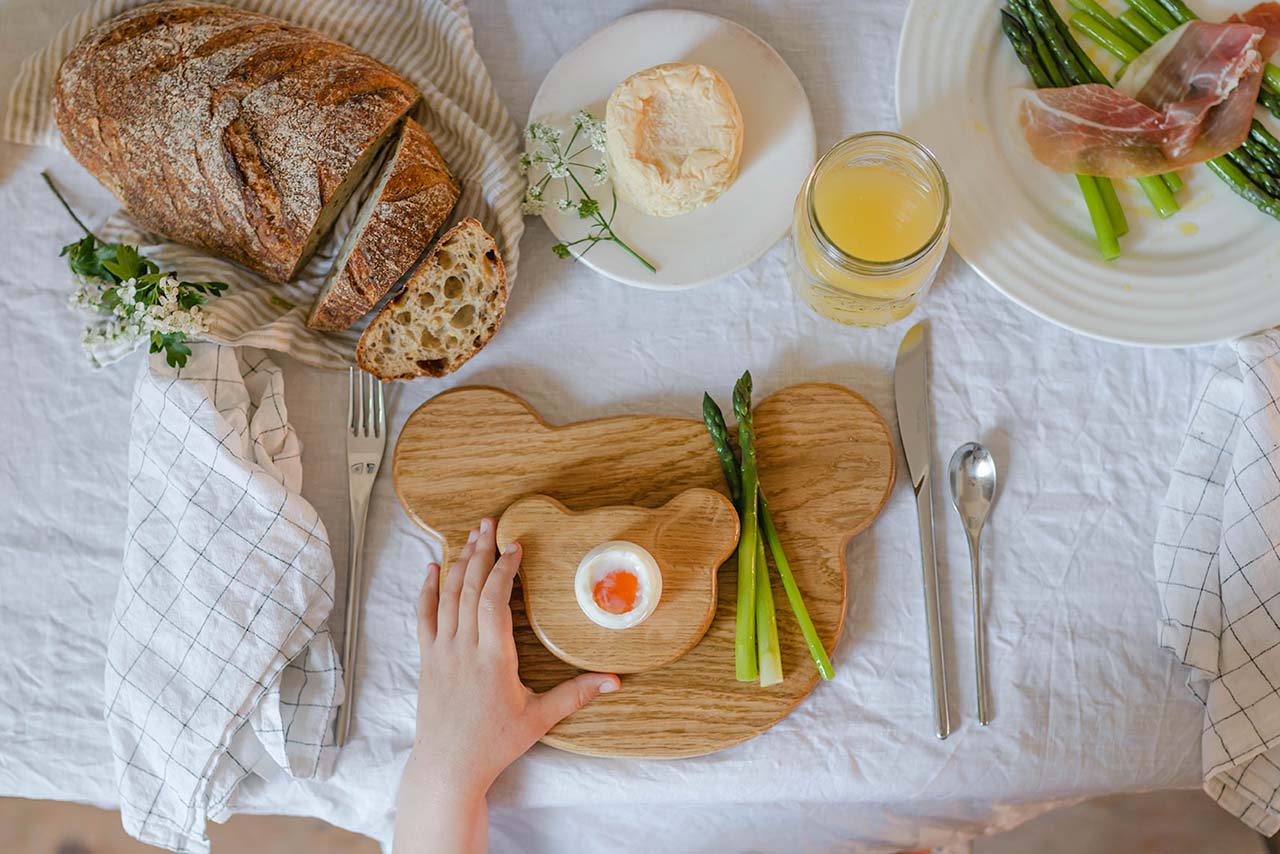 SAMMY'S TRADE SECRET
How to finish hard woods
'Sometimes it can be hard to get a good finish on hardwood such as oak. You can wet the wood and leave to dry. This brings the grain out and you get a better finish when sanding.'