The Art Of Slow Living On An Island | Ella Mclachlan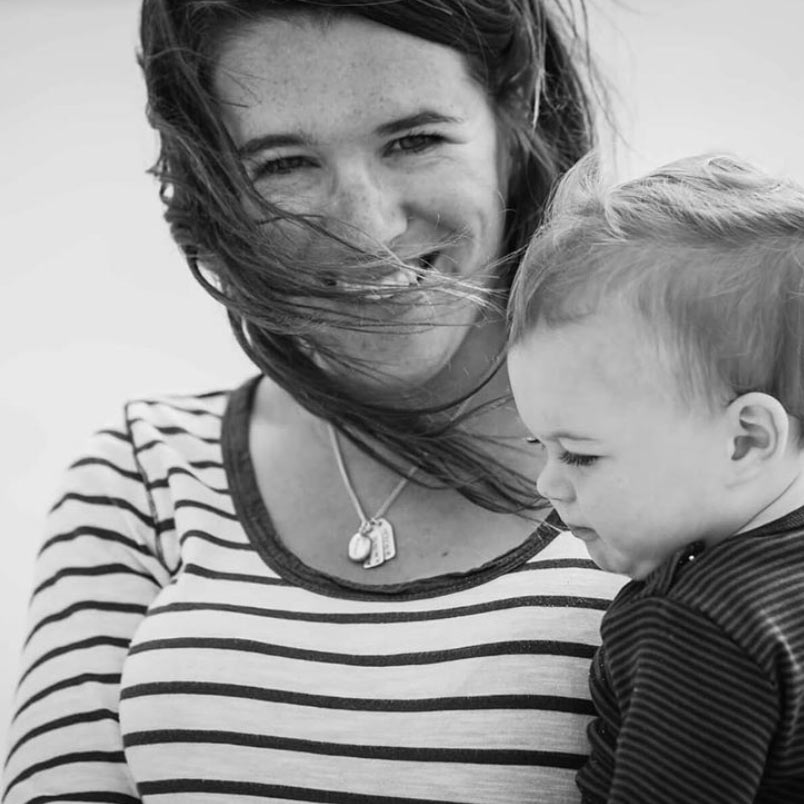 St. Martin, Scilly Islands, UK
'Island living is dictated by the seasons. As the natural elements are beyond control, you learn to live in sync with nature, slowing down and going with the flow.'
Ella Mclachlan is the founder of Phoenix & Providence, an Isles of Scilly based skincare and wellbeing company. The products are made with seaweed foraged by hand by Ella, and are designed to infuse a sense of calm and mindfulness into everyday living. 
We asked Ella about what drew her to the Isles of Scilly, what she loves most about island-living, and how it necessitates a slower way of living. We also asked her about her love of sea-swimming and what inspires her to create her products. 
words by Fiona Barrows and Ella Mclachlan / images by Ella Mclachlan
Perhaps we could start with you telling us a bit about yourself?
'I live on the tiny island of St. Martin's, one of the five inhabited islands that make up the Isles of Scilly, found 28 miles off the cost of Lands End, Cornwall. I live with my husband, two children, our dog and cat, two tortoises and a brood of chickens. I love being by, on or in the sea.'
Have you always lived on St Martin's? If you moved there, then what drew you to the island? 
'Having finished my law degree and spent some time travelling, I was at home in Devon with my parents feeling very jet lagged and wondering what to do next with my life! I saw a seasonal job advertised on Gumtree for a position on a flower farm on St. Martin's for six months. With the view to saving money for my next trip, I thought I'd get in touch and see if they were still looking for anyone. This was in the early hours of the morning and by 9am I had the job!
I arrived on St. Martin's in January 2009. Despite it being deepest winter and pretty wild over here, I quickly fell in love with the beautiful place, the pace of life, and of course I should mention the island baker Barney, my now husband!'
How does living on a small island impact your day-to-day living? Does it encourage you to slow down? In what ways? 
'I take for granted the pace of life we have on the islands until I visit the mainland. The island is just over two miles long so I think one of the main differences living here is time. You don't commute to work or drive for a day out. Everything we need is within walking or boating distance, which means there is more time, and less need to rush from place to place.
Island living is dictated by the seasons, from the busy tourist period at the height of summer, to the very quiet, short winters days. The tides and weather dictate whether you can boat to the other islands, and when and if the freight boat can arrive. As the natural elements are beyond control, you learn to live in sync with nature, slowing down and going with the flow.'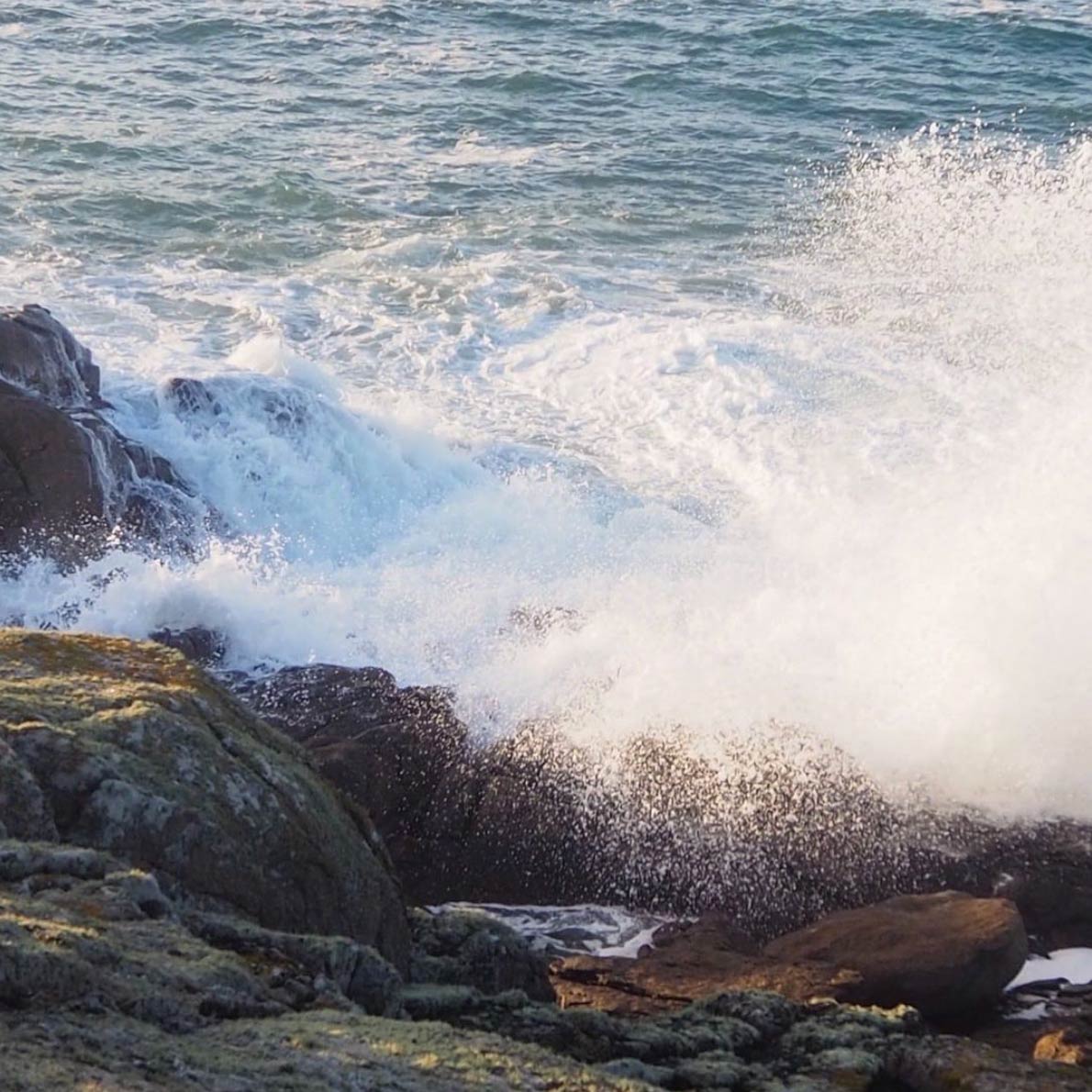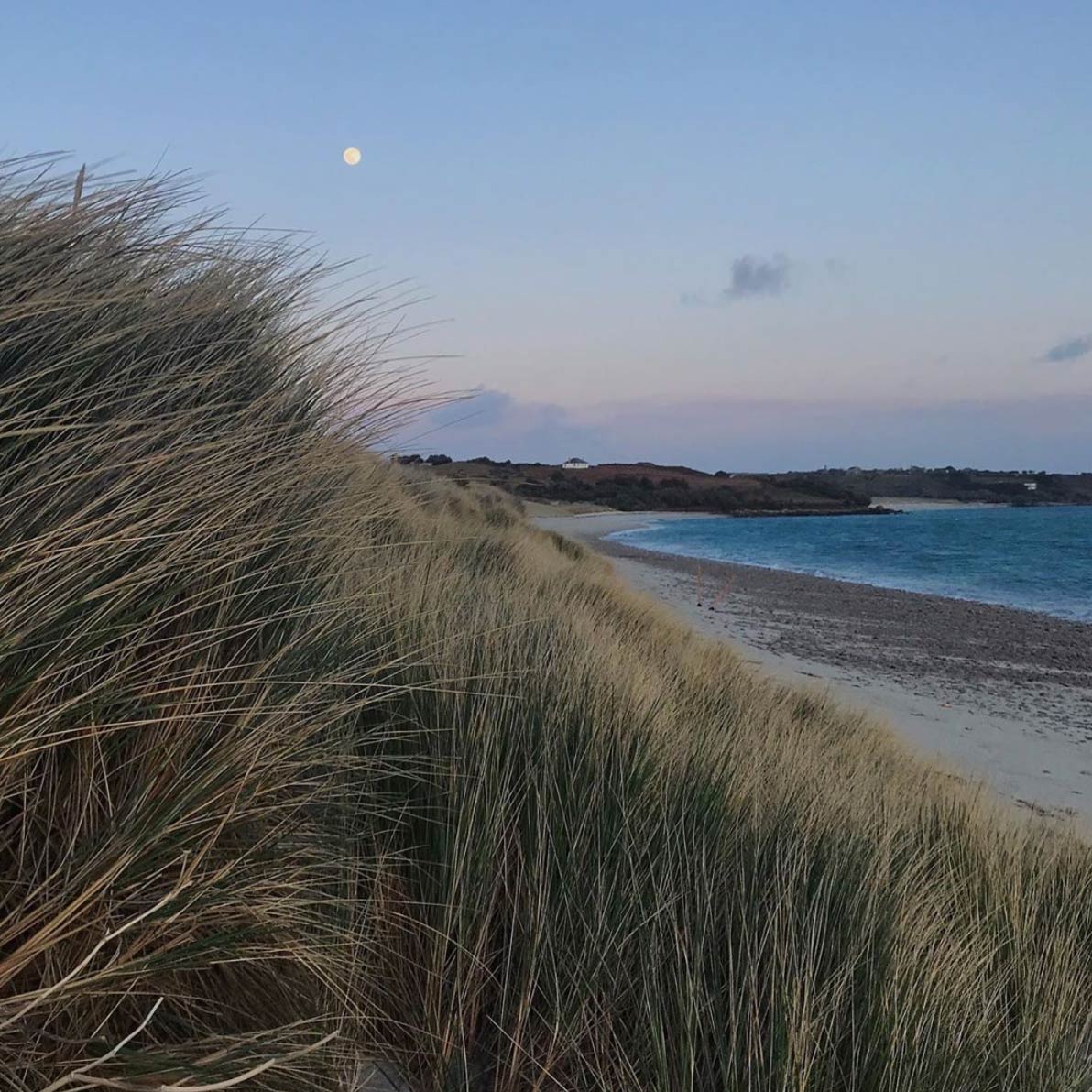 What do you enjoy most about island-living?
'What I love most about island living is being surrounded by nature and beautiful scenery. We have many stunning beaches and an abundance of wildlife, and it's a part of mine and my family's everyday living. I love that my children can name birds, shells and all manner of rock pool creatures. Life is about simple pleasures. A day out on the water heading to an uninhabited island is our favourite kind of day.'
And are there any downsides?
'The biggest downside for both of us is the distance to our family on the mainland. Luckily they all love visiting the islands!'
Is there a strong sense of community on the islands?
'As beautiful as the islands are, it's the community that makes it such a special place to live. On St. Martin's we have a permanent population of 120 people. Although everyone has different backgrounds and connections to the islands, it is a very creative and inclusive community to be a part of. We all look out for one another, sharing skills and time.
I love that friendship spans across the generations. My son and daughter will talk to our 70 year old neighbour, the same way as they would to other children. There's always time to stop and talk.'
I know you love sea-swimming. What is it about it that you find so therapeutic? 
'When I'm in the water, I'm completely in the moment. I'm focussed on how my body feels, how I'm moving and what I can see. When I'm swimming my controlled breathing is an instant way to calm my parasympathetic nervous system, meaning that whatever has happened in the day washes away. I love being immersed in nature and supported by the sea, you get a real sense of perspective of the world.'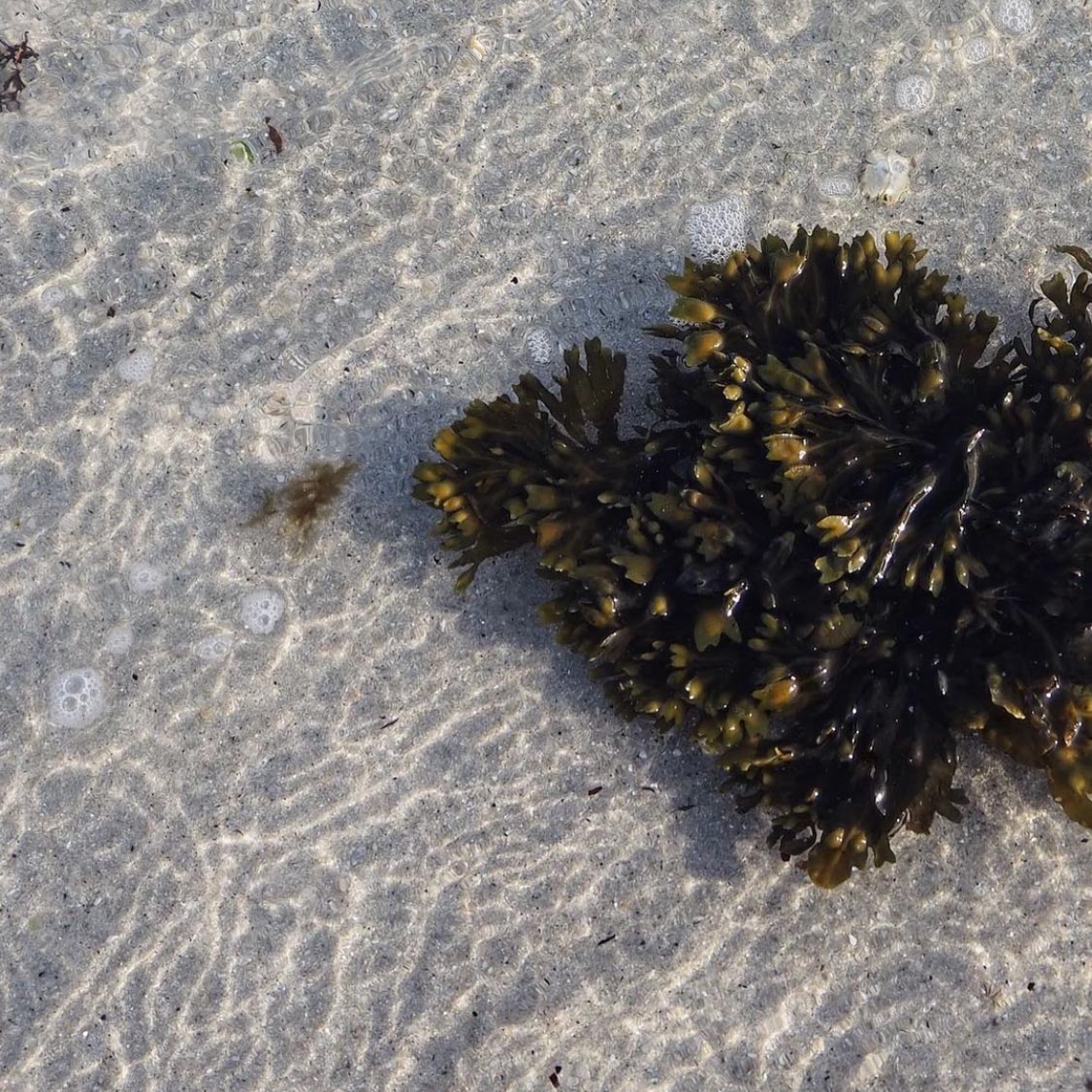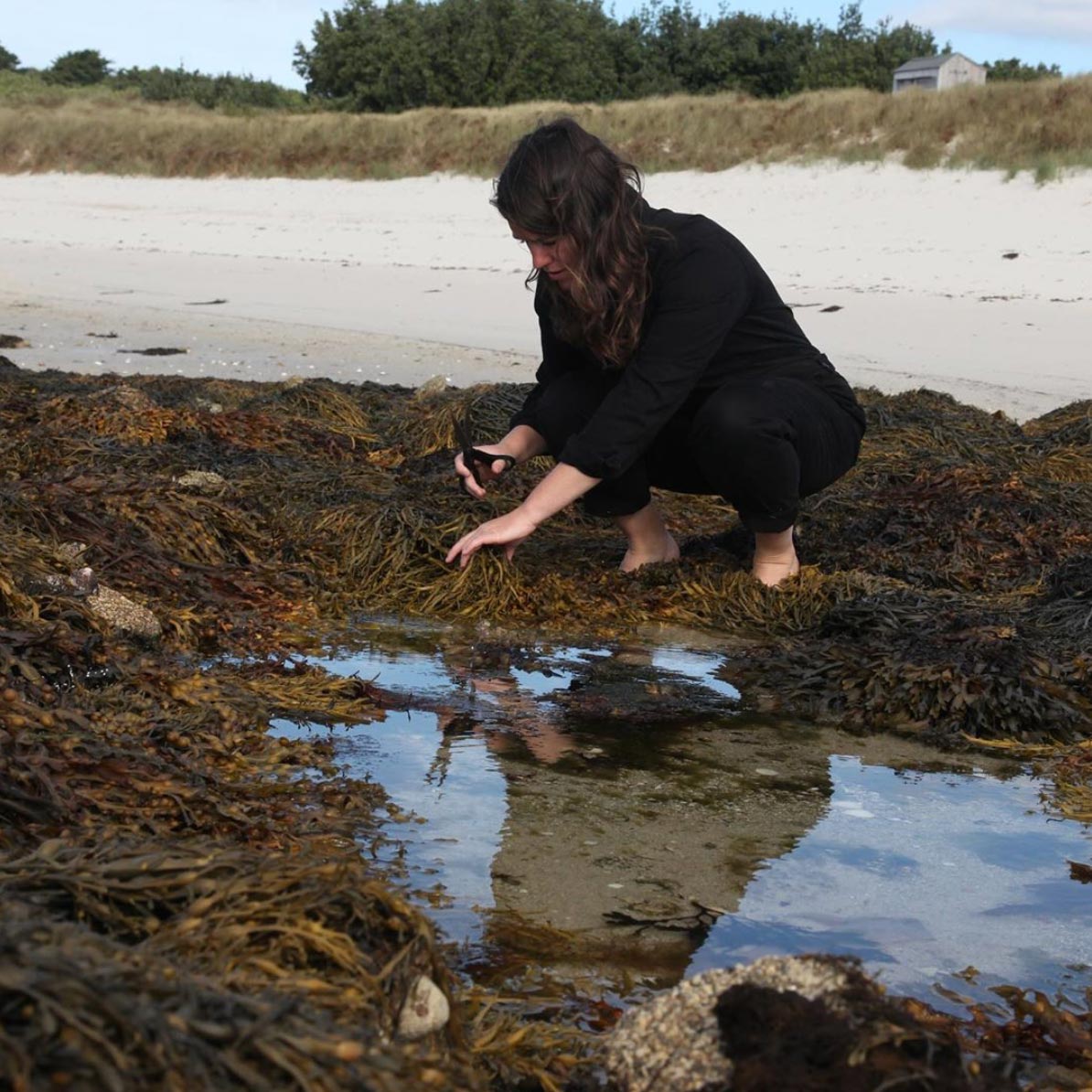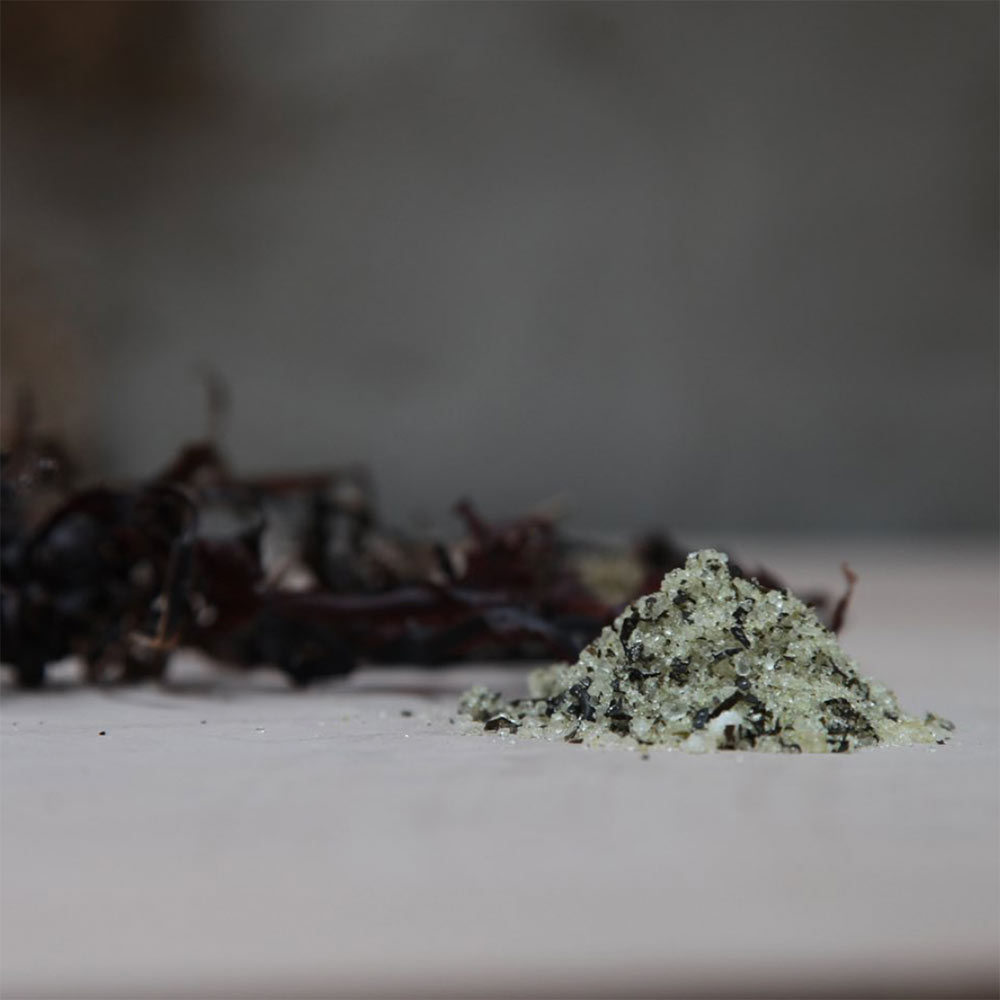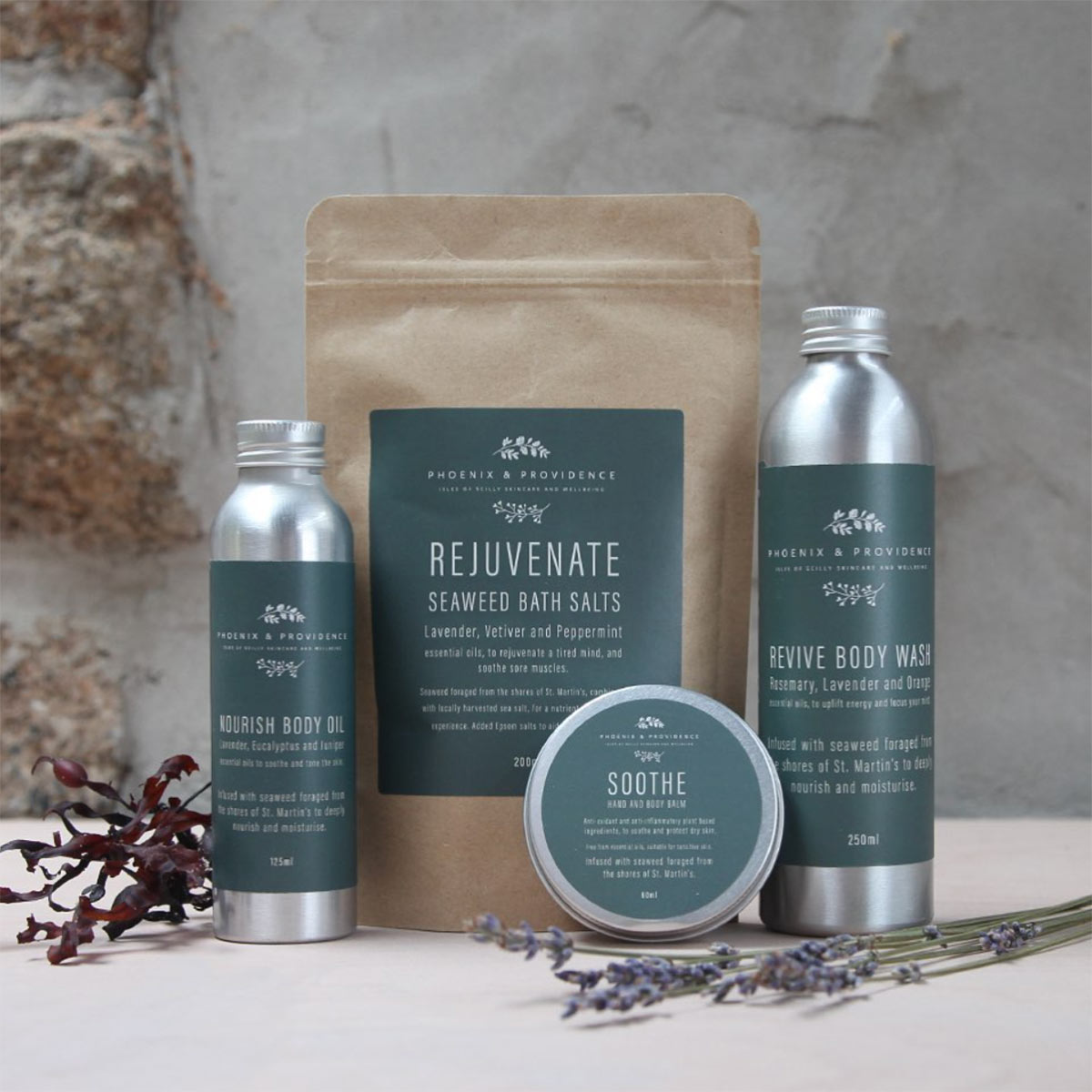 You are the founder of skincare and wellbeing company, Phoenix & Providence? What was the inspiration behind this business?
'When my children were very small, swimming became my place to find some head space, to tune into myself and immerse myself in nature. I began to wonder how I could bottle the feeling! Along with this I had become more interested in natural living, omitting chemicals and toxins from our home. I undertook a diploma in Organic Skincare Formulation and began to experiment with how I could bring my idea to life. I knew I wanted to create natural products that not only nourished skin, but also encouraged a moment of self connection, much like swimming does. Each product has a 'ritual for use' breathing exercise you can follow. I truly believe that a few minutes focused on your breath can make a big difference to how you feel in your day.'
Why did you decide to base your products on seaweed?
'I love the skin tingling feel you have after a swim in the sea, my skin always looks brighter and clearer. It got me thinking about the properties of seaweed and how it benefits our skin. Seaweed is hydrating and detoxifying, as well as being high in Vitamin C and amino acids which help improve skin tone and texture.'
What is the process of making your products? 
'I harvest the seaweed by hand at low tide from the beach in front of our house. It is then dried in the Scillonian sunshine before either being ground by hand, or infused for a full lunar cycle in cold pressed organic oils. This provides the base from which I make my products.'
And finally, what does slow living mean to you? 
'To me slow living is living simply, being in the moment and connecting to those around you.'
Favourite place to read a book: In bed.
Favourite coffee or tea shop: Flask of coffee on the beach.
Favourite place in nature: The sea, specifically Little Bay on St. Martin's.
Favourite independent shop or maker: Fay Page Silver. Fay and Rob have been making beautiful jewellery in their island workshop for over 20 years.
Favourite slow living ritual: Heading out with a picnic, swim stuff, my husband, my kids and my dog, with no time constraints, just a day ahead of us to fill as we please outside.
ELLA'S SLOW LIVING TIP
Take 15 minutes before the day starts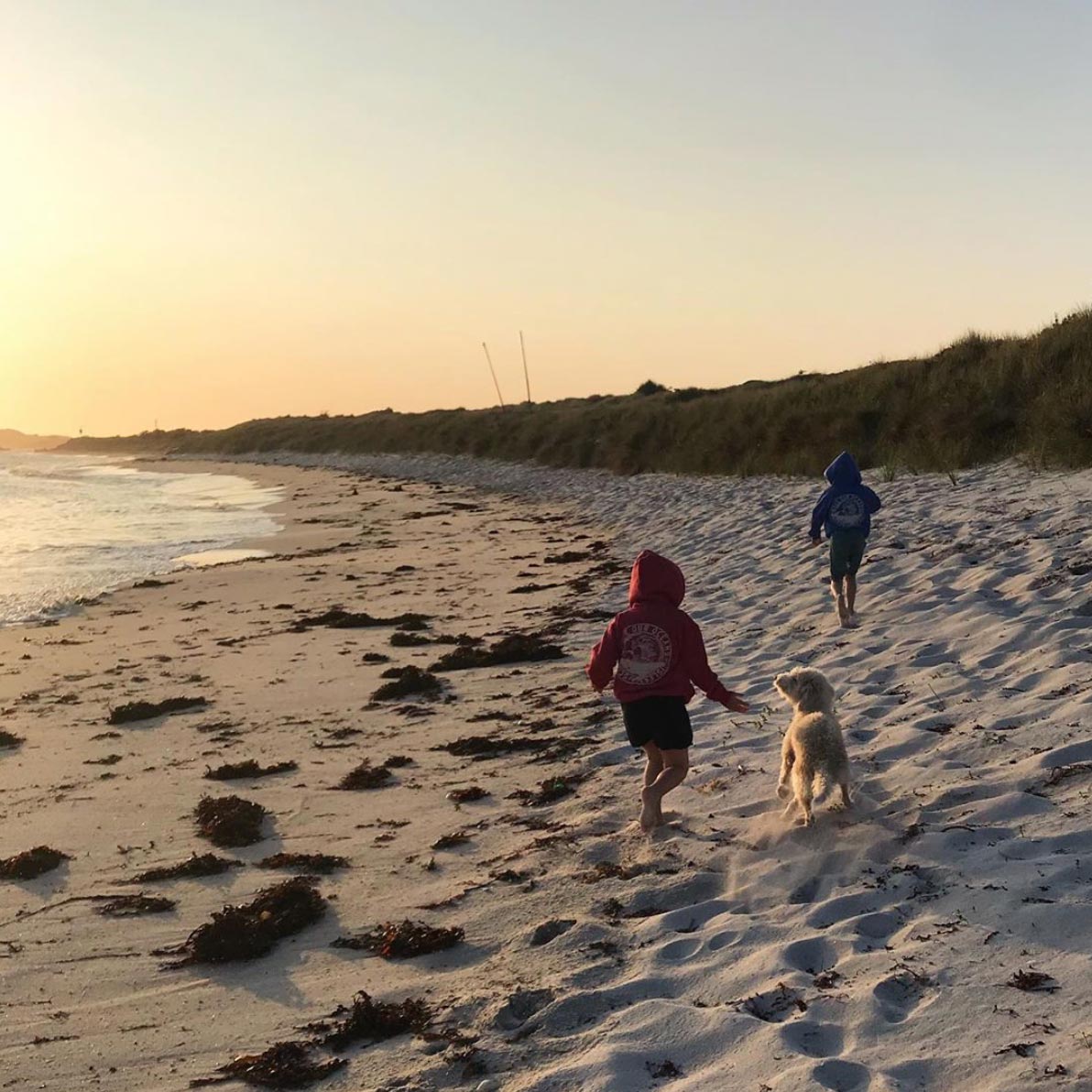 'I try to start the day by taking 15 minutes before my children are up to have a cup of tea and write in my journal. I like to check in with how my energy for the day is feeling, and how I can plan my day to align with this. I also write down three things I am grateful for. It's a simple and much advised practice, but it really does help me tune into those little moments in the day that bring me joy.'