10 Things To Love About Autumn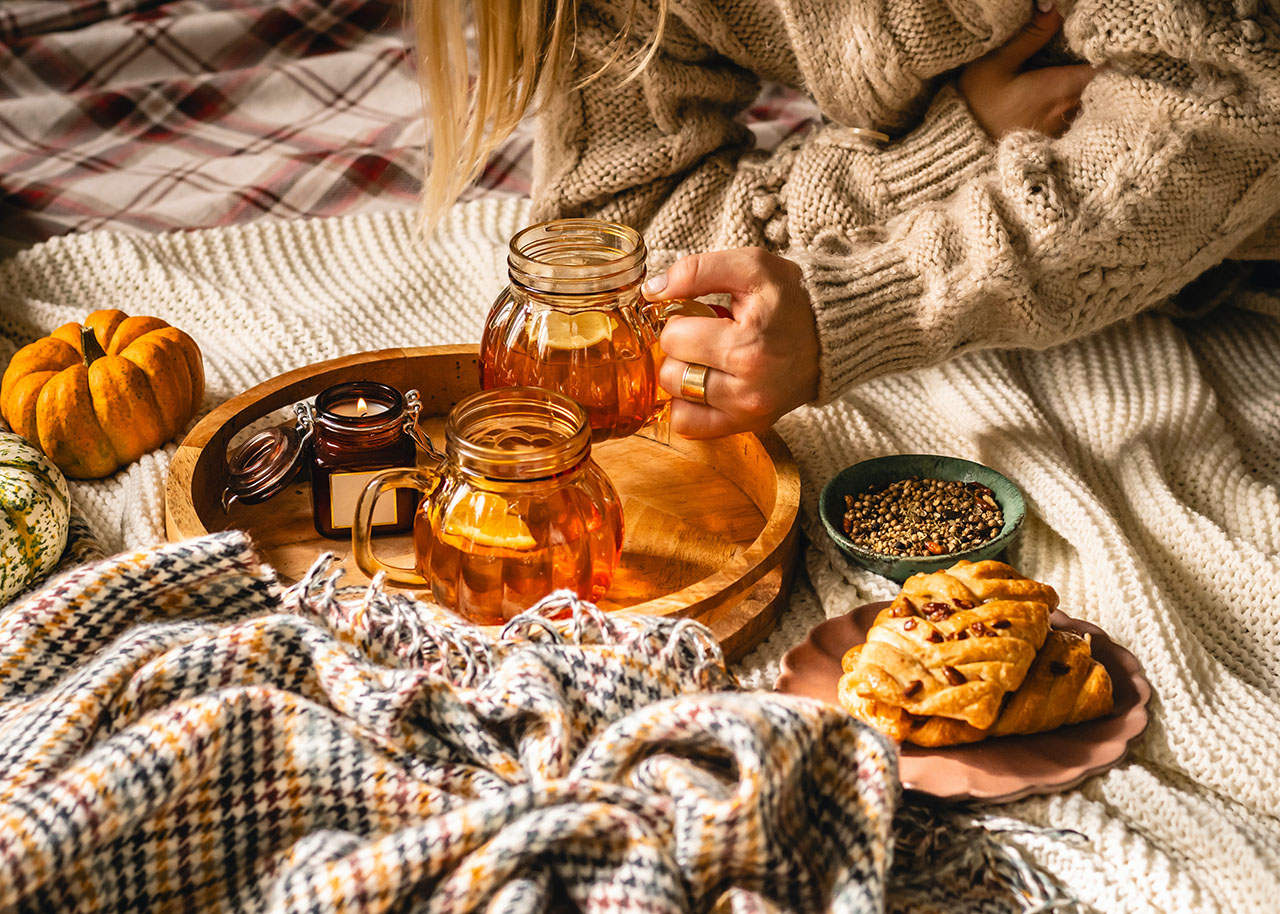 Autumn is my favourite season, bringing deep and joyful contentment. My whole system slows down as nature gives me permission to go at my own pace. Many find this transitional time challenging. Maybe they prefer longer days filled with more light and the higher stimulation of Spring and Summer. Whether you welcome Autumn or find it hard to embrace, you might enjoy reading these 10 things to love about Autumn.
1. Slowing down
Longer nights signal for more sleep, slowing down, keeping things simple and nurturing. It is the perfect time to come back to ourselves and bring an inward focus with some journaling, reading, gentle stretching, snoozing, mindful creativity… As nature slows down we are reminded that we too are part of it. The slower pace of Autumn tells us to mirror the seasons in our own rhythms and activities. It is natural at this time of year to want to stay at home more, to crave stillness and warmth, to feel quieter and more introspective. 
2. Weather patterns
The changing weather patterns of Autumn can be very dramatic. I enjoy those windy days where the leaves are swept into tiny whirls and pile up in corners. The steely grey skies fill me with peace, a balm to the soul that brings renewed, steady energy to the mind. It is such a balancing atmosphere. A perfect mix of energising influence, calling us to enjoy fresh air, but also an invitation to bundle up and rest.
As the weather turns, the air smells different, there is a fresh crispness in the wind. We sense the moist, earthy smell of moss, wet grass and rich dark soil preparing to sleep. I find these deeply soothing to the senses. They help me to reconnect with my natural pace and listen to my true needs.
3. Autumn leaves
The display of Autumn colours inspires me with soothing peace. I never tire of the luminosity of a tree as it turns to gold. It's pure joy to admire the daily changes in the leaves, the landscape reinventing itself so many times over a few weeks. The crunch of dry leaves underfoot is enjoyed by people of all ages and provides hilarious games when kicked about (dogs are especially fond of that). 
One of my favourite Autumn rituals is to stand in the field by the edge of the woods during a gale and get showered with leaves. I also love that key point in late Autumn when suddenly all the leaves have fallen after a particularly stormy night, and the woods become  clear and monochromatic, daylight and moonlight pervading easily through the branches after the intimate darkness of leafy Summer.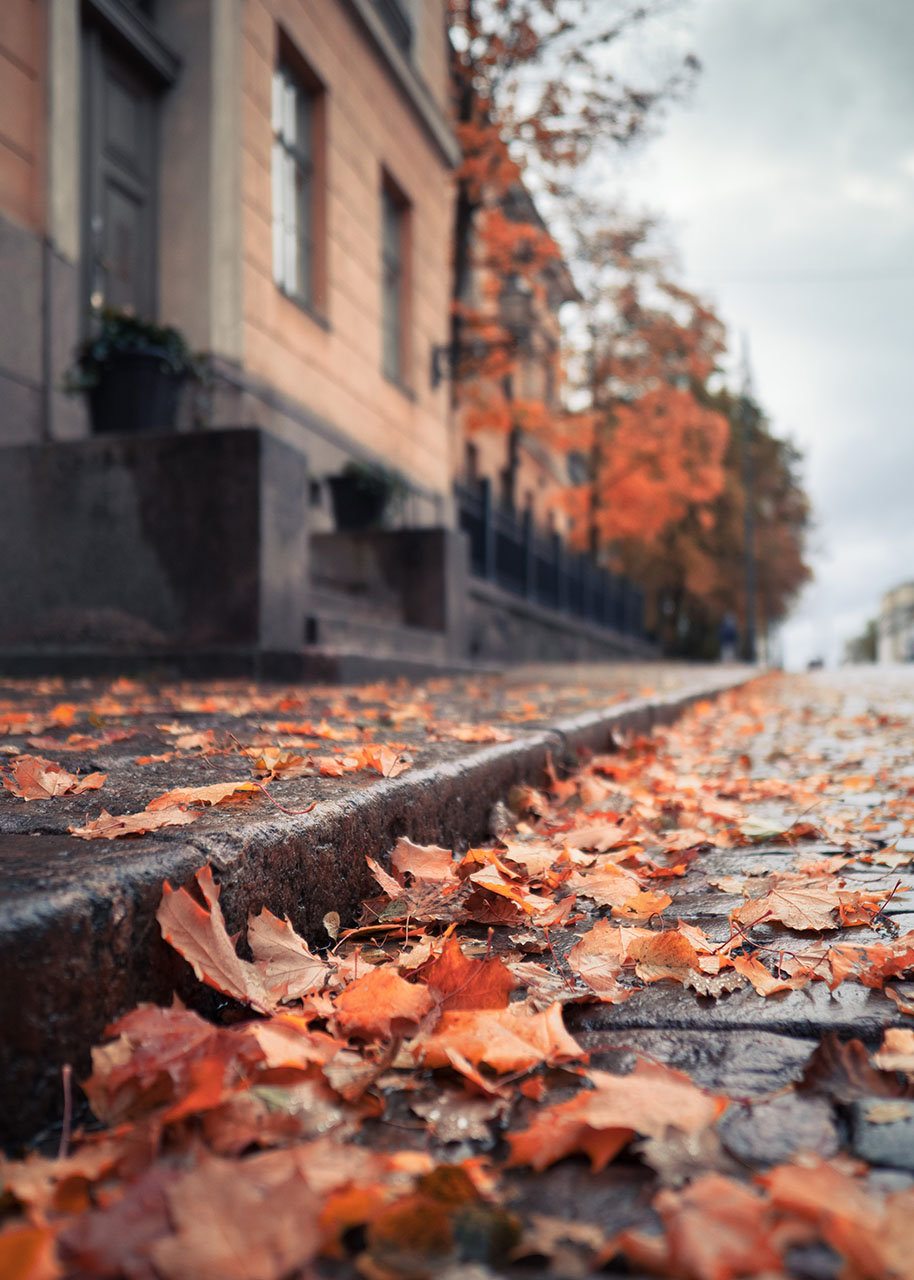 4. Atmosphere
The atmosphere of Autumn is mysterious and elusive. The weather is capricious, the landscape changes quickly and becomes mystical. This time of transition is a constantly renewed source of awe. I love the moody skies, the drizzle, the morning mist wrapping the hills in ever-shifting scarves. Some Autumn mornings are filled with gold and silvery light that makes the long grass shine with diamond mystery. Cobwebs become visible as intricate structures enhanced by droplets of mist. These are magical sights that always stop me in my tracks.
5. Lighting the first fire
One Autumn morning, the house feels chilly: it's time to reinstate the fire. I mindfully prepare the hearth, dust the stove, tidy the newspapers accumulated over the Summer, and gather the twigs shed by the birch in the last storm. Building the first fire of the season has a sacred quality and should not be hurried. I add each layer slowly to make sure that a single match will light the stack properly and soon warm up the house. Taking the time to observe the fire as it starts is one of my simple joys, full of gratitude for this warm presence in my home. 
6. Soothing lights
If you don't have a fire and miss the friendly warmth and glow, you can still enjoy a luminous experience with candles, warm fairy lights and solar lanterns. In the rooms where there is no fire, I like to make a cosy corner where I add several types of warm lights that immediately make the space welcoming and comfortable.
Last year I realised that electric light was interfering with the natural cycles of my sleep and the regulation of my nervous system. I invested in some solar lanterns which charge by day on the window sill. At night they give a very accurate imitation of a dancing flame lighting up the room in a golden glow. I now use these in the evenings; in fact I have them on as I type this text. It is such a perfect compromise between electric lights and blundering around in the dark! I have noticed a marked improvement in the regulation of my sleeping patterns and nervous system since making the change.
7. Relaxing in bed
A favourite evening activity of mine is reading in bed peacefully with my amber lights. The lengthening evenings of Autumn give me the perfect opportunity to make this a daily habit, which helps to repair the body and gives the mind a break. Maybe you don't like reading, but you can still spend some enjoyable time relaxing in bed with your favourite podcast, audiobook, journal, website, film, tv series, documentary… Whatever brings you joy, peace and comfort is perfect material.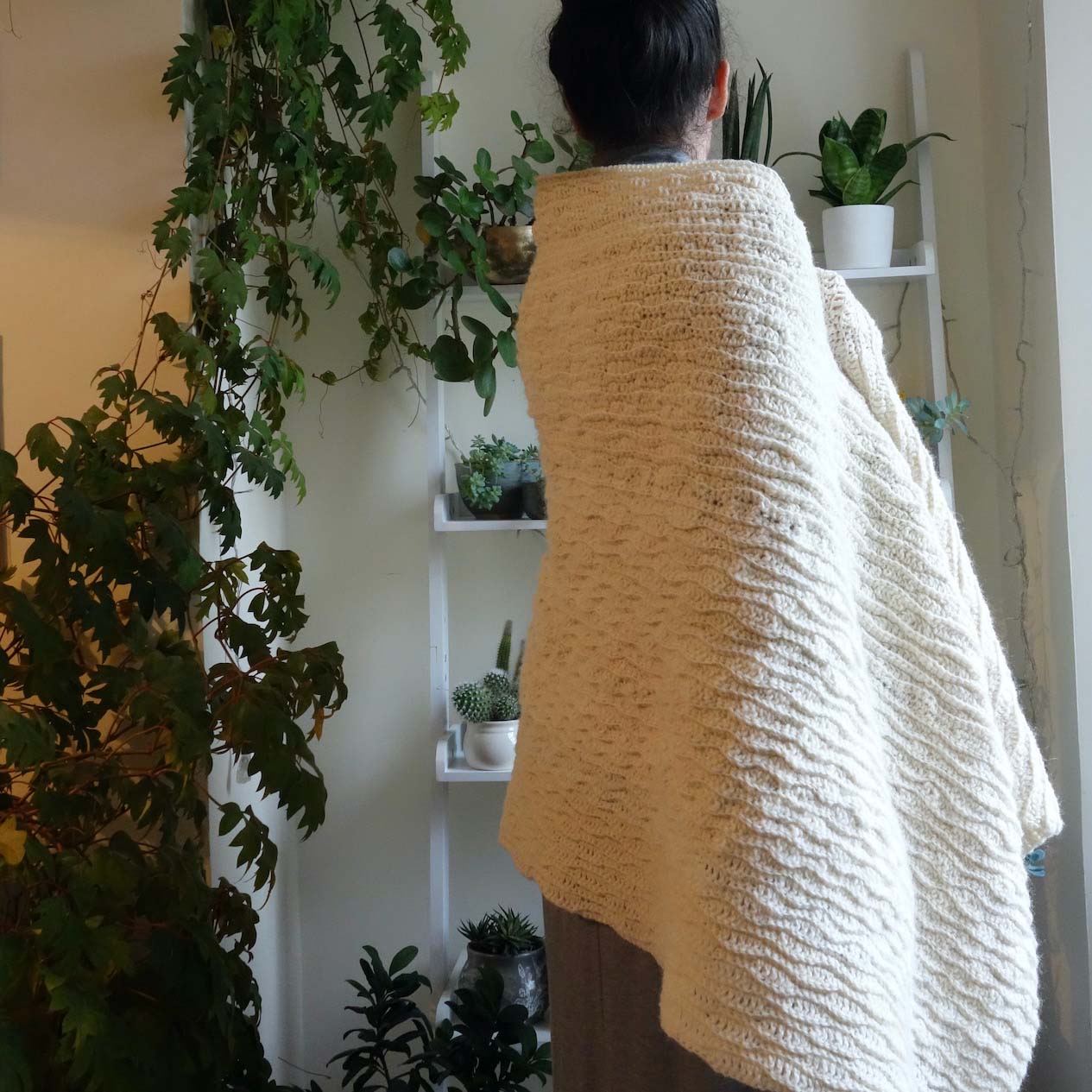 8. Cosying up
As someone whose thermostat tends to be on the cold side, I love when Autumn finally rolls in and gives me full permission to pile on the layers. I rejoice in jumper season and wearing hats, scarves, gloves and boots. At home I am always near a shawl and a throw, and as soon as I settle anywhere in the house I am usually bundled up. It's also a time when indulging in my passion for crochet is a beautiful and warming comfort. As I work on a piece and it grows bigger, I can enjoy the reassuring warmth and weight of the wool keeping my lap cosy, my mind peaceful, my hands occupied and my imagination soaring.
9. Hot drinks
Autumn is the return of warming drinks—I love a robust cup of tea taken outside while admiring the landscape. A cup of miso broth gives a strengthening and restorative start to the day. Vegetable broth is a delight to sip quietly by the fire. After getting cold outside, coming home and indulging in a cup of hot chocolate is a really special treat.
For those of us who are not vegetarian, a cup of meat broth is wonderful to warm up the whole body and bring it precious nutrients. Bean broth is a tried and tested brew to warm the body and soul after being chilled, and is a delicious drink to enjoy with a few drops of soya sauce or a pinch of salt. A strong cup of loose-leaf green tea with a dash of tamari sauce can nip a cold in the bud and quickly regulate the mind if we feel distracted, light-headed or harassed.
10. Comfort foods
My appetite usually increases as Autumn settles in and I start enjoying many foods I don't feel like eating during the warmer months. My favourites are hearty soups with beans and a delicious broth, casseroles, stews, porridge, and restorative miso soups…
Autumn Miso Soup Recipe:
Gently sauté a small onion and carrot in sesame oil or lard. Add sliced burdock root, cover with water and simmer for 20 minutes to merge and develop the flavours into an unforgettable soup. Then add finely sliced greens two minutes before turning off the heat. Add the diluted miso paste after removing the pan from the heat (this keeps the probiotics intact). Sprinkle with your favourite seaweed and serve with rice or mochi (glutinous rice cake).
For a delicious and filling side dish, you can wrap the rice or mochi in nori sheets and add condiments like tekka, umeboshi plum, pickled daikon or pickled ginger. Miso soup is also delicious with noodles and a good base for a sustaining ramen dish.
Brew a lovely cup of hojicha, kukicha or sencha green to sip alongside this warming and very tasty meal. It will rebalance and nourish you beyond imagining.
I hope you enjoyed this little journey through the delights of Autumn. What are your favourite ways to embrace the golden season?
Contributing TSLG Writer: Gaelle Chassery | Gaelle Chassery Heirlooms
Gaelle is a creative wool artist and blogger inspired by nature, whose improvised designs take root in the topography and atmosphere of the land that grew the wool used for each of her pieces. Settled on the West Coast of Scotland, much of her homespace, mindspace and creative practice revolve around this pure material.
Would you like to receive inspiration from The Slow Living Guide regularly?
Sign up for the newsletter here.
Transforming your living space into a warm and cosy haven doesn't have to come with a hefty price tag. In this guide, we explore practical and cost-effective measures to make your home snug without breaking the bank.
Revamping your home's exterior not only enhances its charm and comfort but it also elevates its curb appeal.
Practical, guilt-free tips to make sustainable Christmas gift shopping a mindful, purposeful and enjoyable experience.