Paula Kirkwood Bags |  Paula Kirkwood
'My workshop is my happy place. To have a place to thrash out ideas and have a play couldn't be more important for the creative process for me.'
Paula is the designer and maker behind Paula Kirkwood Bags, creating practical, minimalist style leather goods. Her beautiful pieces are made with vegetable tanned leather and reclaimed canvas, which she loves for its durability and character. Her collection consists of sustainably crafted functional yet luxurious items.  
We talk to Paula about her background in the fashion industry and how it led to starting her own ethical business. She shares where she gets her inspiration from, how she gets in the mood to work, her morning rituals, what she loves about her craft, being her own boss and putting a smile on people's faces.
words by Marjolyn Poutsma and Paula Kirkwood / images by Paula Kirkwood
It's lovely to talk to you! Can you tell us a bit about your background and what inspired you to start your leather goods business P Kirkwood?
'I studied Fashion/Textiles and Business Studies at Brighton University many years ago. I've always loved fashion, designing, and making. After Uni I had several creative jobs from upcycling and hand-printing clothes to being part of an upcycled bridal wear company. This all led me to working for a London textiles charity. I started by running the shop and later set up an inhouse design studio, where myself and my team would create dead stock collections. This was a lot of fun!
After 10 years with them I had my daughter and at the same time was made redundant. I needed to do something that allowed me to work from home whilst raising my child. That's when the idea came to me to make bags. I didn't need to fit or size bags like clothing and could work on the kitchen table.
So for the first few years of my daughter's life, I trained myself to work with leather, to learn the techniques involved and educate myself on the correct leathers to use. I fell in love with the process and haven't looked back.'
You obviously love making things with leather and you also use reclaimed military canvas. What do you love so much about these materials?
'I love working with leather because it's malleable, let alone the feel and smell. It's amazing! It's a pleasure to work with such a gorgeous material. To be able to create something luxurious from a material that would end up in landfill if not utilised. As for the canvas, I always loved this fabric. It's so strong and durable. Reclaiming these fabrics feels to me as though I'm carrying on the material's journey, as they have usually been through so much and come covered with character.'
How would you describe your signature style?
'My style I would say is functional with a minimalist aesthetic. The idea is to have a piece of leatherwork that works for you whilst being able to appreciate every part of the beautiful leather that is being used.'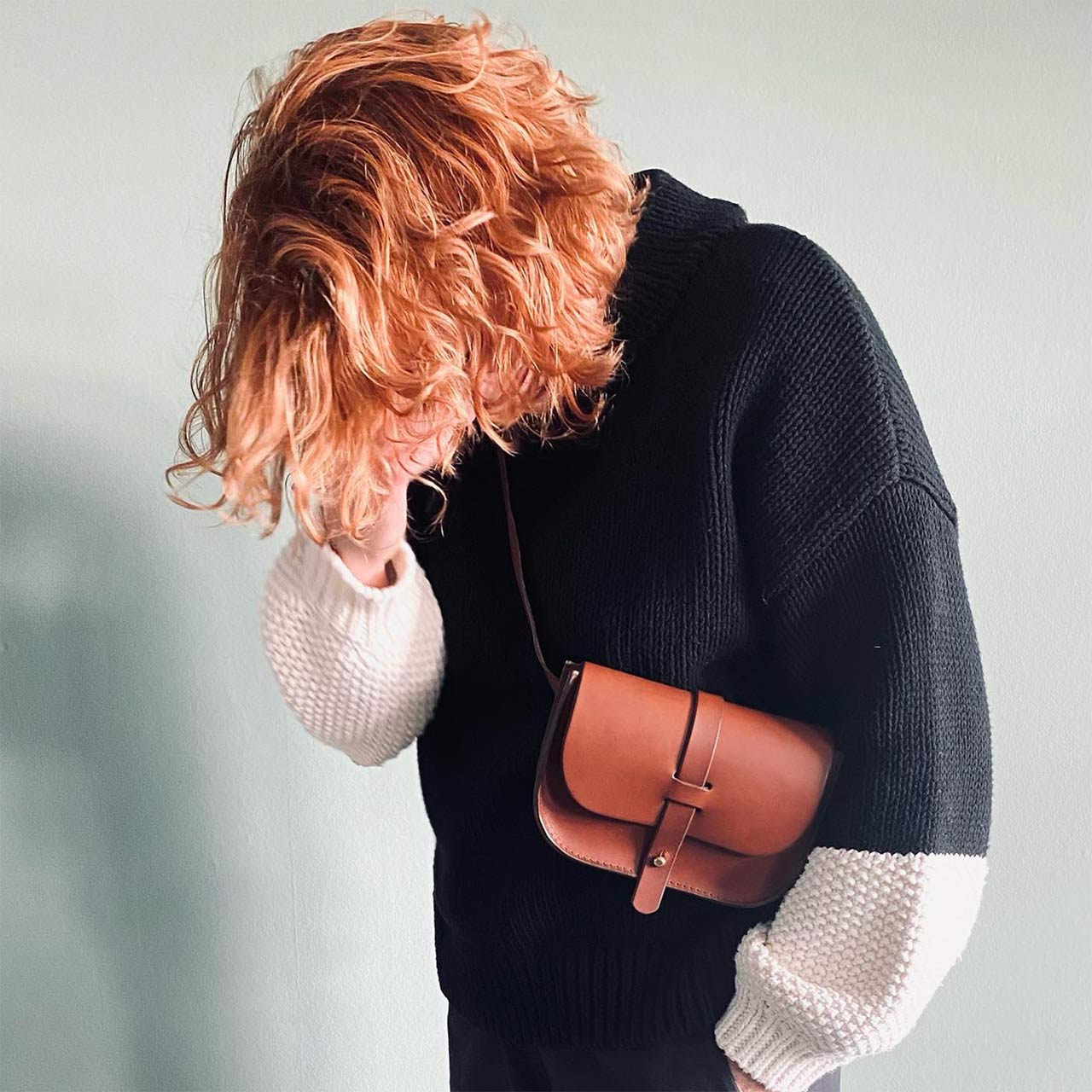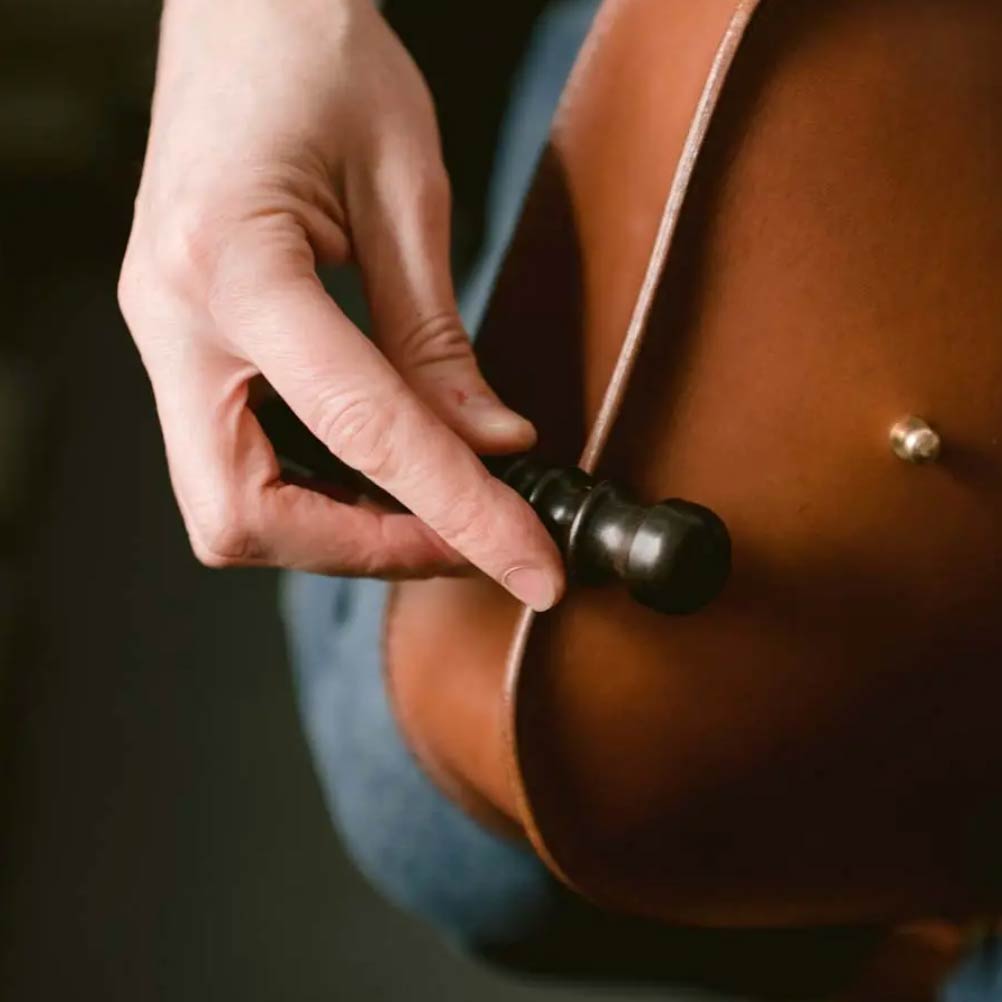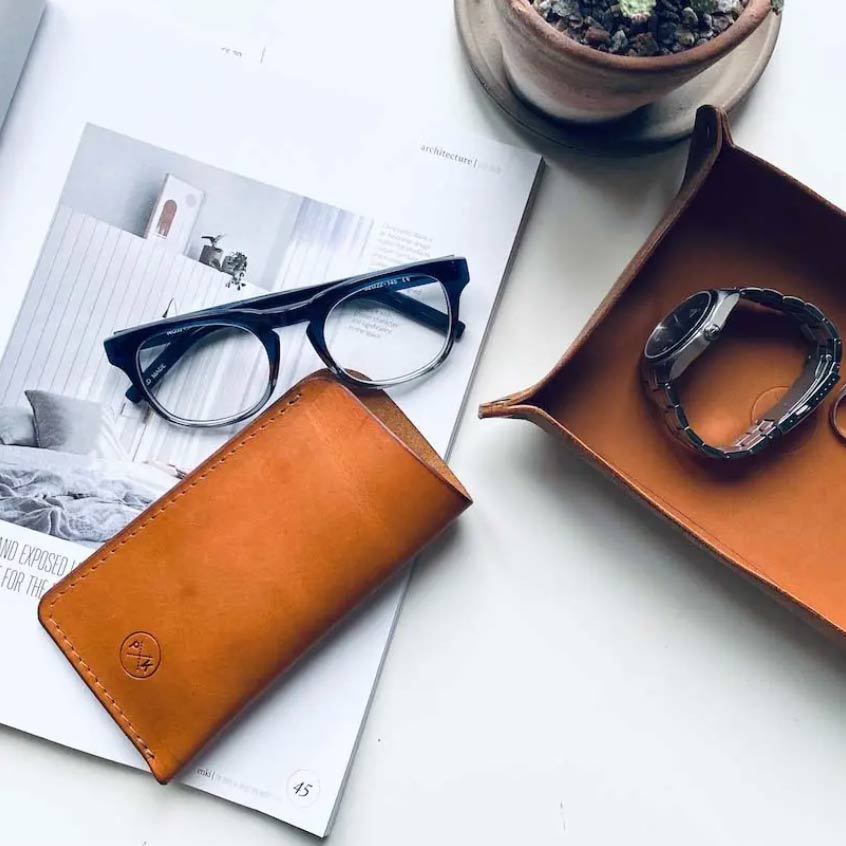 Sustainability is embedded in everything you do. How did this become such an important element of your business ethos?
'I worked for a textiles charity for 10 years and in this time, I saw the huge amount of waste that was created from the fashion industry. So, within my work I aim to be really aware of where my materials come from, from my leather to my packaging. I try to be as frugal and conscious of every scrap, so as not to leave such a big footprint on the world with my work.' 
Do you have a favourite season in the year and why?
'Ooh yes, I love spring! Spring is new energy, light and a positive shift in the year. Things feel possible in Spring.' 
From inspiration to finished piece – what does your creative process look like?
'Inspiration for me can come in many forms, like nature, architecture, art… I fill sketch books with shapes, textures, lines, and different leathers. I tend to start by going through those ideas, then apply the functionality, what is this design for? Then I play around with piecing them together until I create something I like and more importantly that my customer base might like.'
Where do you work from? Is your workspace important for your creative process?
'I'm lucky enough to have a workshop a 5-minute walk from my house. It's my 'happy place', I love it there. There are no interruptions or distractions like when you're working from home. It's really important to have a place to thrash out ideas and have a play, which couldn't be more important for the creative process for me.' 
What's your bestseller and why do you think people like it so much?
'I have two current best sellers actually! One is my Belt Bag, I think people love it because it's functional and practical yet looks luxurious. The second is my Saddle Bag No.6, again functional and practical, a modern twist on a classic design.'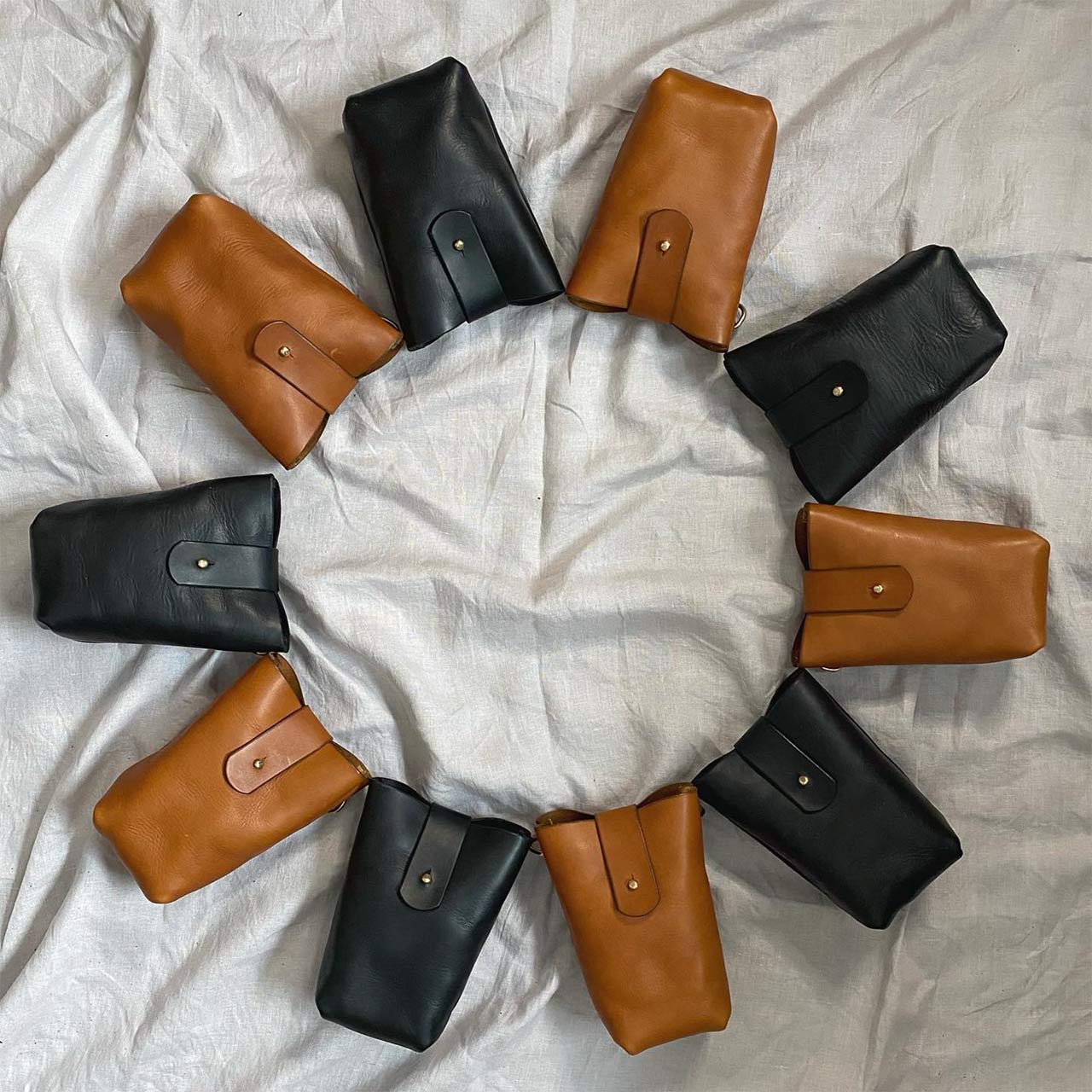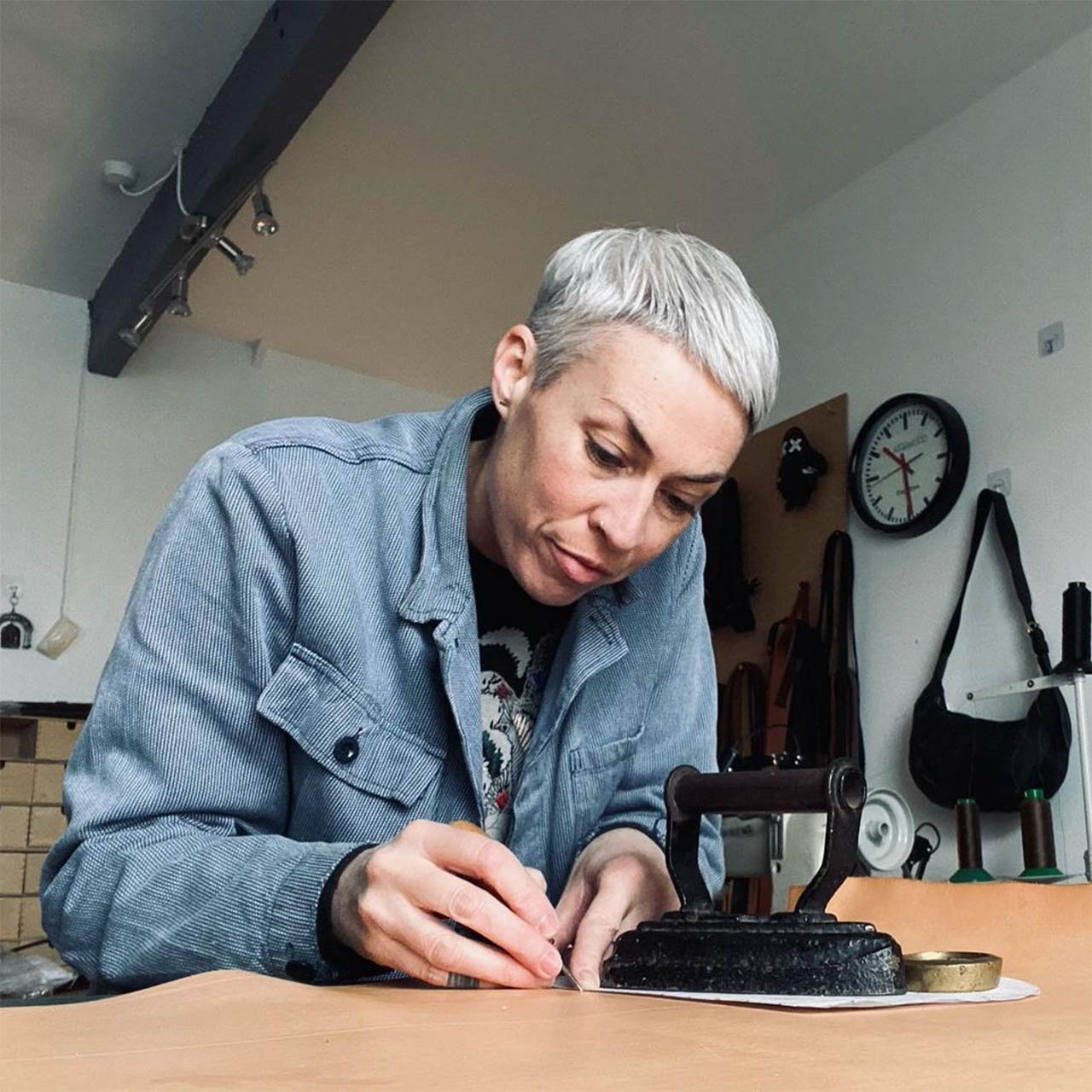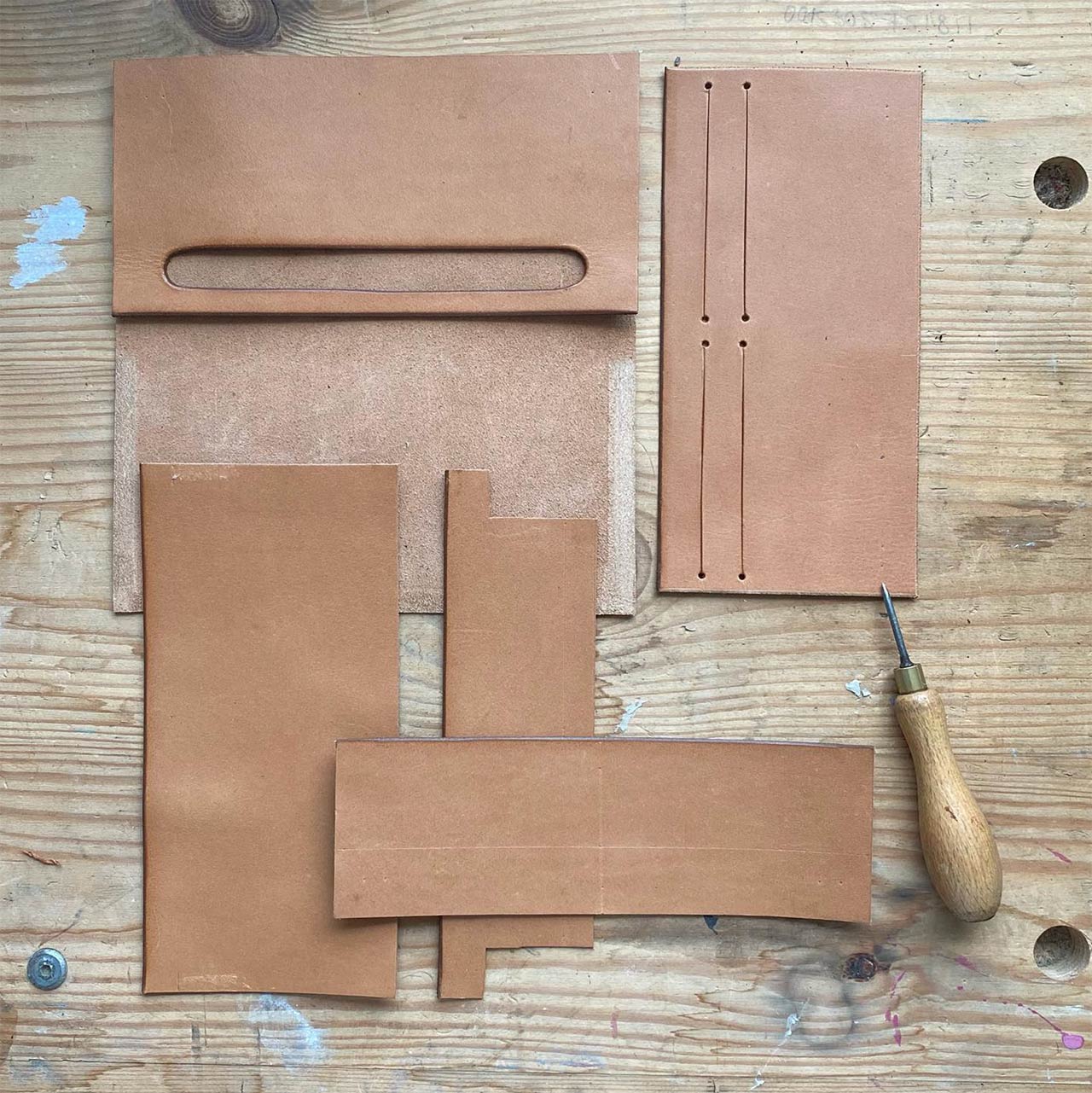 Do you have any work in progress that you'd like to tell us about?
'I have just released a few new pieces on my website for a new year refresh, revving up for the spring collection next month: Penny Bag, Square Bag, Bow Bag and Pocket Book. 
What's the best part of doing what you do?
'Being my own boss, doing what I love and making things that put a smile of people's faces!'
Is there anything you struggle with as a small creative business owner?
'Oh, blimey lots of things… You have to do everything right, many hats to be worn all the time. I find there's a lot to achieve in a day: socials, emails, accounts, orders… A lot, but organisation helps. Being seen is one of the biggest problems as a small business. Finding new ways for people to find you is a constant battle.'
What are your other passions or interests?
'I love to make my own clothes. You'll often find me making yet another pair of overalls at the weekend, like a busman's holiday really, haha! I also love to make things with my daughter. She's 9 and very creative, from paper mache to stop start animation and everything in between. Morning yoga is a great start to the day and a must for me! I also love walking and to go for long family walks. I'm lucky enough to live near the countryside and the sea, it's perfect!'
What does slow living mean to you?
'Taking the time to consider what I'm doing and how I'm doing it. Looking up rather than down. Enjoy the little things as well as the big and breathe. Remember to breathe and slow down.'
What materials/resources do you use?
-Mainly vegetable tanned leathers, I do have a couple of chrome leathers but I'm aiming to replace those as soon as possible.
-Solid brass hardware made in UK
-Recycled cardboard boxes and tissue for packaging. 
How do you get in the mood to work?
'After I drop my daughter off to school, I take a walk in the woods most days, clears my head. Then I get to the workshop and have a Facetime coffee break with my lovely friend Lisa @indigowares. We talk about what we're doing that day and if there are any problems we need to thrash out. Then dive straight in!' 
What's in your mug beside you:
'Well, I have a lovely mug made by @herclay, an amazing potter. And it's filled with Columbian bullet proof coffee… yum! 
Which makers inspire you?
'Oh there loads… My good friend Lisa @indigowares, one of the hardest working and inspiring creators that I have the pleasure of knowing. @vivienne.ridley creates beautiful vintage jewellery from reclaimed pieces. @sparrowandco makes the most stunningly simple ceramics. Functional and minimalist.'
How do you relax after work:
'I love a good box set, a good crime drama, currently watching Sinner. And at bedtime a bit of reading to quiet the mind…'
PAULA'S TRADE SECRET
How to care for your leather goods when it has white 'bloom' on it
'If you store your leather goods seasonally or just haven't used them for a while, you may find that they developed a white film on them known as a 'bloom'. This is totally normal. High end vegetable tanned leathers have a wax layer on to protect them, this solidifies in the cold. Simply hover a heater source, such as a hairdryer over the top and watch the wax melt. Good as new!'