Great Glen Charcuterie | Anja Baak
'We grow our own vegetables, have chickens and make our own bread, yoghurt and cook everything from scratch. This brings you closer to the basic needs in life.'
Anja and her husband are the founders of Great Glen Charcuterie which they run from their beautiful home in the Scottish Highlands. They produce a range of charcuterie from locally sourced wild venison and sell their products through farm shops, food halls, delicatessens, restaurants and on their website. 
We talked to Anja about how moving to Scotland lead to starting this business, what she's most proud of, how wild meat is a sustainable option and how she manages the balance between work and life while working alongside her husband in their business.
words by Marjolyn Poutsma and Anja Baak / images by Anja Baak
You're originally from The Netherlands. When and why did you move to Scotland?
'We moved to Scotland in 2000 when Jan Jacob, my husband, was offered a job as an estate manager. We had been dreaming of moving away from the busy Netherlands but with three small children it hadn't happened yet. We then met this Dutch man who had just bought a Scottish Country Estate and needed someone to look after it. He asked Jan Jacob if he wanted to work for him and he immediately said yes! There was a house available and a job so it was the perfect opportunity for us. The girls were still very small so the perfect age for them to move, we found tenants for our home and left within a few months. We kept our house in the Netherlands for a few years just in case we wanted to come back but we never did.' 
How did you first get started with Great Glen Charcuterie and how did it develop into the business it is today?
'Part of Jan Jacob's work on the Estate was the management of the wild deer population and he fell in love with the delicious meat. The price of venison was very low at that time, the meat was not as mainstream as it is now. Not many people were eating venison and Jan Jacob wanted to add value and increase the shell life so he could sell the products further afield. Always full of new ideas, he soon started to experiment with the venison and built a wooden box in the garden to smoke the meat. There is a tradition of making dried sausages in the Netherlands and Jan Jacob wanted to do this with venison too. It was a bit of a challenge as venison is a very lean meat and does not contain much fat however he worked out a recipe in the end. Friends and family loved his experiments and encouraged him to start a business. 
A friend owned an old derelict Butcher Shop in Roy Bridge and we managed to get the lease. The building had been empty for many years and after kitting it out into a state of the art processing unit we started trading in 2003. The first years he ran the business in the evenings alongside his job on the estate, our family grew with three more boys which kept me busy. When our  youngest started school in 2010 we both committed full time and Great Glen Charcuterie really grew then. We supply independent retailers such as farmshops, food halls and delicatessens across the UK and sell to restaurants too. We now produce a range of charcuterie such as salami, chorizo, pepperoni, bresaola. Most of them made with Scottish Wild Venison but we have branched out to pork charcuterie now too. 
We are now outgrowing the Old Butcher Shop as we can't keep up with demand and we are planning to move to new premises later this year.'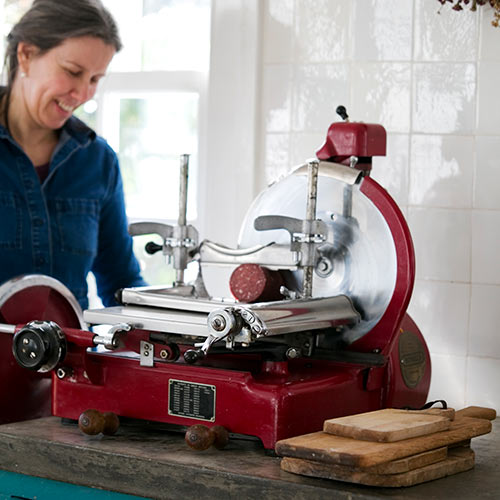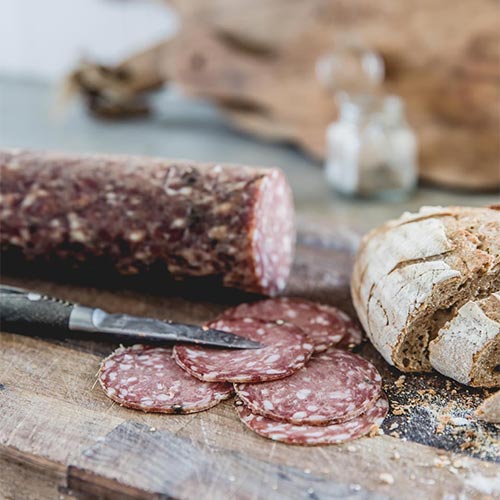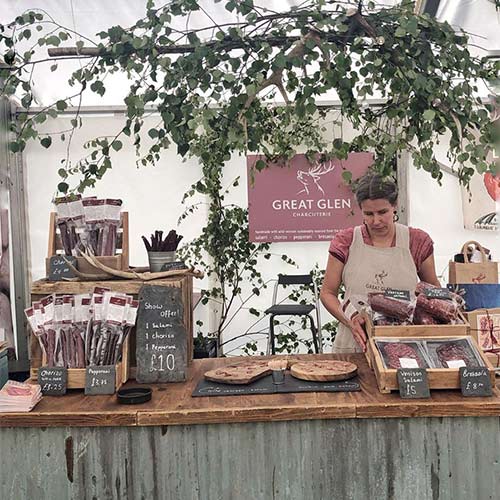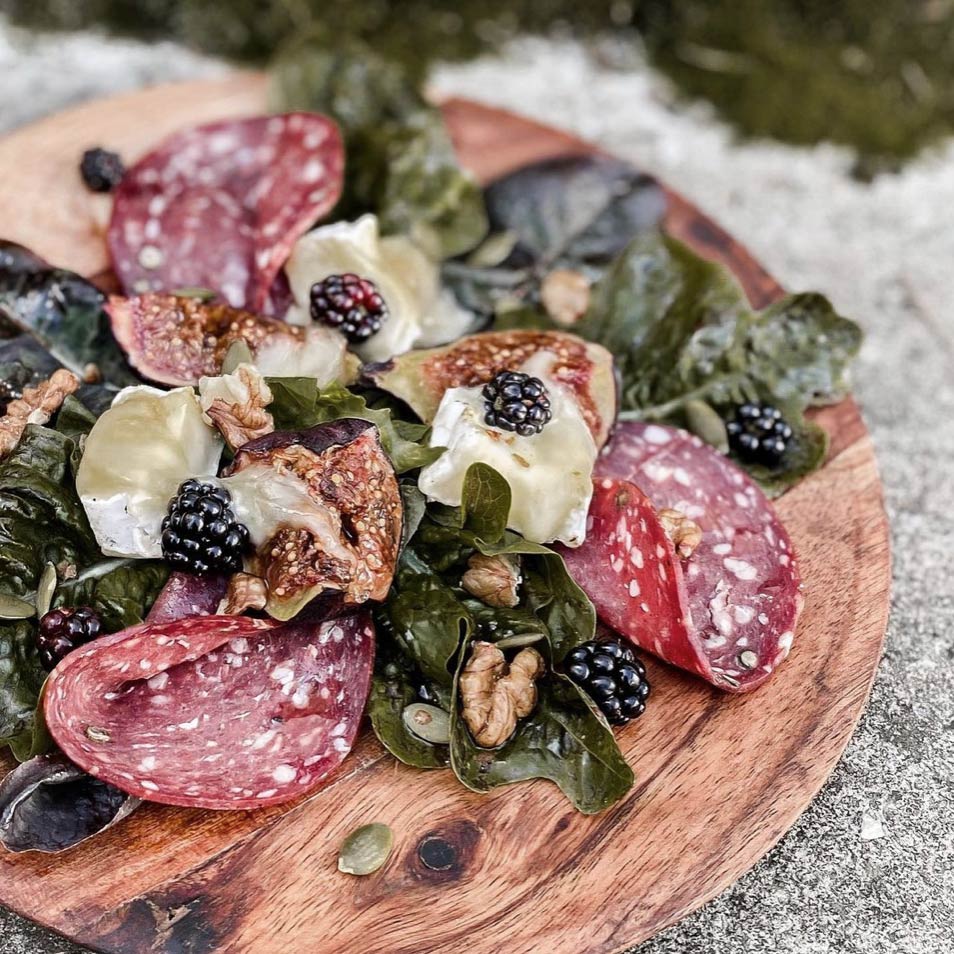 What are you most proud of?
'Our proudest moment was in 2013 when our salami was awarded 3 gold stars at the Great Taste Awards, made it to the top 50 foods in the UK and then won the Best Charcuterie product at a glitzy ceremony in London. It was such a thrill for us to get the recognition from the food world. Many well-known chefs and food writers, who had been judges, were in the room and there we were, all the way from the Scottish Highlands getting this award.'
There's a lot of debate about the environmental impact of eating meat at the moment. You put a lot of thought and effort in sustainably sourcing your meat. What's your view on this?
'We use locally sourced wild venison for our venison charcuterie. We buy the meat from local estates who manage the wild deer population. There are no natural predators left for deer in Scotland and they have to be managed by man to keep them at sustainable levels. That's very important to protect the landscape, forests and also to make sure there is enough food for the animals in very cold winters. Eating wild meat is a sustainable option and can't be compared to highly intensive meat production.' 
You run the business with your husband Jan Jacob. Do you each have your own specific area within the business?
'Jan Jacob is really the creative force behind the business and comes up with recipes, does product development and he oversees the production side. My role is marketing and sales, which works well. Unfortunately Jan Jacob has not been well for the last year as he is struggling with a chronic illness, so I have had to take on more of his role. This has been a real learning curve as we realised we did not really know what each of us was doing.'  
It's often said that it's difficult for couples that work together to maintain a healthy balance between working and living. How do you manage this?
'It is not always easy to separate the two! We have our offices at home so work and home-life are hard to separate. We try not to talk business during mealtimes and I refuse to discuss any business in the bedroom… Our romantic get-aways tend to be trips to trade shows or tastings. Although they are work, we enjoy spending time together during the evenings and it's the only time we spend together away from the kids and daily grind of business.'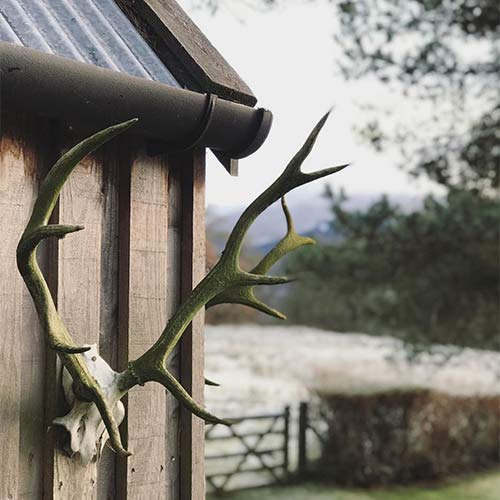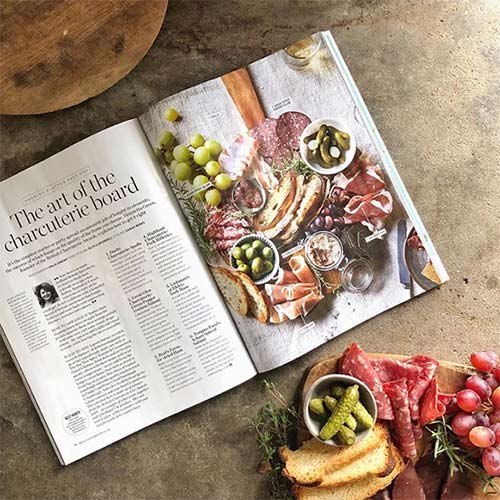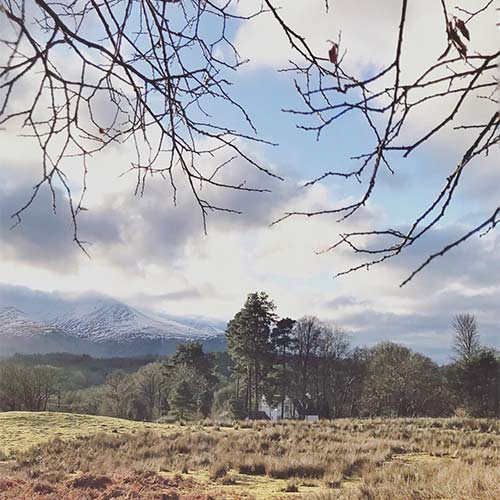 What do you like most about running your own business?
'I really love being in charge and able to make my own decisions. It is a great advantage to be able to take the morning off if the weather is nice and enjoy the sunshine in the garden or spend with the children when they are not well. The downside is no one else will do the work so you will have to catch up later to make up for the missed hours, but the flexibility has been great. This was specially important when the children were small. It was good to be able to be flexible and give them the time they needed.' 
Is there any part of your business that you really struggle with?
'We are currently working on plans to build a new unit. There are so many decisions we have to take with regards to finance and convincing planning authorities. I find that very stressful and can't wait this is all over!'
What does slow living mean to you?
'Slow living for me is living intentionally in the moment. We have always tried to be in the here and now. Living in a rural area does help I think, you are surrounded by nature which does ground you. We grow our own vegetables, have chickens and make our own bread, yoghurt and cook everything from scratch. This brings you closer to the basic needs in life. Homemaking is a big part of our life, we love making things as a family. 
Family has always been very important for us. There have been times we probably should have taken different business decisions to grow the business faster but it would have had a detrimental effect on our family life. We have always chosen family life over business and now the children have almost all flown the nest, I appreciate how important those decisions have been.'
What materials/resources do you use: 'We work with local wild venison from the area. A beautiful healthy meat. The animals roam the mountains in the Scottish Highlands and graze on grass, herbs and plants making it the ultimate grass-fed meat.' 
Which maker inspires you the most: 'I am really inspired by Jane Lindsey aka Snapdragon Jane. She recently transformed her business to a totally new model.  She suffers from a chronic illness and I know how difficult life can be for her. It is really inspiring to see her journey reclaiming her business how she wants it to be.
How do you get in the mood to work: Last year I moved into my own office above out garage and it has been easier to separate home and work life. Before that, I worked from a small office inside the house and it was very difficult to focus and I was easily distracted.' 
What's in your mug beside you: 'I always take a mug of breakfast tea with me in the morning to get started but do make a trip back to my kitchen around 10 to make myself a delicious cup of coffee. This will often be with Jan Jacob and we do realise how lucky we are to spend coffee breaks together most days!'
How do you relax after work: 'I really love gardening and try to make time for that as much as I can. We do have a very large garden which is needing much more attention than I possibly can give. Being in the garden makes me feel very grounded and I am always at my happiest. Over the last year I have been getting into wild swimming. As I turned 50 earlier this year, I wanted to mark this by setting myself a challenge to do 50 swims in the wild before my birthday. I am now completely hooked and these swims are such a great stress reliever, the swims kept me sane in this last stressful year. As soon as I get into the water I feel the worries and stress floating away and it makes me feel alive.'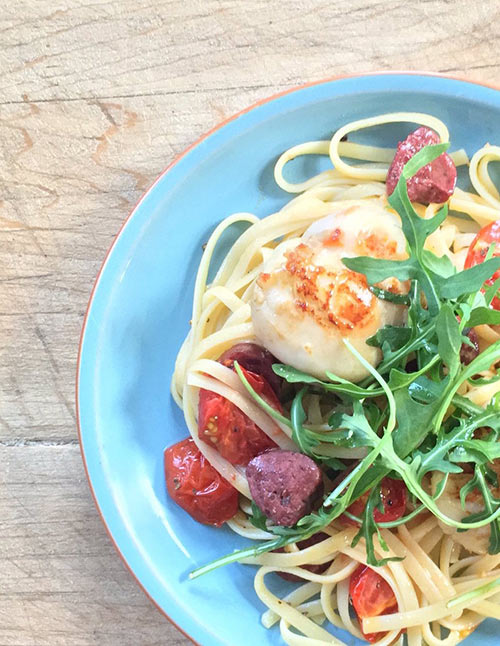 ANJA'S TRADE SECRET
My favourite dish using our charcuterie:
Scallops
&

chorizo linguine
INGREDIENTS:
1 Great Glen Charcuterie Venison Chorizo sliced
350g dry linguine
350g scallops
2 garlic cloves crushed
15 cherry tomatoes, halved 
olive oil
50ml white wine
1 fresh red chilli, finely chopped
bunch of fresh parsley, chopped
salt & pepper
squeezed fresh lemon juice
parmezan cheese shavings
METHOD:
Place the tomatoes and garlic in a single layer in an ovendish with a glug of olive oil. Cook this slowly in a low oven (140C) for an hour or two until the tomatoes are cooked but still kept their shape.
Cook the linguine according to instructions.
Pop the sliced chorizo in a wide-based pan on a medium heat and cook for about 5 minutes until it has released its oils and is nicely browned.
Take the chorizos out of the pan and fry the scallops on a high heat in the same pan for 2 or 3 minutes in the oil released by the chorizo.
Put the chorizo back in the pan together with the slow roasted tomatoes, chilli, parsley, wine and the cooked linguine and a squeeze of lemon juice.