Naked Clay Ceramics | Carla Sealey
'I've really missed being able to meet customers and other makers. It's nice to spend time chatting to customers and getting their feedback and I really want people to be able to feel and hold the pieces before they buy.'
Carla is a ceramicist and creates her signature simple, minimalist style porcelain and stoneware pieces from her studio in Bedford. After a career in Environmental services, she went back to University to get her Art degree and started her business Naked Clay Ceramics.
We talked to Carla about what made her decide to change careers and create her own tableware range, where she gets her inspiration from, her creation process and her new studio. We also learned about the challenge of not being able to meet customers and other makers in real life, and about an unexpected joy that emerged from being locked down.
words by Marjolyn Poutsma and Carla Sealey / images by Carla Sealey
It's lovely to talk to you! Can you tell us a bit about what inspired you to start your business Naked Clay Ceramics?
'I was working on a sculptural project slip casting with stoneware and porcelain while working a part time job to earn money. I've been collecting handmade mugs and bowls for over 20 years and loved using them to start my day. Eventually I put 2 and 2 together and realised that I could use those techniques and materials to start making my own tableware range!'
What did you do before that?
'I'd spent 14 years working as an Environmental Scientist, working as a Groundwater Protection Officer before deciding on a career change. I went back to University and did a degree in Applied Art. After graduation I managed to find a studio where I started making fused and cast glass sculptures.'
What's your signature style and how did you discover it?
'I guess I'm known for simple, minimal style pieces. It's something that I've gradually come to. I prefer to focus more on the material and the peaceful space that I'm trying to provide for someone when they are hold one of my pieces.'
You use a combination of hand building and slip casting. What do you like most about these techniques?
'I love the slow focussed process of hand building, but I also like using slip casting as a technique. Slip casting lets me make several pieces as a batch more efficiently, but then the process of fettling, finishing and smoothing is where I get to spend time with each piece and the individuality of each piece is born.'
What does your typical day look like?
'I start each day by lighting a scented candle, putting on some music and boiling the kettle! After that I'm not sure I ever have a typical day! In the studio I work in cycles. I'll spend several weeks making my signature slip clay, pouring it into moulds to slip cast pieces, putting them through two firings and three stages of sanding. I'll time this making period to be followed by an online shop opening and going to selling events around the country.
Then there'll be a couple of weeks of packing and dispatching orders. Or I'll be putting together stand setups, arranging accommodation and travel for events and deciding what to pack for each show. I also spend several weeks at a time preparing and running workshops and providing a space for people to be creative.
Admin, marketing and PR get attention first thing in the morning before I leave, and again if necessary when I get home at the end of the day. I'd like to calendar in time to spend just making for myself, trying out new ideas and working on sculptural pieces.'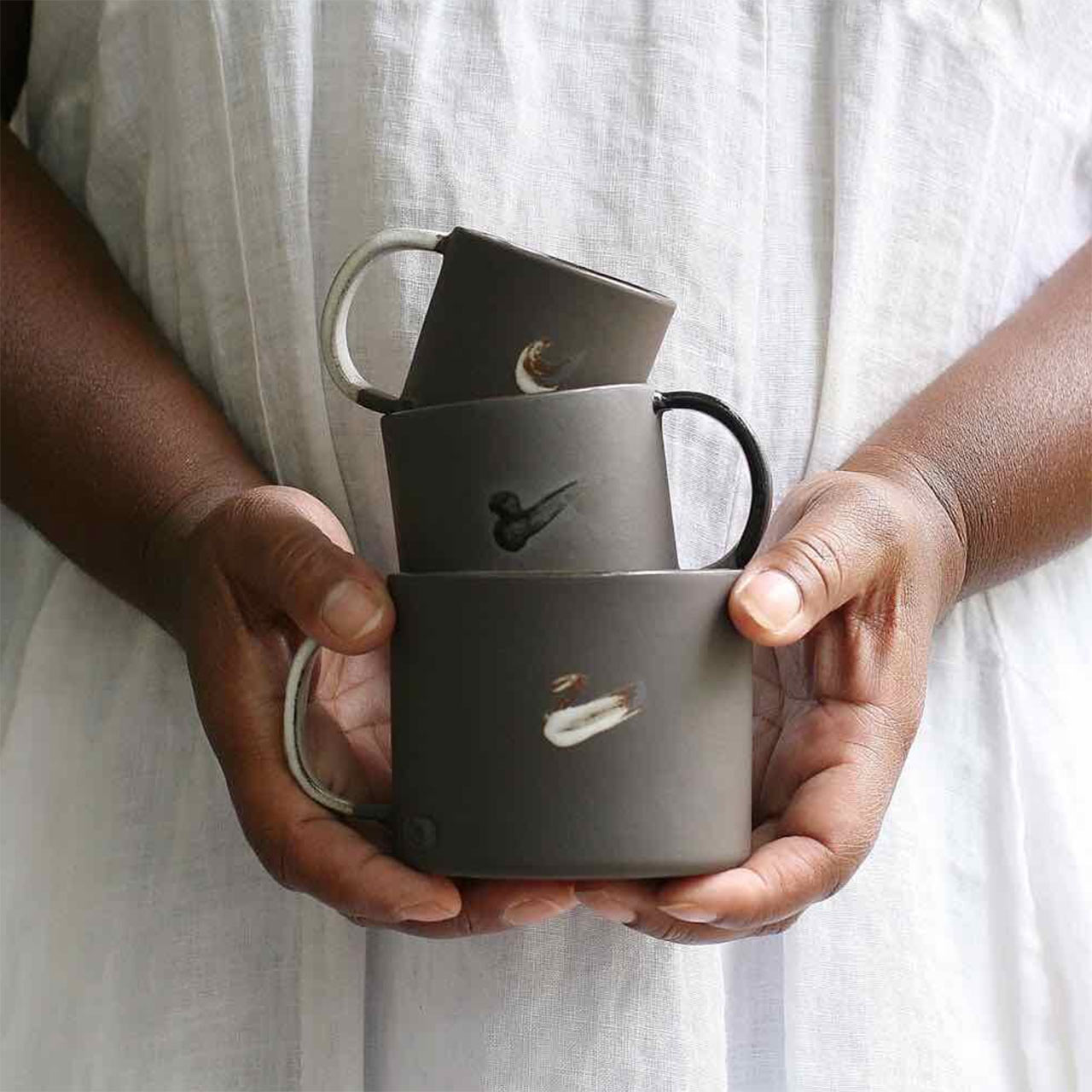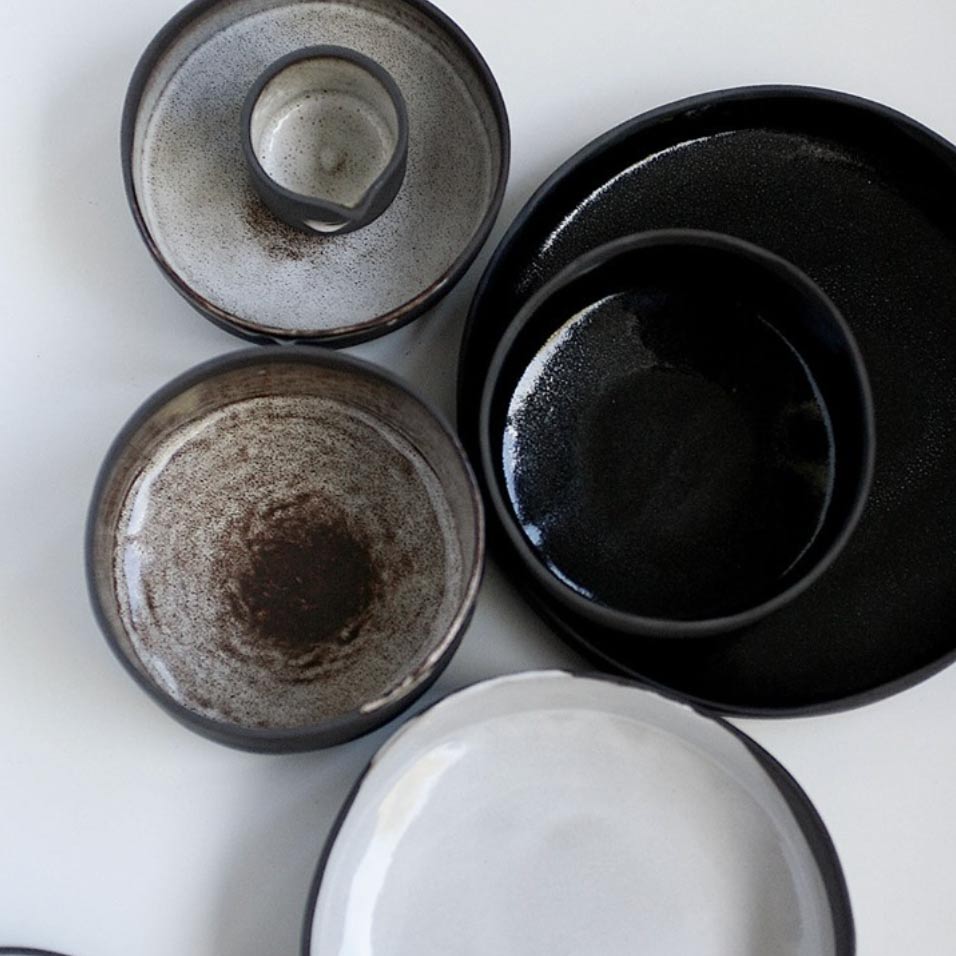 I always find it mesmerising to watch a ceramicist at work, it's a very mindful activity. What do you experience when you're creating your pieces?
'I love being absorbed in what I'm doing. Sometimes it's good thinking time. Mostly when it's you and the clay, all that's in your mind is the feel of the clay and water and the thing growing or being refined in your hands. It clears your head and creates space for you to experience each moment of the creative process. From your head to your heart to your hands!'
You create small batches of limited items 3-4 times a year. Do you have different collections or variations of your pieces throughout the year and where do you get your inspiration from?
'I have a fairly steady range of mugs in different sizes, bowls, plates and vases. I don't always have time to make everything so quantities of each will vary with each batch. New designs pop into my head all the time. They sometimes work as prototypes but turn out to be too difficult to repeat consistently when I try making them in any number. So, some designs won't last for more than one shop event.
Recently I was inspired to add to the range by a customer who wanted something specific that was a deviation on the current range. At the moment, I'm working on a meditation collection because it's something I feel that I'd like to have and hope other people would appreciate too.'
What's your best-seller and why do you think people like it so much?
'My best sellers are mugs and the miniature vases. I think everyone is comfortable with a mug, whether at home or at work we often have favourite mugs and no-one needs to justify having another mug! The vases are so easy to find a space for and offer the chance to build a little collection. They're also perfect as gifts for the same reason.'
Is there an item you particularly enjoy making and why?
'I don't actually have any favourites. Some pieces are more challenging to nurse through the process but I don't love them any less. I guess they're like children, I love them all!'
What's the best part of doing what you do?
'Being able create things from start to finish. Knowing that the things that I make bring a little bit of joy to people.'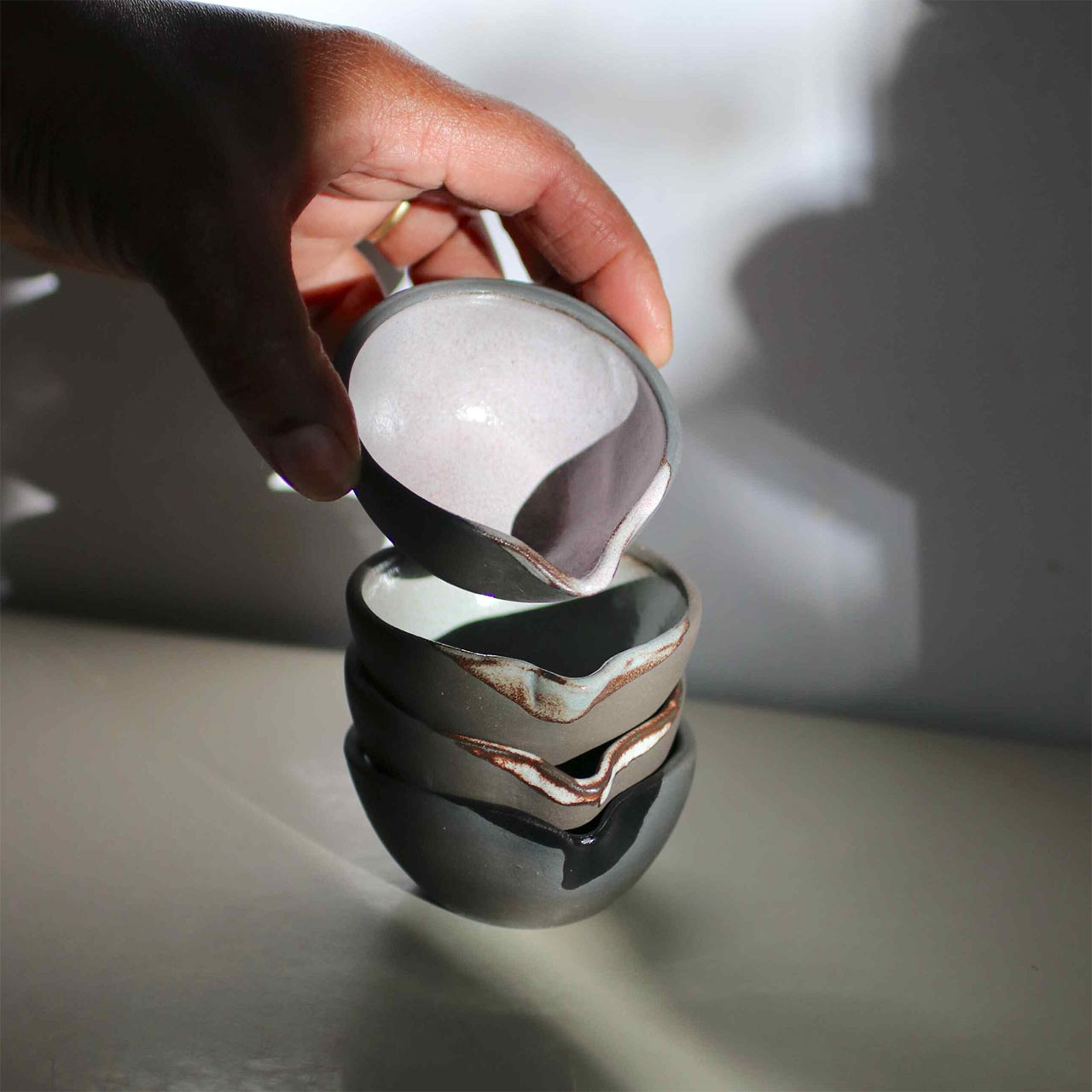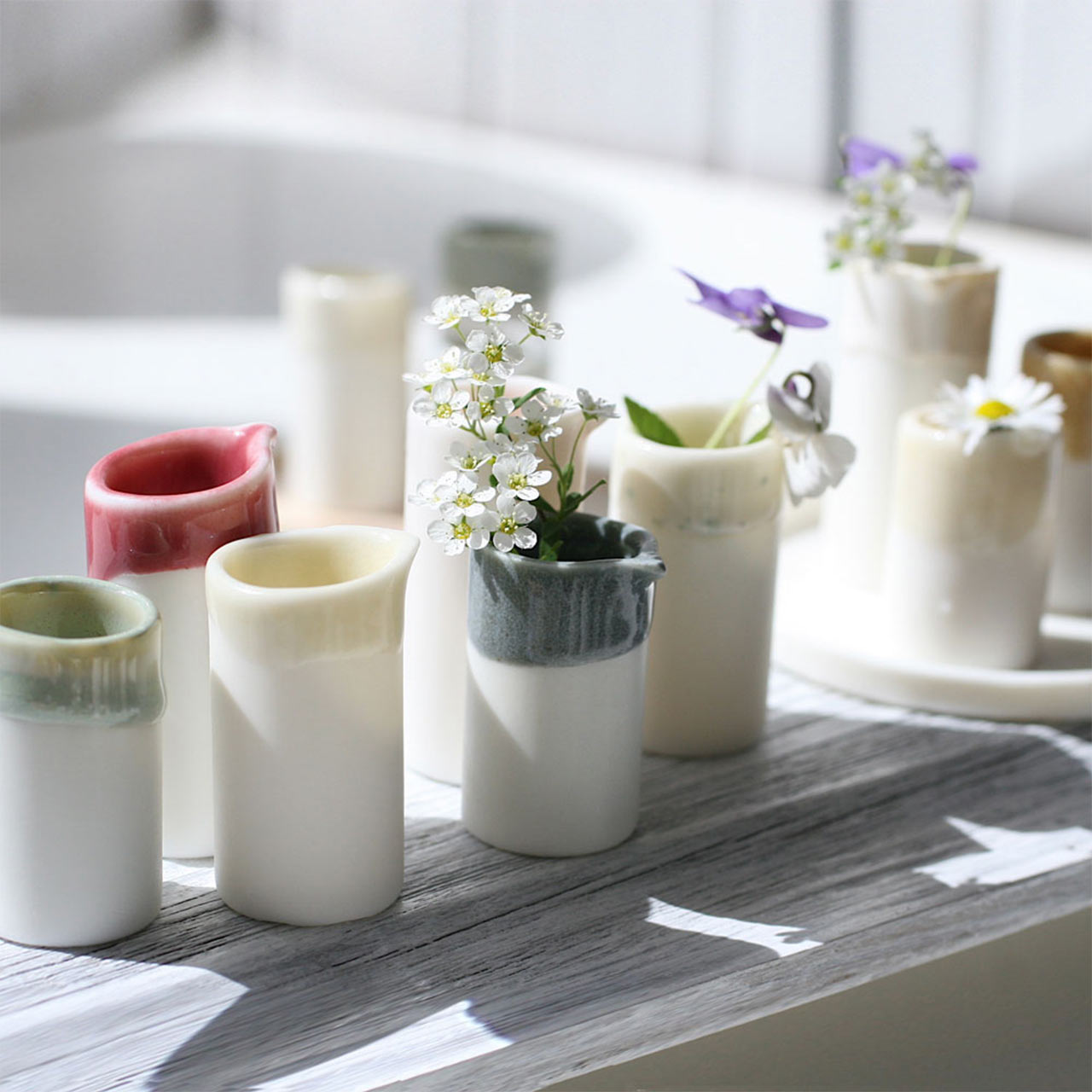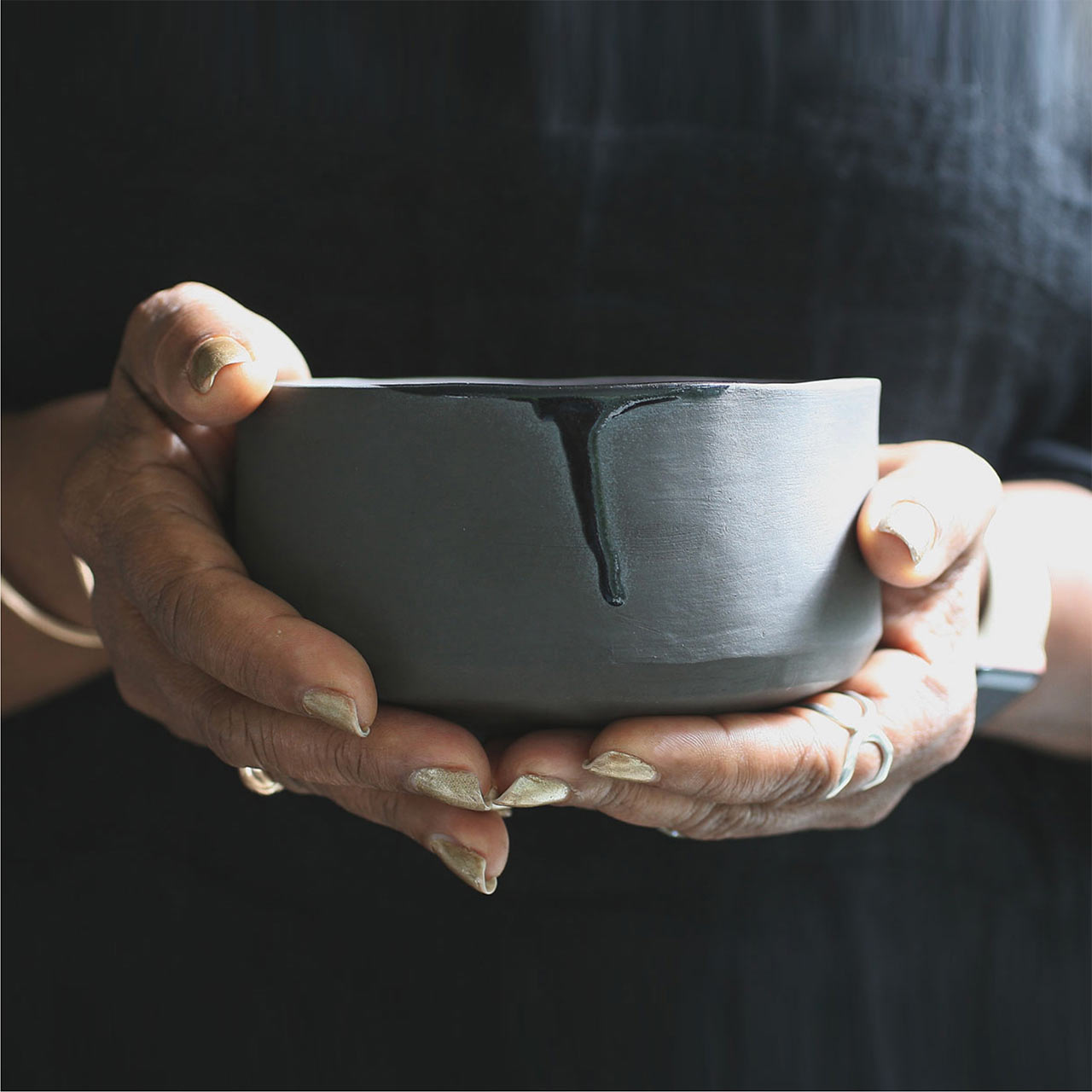 What can we find inside your studio?
'I'm in the process of setting up a new studio so I finally have the chance to arrange things the way I want. I'm planning to have a table just for hand building. An area for slip casting and an area for workshops. The kilns finally have their own room which means I don't have to worry about them being on while I'm in the studio. I'm still deciding where to site my trusty slab roller and I can finally have a space for my throwing wheel which I haven't been able to have out for years! Storage is important, for the clay, for pieces after their first firing and before glazing, for the finished pieces, for packaging and stationery and for glaze materials.'
Is your creative space important for your creative process?
'It is important. Designs and ideas pop into my head any time, any place, anywhere. I try and doodle something but I draw best with my hands. Until I have the clay in my hands it's difficult for me to develop my ideas and I need that space away from everyday demands to focus.'
Before Covid-19 you attended many events and you offered in person workshops. What impact does it have on you and your business that you can't do that at the moment?
'At the beginning of Covid when everything was being cancelled, including classes at the local Arts and Crafts centre where I also worked, I really thought it was going to be the end of my business. I'm so grateful that people embraced buying online, it's an act of faith on their behalf that they'll get what they're being promised through the images they see. I wouldn't have been able to survive let alone thrive without that faith and trust from customers.
I've really missed being able to meet customers and other makers. It's nice to spend time chatting to customers and getting their feedback and I really want people to be able to feel and hold the pieces before they buy.
Although I'm happy working away on my own, it's also a healthy balance to have contact with like-minded people. When you're self-employed, your colleagues are the other makers scattered around the country.  You get together at events a few times a year to connect and catch up. I've also missed the change of scenery you get from travelling to different towns and cities. Little adventures that refresh the soul.
Changing to selling mostly online has meant getting to grips with sourcing and making decisions about the right environmentally responsible packaging. It's also been an education in packing and posting packages in large numbers. The staff at my local Post Office have been really helpful and it's been great getting to know the staff behind the counter!
An unexpected source of joy is packing customers' orders! I love thinking about where things are going and making sure everything's packed snug and safe for the journey, whether the package is travelling for one day or several weeks to somewhere on the other side of the world. I love seeing customer's images of my pieces in their new homes.'
What are your future plans for Naked Clay Ceramics?
'I'm still buzzing with ideas for additions to the range. I'd also like to start adding more one off and sculptural pieces. I'm hoping, once Covid allows, to be able to take on someone to help with the everyday tasks so that I can focus on the making.'
What does slow living mean to you?
'Priority and perspective. Leaving full time employment so many years ago meant opting out of the usual consumer mindset and allowed me to really think about what's important. It's about deciding what, and sometimes who, to let go because it doesn't bring value to your life or peace of mind. Taking time to do things that contribute to a healthy mind and body. Taking time to enjoy outdoors and all the beauty nature gives us for free. Taking joy in doing things slowly, experiencing and enjoying that moment and the process. Creativity is such an essential part of slow living.'
What materials/resources do you use:
'Clay, camera, music, candles.'
Which makers inspires you:
'Magdalene Odundo, Masami Tokuda, Edmund De Waal, Malene Barnett, Effie Gibson, Shozo Michikawa'
How do you get in the mood to work:
'Candles, coffee, music, apron on.'
What's in your mug beside you:
'Decaff Sumatra Mandheeling'
How do you relax after work:
'Walking, running, listening to music and audiobooks. Going through knitting and crochet patterns I want to make as an excuse to rummage through my yarn stash! Spending as much time as I can in my favourite place in Snowdonia.'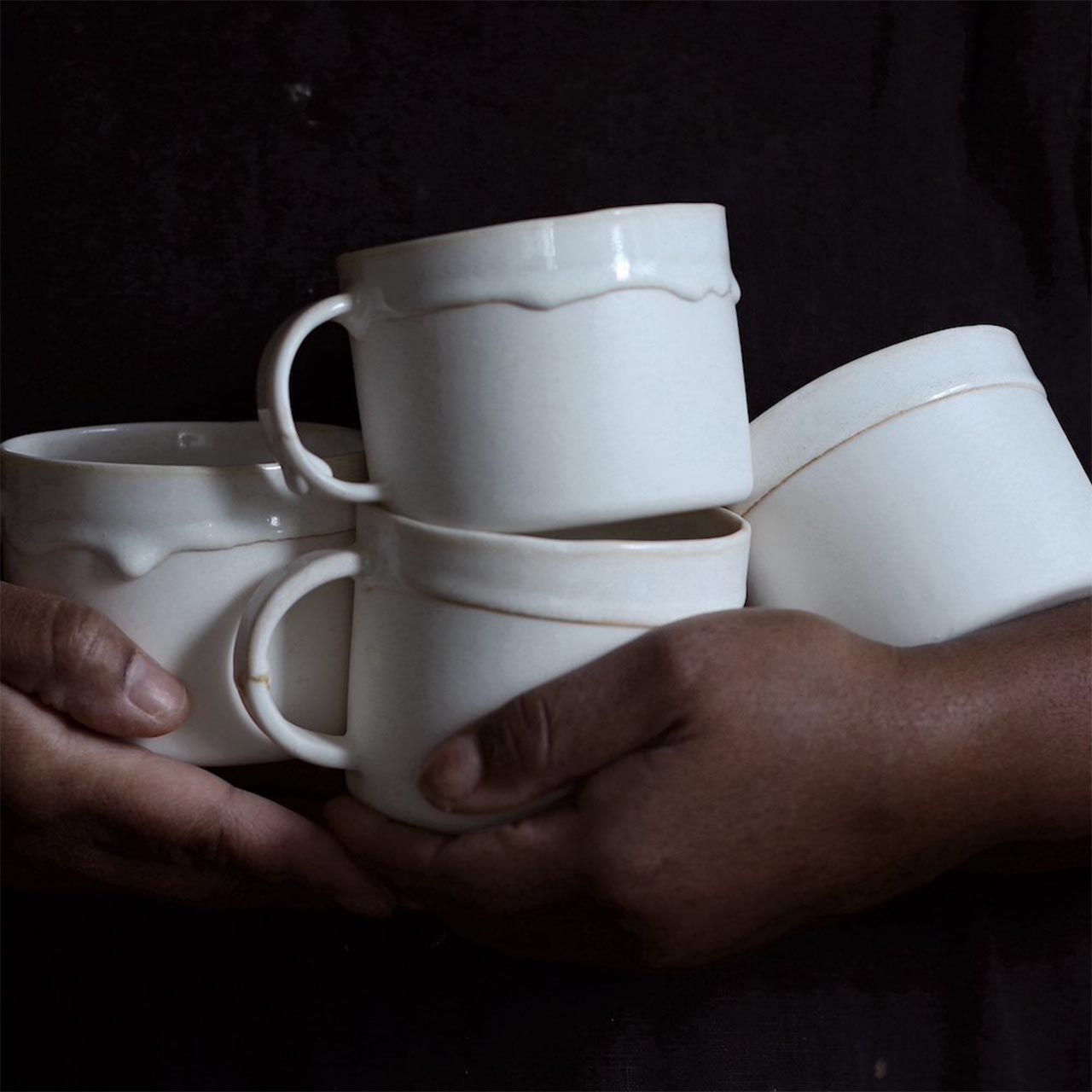 CARLA'S TRADE SECRET
Be patient and gentle with yourself
'Don't expect to succeed on your first try. Or your second try. Be patient and gentle with yourself. Every attempt gains you a little more. Everything worthwhile takes time to learn and achieve. And at some point, you'll be able to look back and be astonished at how far you've come without realising it!'