Runaround Retro | Ness Hale
'I love all aspects of the late 1950s and early 1960s era with its post war strong sense of family inspired values and increased devotion to domesticity. The children's clothing of this time depicts for me the sense of the simpler things in life. '
Ness runs her brands Runaround Retro and Vanessa Rose Accessories from her rural farm in the Somerset countryside. Her vintage children's and women's accessories are inspired by the 1960's, a period that depicts a great sense of family values and the simpler things in life to her.
We asked Ness about her love for all things retro, how she comes up with two seasonal collections each year, what her days look like as a small creative business owner and what she looks forward to most after lockdown.
words by Marjolyn Poutsma and Ness Hale / images by Ness Hale
Please tell us a little bit about yourself
'I'm Ness, the owner/designer of both Runaround Retro and more recently Vanessa Rose Accessories. We live in a large old rambling farm build 1620, on the outskirts of beautiful Bath which is where I grew up and went to school. After a long spell in London working various PR jobs and a lovely interior design one too, we moved our family of three kids, three Guinea pigs (one for each of them) and one puppy to Somerset which is where we are now.' 
How did you come up with the idea to start Runaround Retro? 
'The idea of Runaround Retro was a slow burner and started in my bricks & mortar shop which I ran with a great friend of mine. We had a vintage style tearoom and sold women's tea dresses and vintage children's wear, vintage paintings and books because we loved all those things! Thinking I needed vintage style accessories to go with the children's collection, I knew what I wanted but couldn't find it. Having always sewn clothes and bedding for my miniature dolls house mice and handmade peg people, I decided to restart my sewing machine and make some of my own children's accessories to sell alongside the clothing range. 
Using true vintage patterns, I worked my way through samples and orders whilst the shop was quiet which made so much sense time wise. It took off and people were able to come in choose something ready-made or pick up an order the following week. I began with true vintage fabrics picked up from flea markets, and linens and Liberty tana lawn from a dealer friend of mine. Sitting on a Cornish beach that first summer with my young family running around on the sand in bloomers and floppy hats, the name Runaround Retro was born.' 
Your accessories are vintage style and refer to the chic classic beauty of the 1960s. What is it about that style or period that you love so much?
'I love all aspects of the late 1950s and early 1960s era with its post war strong sense of family inspired values and increased devotion to domesticity. The children's clothing of this time depicts for me the sense of the simpler things in life. Playing outside with your friends, making a day special by going on a picnic with a basket ginger pop and hard-boiled eggs and grand days out to the beach with rugs, buckets and spades. Hats were a must for every baby and child and ribbons were worn in hair to hold back locks or fashionable tiny bobs. Children wore a lot of gingham dresses or skirts with sweet braces and frilled sleeved dresses which all for me create a feeling of romance, togetherness and family love. 
Women's post war outfits were becoming simpler with slimmer shapes influenced by celebrities and prominent figures in politics, think wonderful Jackie Kennedy. Her off duty simple outfits with head scarf, quality plain long sleeve tops always paired with capris or trousers and a gorgeous leather belt. My own 1960s mother was always in a two-piece towelling swimsuit, sunning herself on a precarious sun lounger and was never knowingly seen without a scarf on her head or huge round sunglasses. 
Audrey Hepburn, my other true style icon, also loved the simplest of outfit accessories like a silk scarf or simple headband. For me that epitomises true style: to gather influences from people you admire and then turn it into something you feel comfortable wearing yourself and work the whole outfit from top to toe. Outfits should put a spring in your step and make you feel good about yourself the whole day through. I carry about many a vintage basket myself but am still on the hunt for the perfect Jane Birkin one!'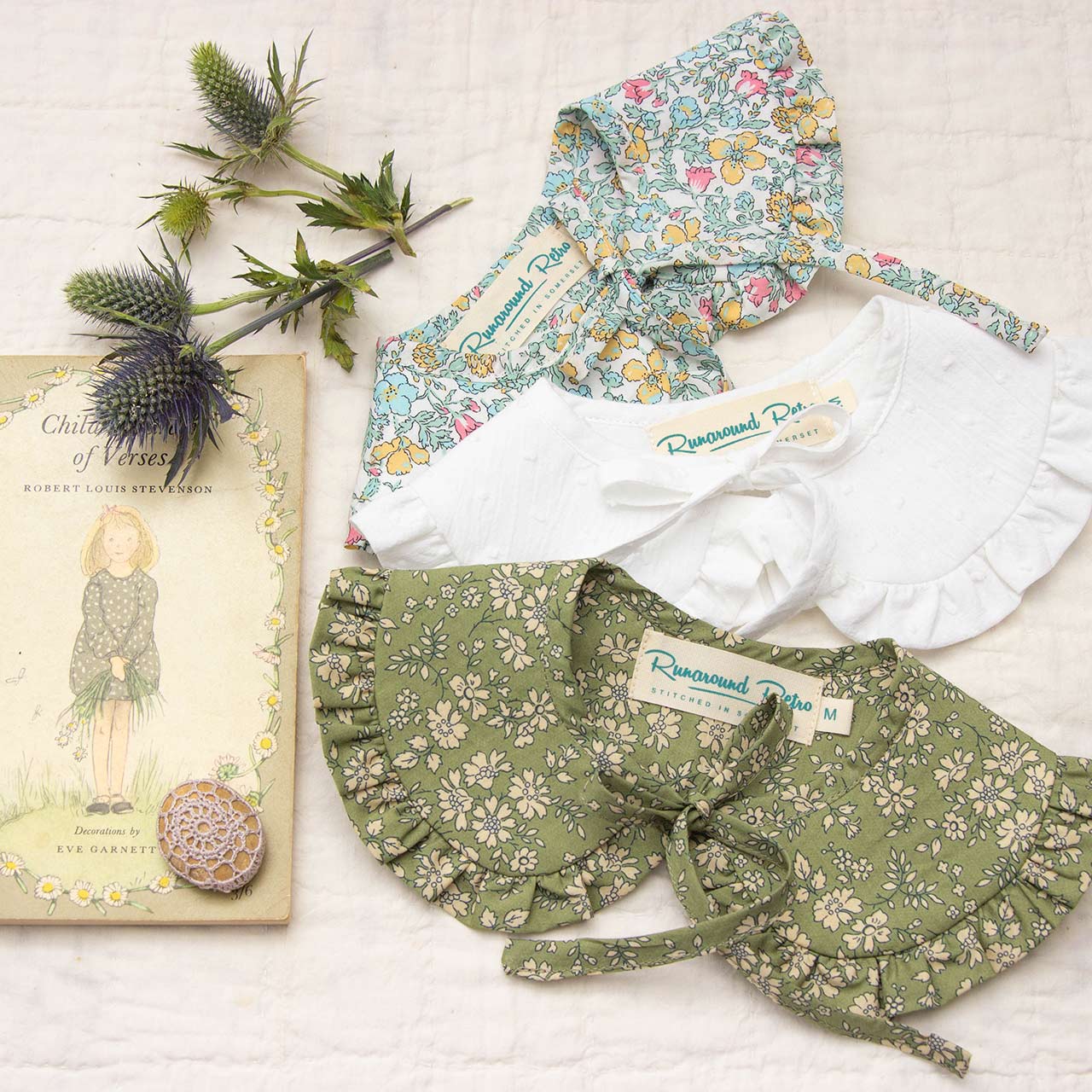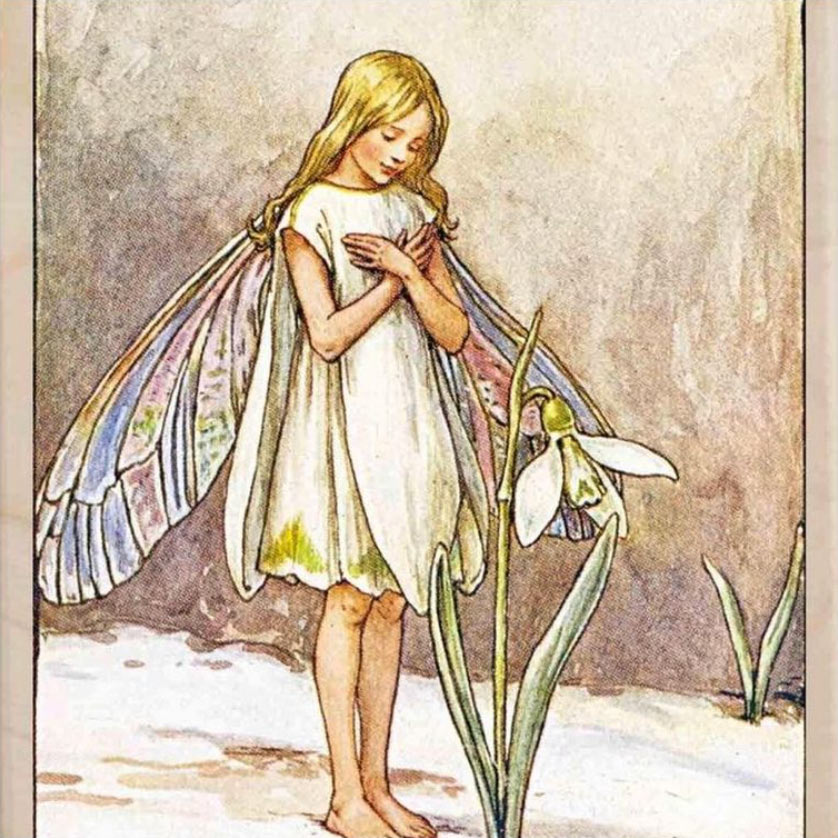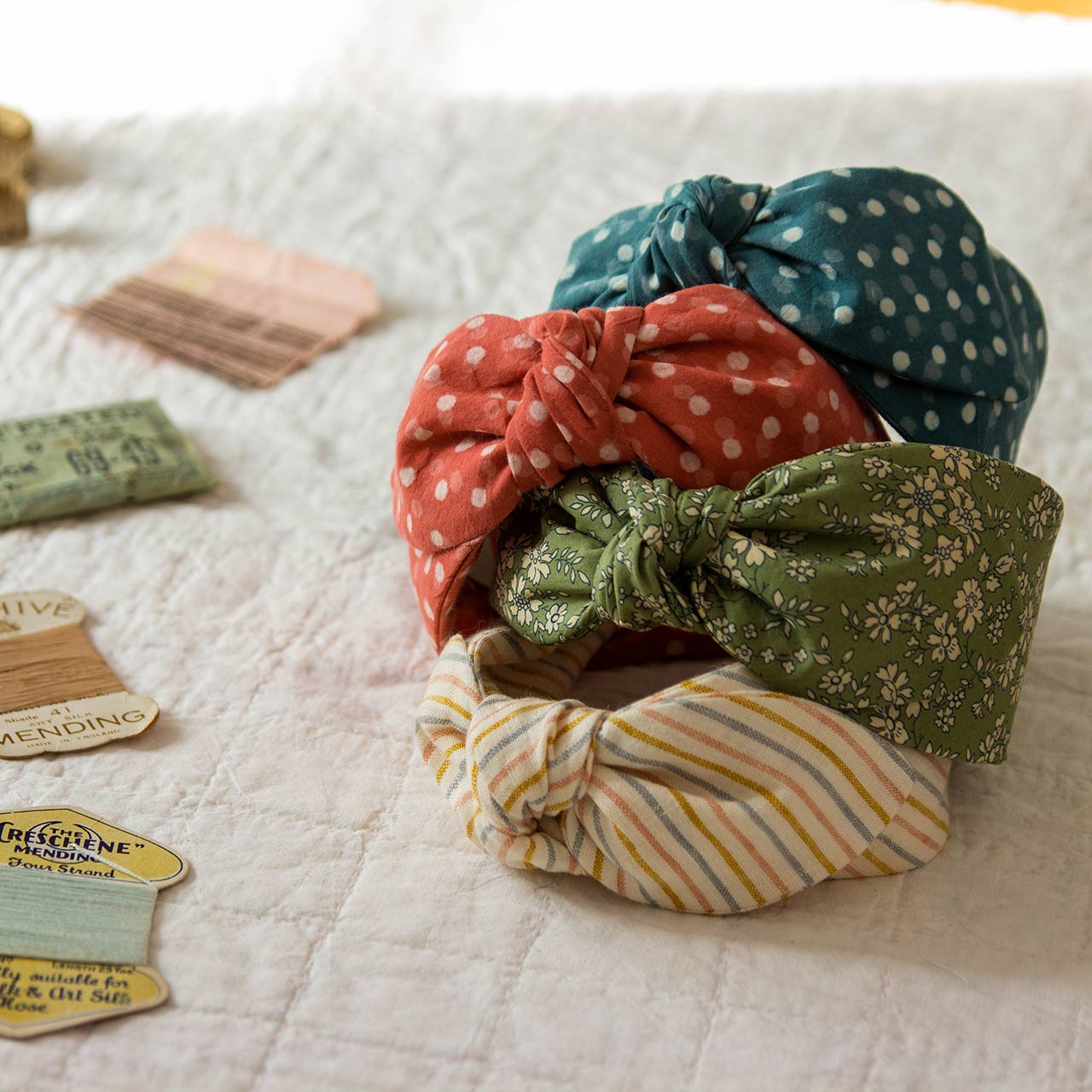 You launch a few seasonal collections per year. What does your creative process look like and how do the seasons play a role in designing and creating your pieces?
'My accessories range and personal style is developed with these retro styles in mind. I draw lots of ideas from vintage book illustrations and work closely with my wonderful pattern maker and seamstress Lizzie Britain who is far more technically trained than me. She is able to transfer my haphazard romantic designs into working reality. We stitch up every sample ourselves and tweak until we are happy that it works well. Although to be fair we are constantly tweaking every season because perfection is so hard to obtain!
We launch two seasons a year, Spring and Autumn, and use the colours of nature, the weather, flowers and foraged finds to create a mood board for each season. It's so exciting when we start with one or two colourways and then build from there. This Spring it's lush green grasses and rambling raspberry canes. We always look at past collections too and see what was really popular and worked well for our customers. We bring out special lines for celebrations days. We did the dearest range of vintage Suffolk puff clips with mother of pearl heart buttons for Valentine's Day and next month we will start working on our summer hats. Milly-Molly-Mandy style for the little ones and pretty floppy ones for the grownups.'
You handmake all your accessories on your rural farm. What does your typical day or week look like?
'My typical day starts with a small 'Yoga with Adrienne' stretch workout, breakfast and domestic duties. Then a short dog walk around our orchard…our dear dog is very ancient. I have a lovely light sewing room at the top of the house accessed by a tight circular staircase. By 11am I am up there and settled on the computer to answer queries, email customers or other small businesses, work on the website or new projects and check orders. I print everything out on recycled paper using both sides and always write a daily to do list on my work room chalk board. I also love my notebook to scribble anything in I want to try and remember or look back on. My current book is from Forget Me Not Originals bound in vintage floral fabric. It brings me joy every time every time I open it. After lunch, which is often homemade soup and crackers, I sew and sew and sew. I switch on the radio or listen to a podcast and sew till about 5.30 pm-ish. Then it's back downstairs to our doggie and family, checking dye baths and cooking a family supper. 
My week is planned out by the day: Monday is for ordering fabric and marketing, Tuesday working on pieces over zoom and then later driving over to Lizzie to pick things up and swop over new work where we have an 'under the apple tree box' system (something we worked out because of the lockdown: I leave a box of work under the apple tree in her garden and pick up the work she's done). Wednesdays and Thursdays, I sew and work on the dye baths with kitchen food scraps onion skins or avocado stones. Currently I'm waiting to gather nettles from the wayside and farm fields, the rest of the week is sewing until Sunday when we down tools and relax!' 
Where do you get your fabrics from? How does sustainability play a role in choosing your materials? 
'The only fabrics I work with are natural linens, hand blocked printed khadi and organic cottons, Liberty tana lawn and bamboo silk, all purchased from small businesses that I have been lucky enough to work with for years. At the moment, I'm dyeing a lot of my cottons and bamboo silks with kitchen scraps and nettles foraged on the farm. I'm in love with the depth of colour that can only be achieved with the natural dye process. These dyed fabrics will be made into pretty accessories and will join the accessories range as a small curated beautiful addition. Sustainability is at the forefront of my mind with every choice of fabric I make, where it comes from to how it's been made. All our packaging, labels, cotton drawstring gift bags, postcards and paper for the business is recycled, biodegradable and reusable. It's incredibly important to me to tread lightly as I can on Mother Earth. To be able to stand up and say I really tried my best to the next generation.'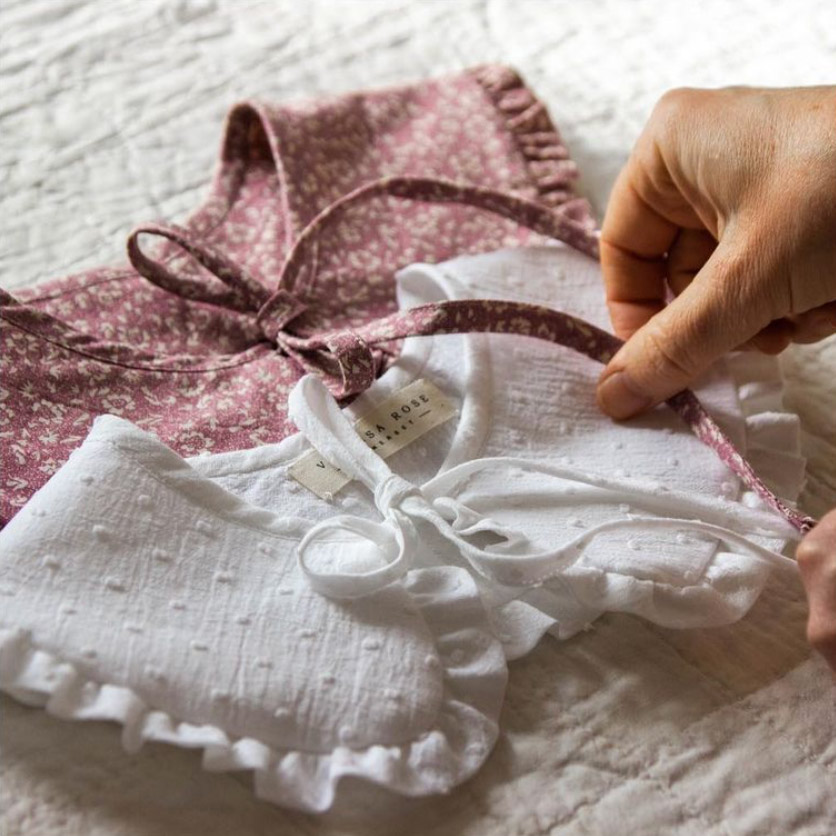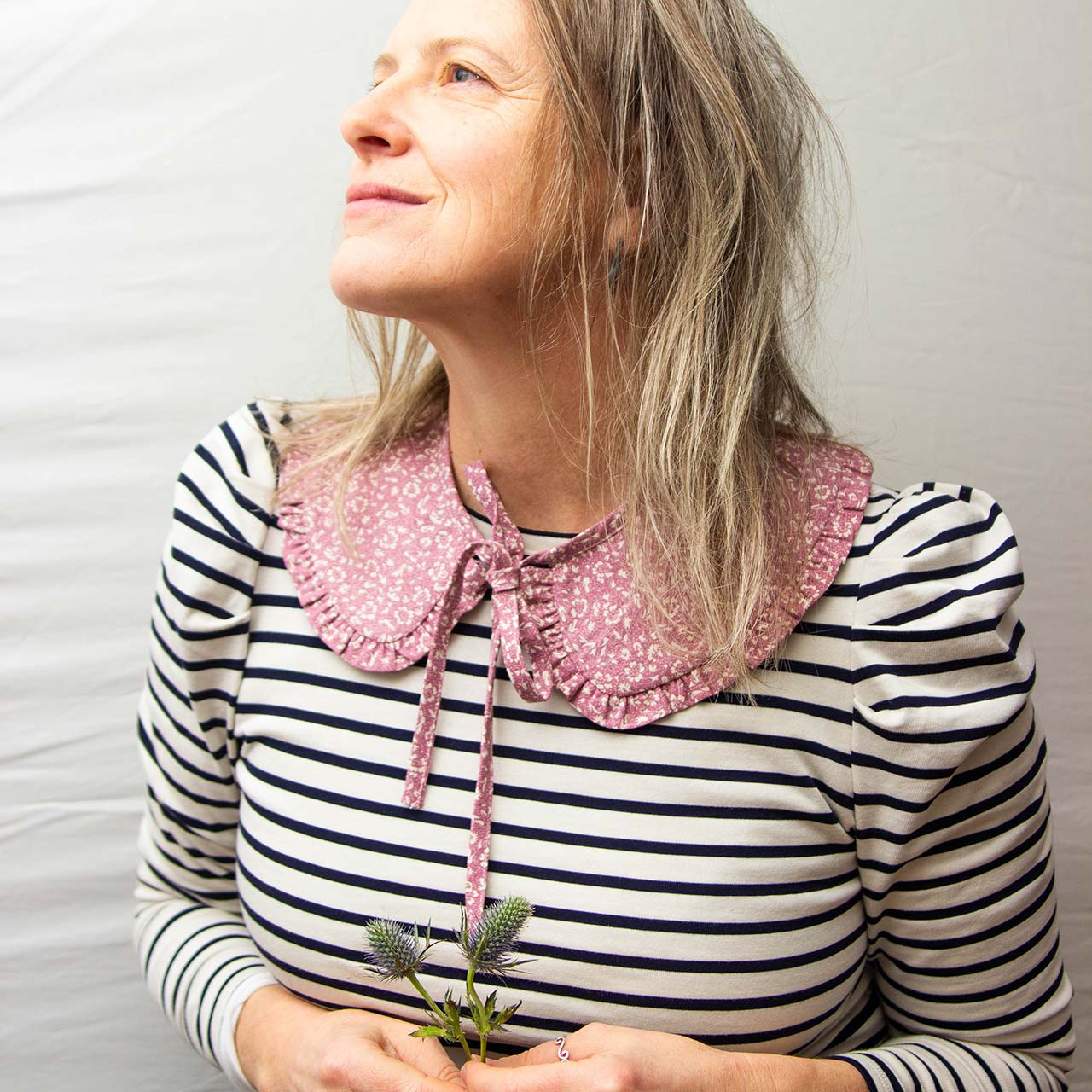 Last year, you started a new brand for your women's accessories: Vanessa Rose. Why did you decide to separate the grown-ups from the little ones?
'The women's brand started as a lot of my customers were wearing their children's Runaround Retro Alice bands and kept asking me for bigger ones for themselves but in the same matching fabrics so Vanessa Rose (my name) was born. I enjoy working on one brand and then the other – I get more design scope when they are separated. There is no fabric wastage in the studio as we endeavour to use every last scrap of fabric for each brand and the majority of the fabrics cross over from one brand to the other.'
What do you struggle with the most in your business? 
'To be honest, I genuinely love everything I do for the business, though I struggle with the technology side of things. I'm always willing to learn and at the moment I'm practicing making reels on Instagram, as social media is super important for any small business, especially during these lockdown times. Working on the website is a slow process too and requires a lot of tea and then moving into hot chocolate as the day gets darker and I'm still working on listings.'
What do you enjoy the most about what you do? 
'On the plus side my absolute favourite thing to do is a large fair. Anyone who's attended a really big well planned handmade and/or vintage fair will know the excitement of walking into a marquee of beautifully curated wares, plants and flowers. I get really inspired by floral arrangements, the wilder the better. I love getting together with the other maker/designers and talking about their makes. Also, vintage books, art work and true vintage children's wear all build a truly inspirational picture in my mind which I use for the next range I will produce. It's wonderful to meet my old and new customers face to face, help them choose items, wrap things up beautifully for them and show them how to style a headband or hair accessory.'
What are your future plans for Runaround Retro?
'Future plans for both brands are to get back to the fairs (COVID allowing) and reveal the two collaborations that have been going on here behind the scenes which I'm super excited about. This year I want to build up our customer base via the website and newsletter and sell to more small shops when they reopen across the country. Small shops can purchase small minimum orders from me and top ups throughout the year. I know that's one good way of keeping them alive.' 
And finally, what does slow living mean to you?
'Slow living to me means consuming less, wasting less and choosing well. It means taking a slower approach to everyday life. It means enjoying each activity however simple. From making the best cuppa to sewing the straightest line and giving it some gravitas. I think that's also why the dye pot is calling me too – the slow gathering of dye stuff and the stirring of fabric. Slow living encompasses all the sewing I do on my machine, it's grounding and almost meditative. When I'm producing the same headband for a range over and over again, I love to see if I can make the next one just that bit more beautiful than the previous one.'
What materials/resources do you use: 'I am currently still working my way through original vintage cotton thread that I was lucky enough to be given. A huge box arrived from a friend's deceased aunt and I have been using them ever since. My best resource reference is Pinterest. I love it for micro trends and vintage photos. I also collect books from second hand shops and flea markets, anything that I'm into at the time of hunting. Outfit and accessory inspiration from vintage illustrations and photos are invaluable.'
Which maker inspires you the most: 'Small businesses that inspire me are photographer IG accounts for Runaround Retro and any florist or gardening ones for Vanessa Rose. If I had to name one small business that inspires me it is probably @rudyjude for her commitment, sewing tips, experimenting and aesthetics.'
How do you get in the mood to work: 'I am literally always in the mood for work, I love it! Really honestly, it's true.
What's in your mug beside you: 'In my cup beside me is always herb tea with a slice of lemon and a large glass bottle of fizzy water.'
How do you relax after work: 'Relaxing for me is quite hard – I struggle to turn off but do love a TV drama series, the grittier the better! Peaky Blinders is my all-time favourite, though any good period drama will grab my attention. I love to all choose a family film and watch in front of our fire and our proper big TV, but I still don't actually know how it work it myself!'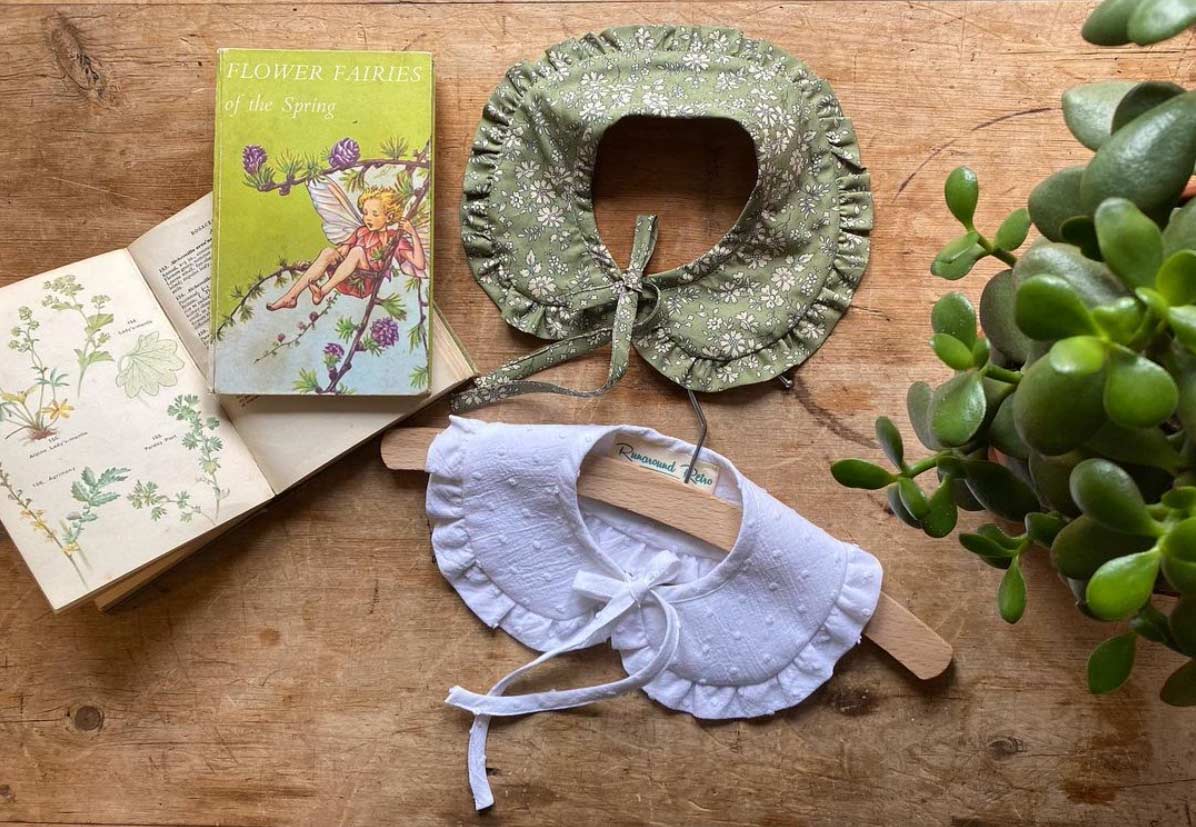 NESS'S TRADE SECRET
Believe
'My tip for any small business is: BELIEVE you can do it and listen to your customers.'