9 Eco-friendly Jewellery & Accessory Brands With A Slow Living Vibe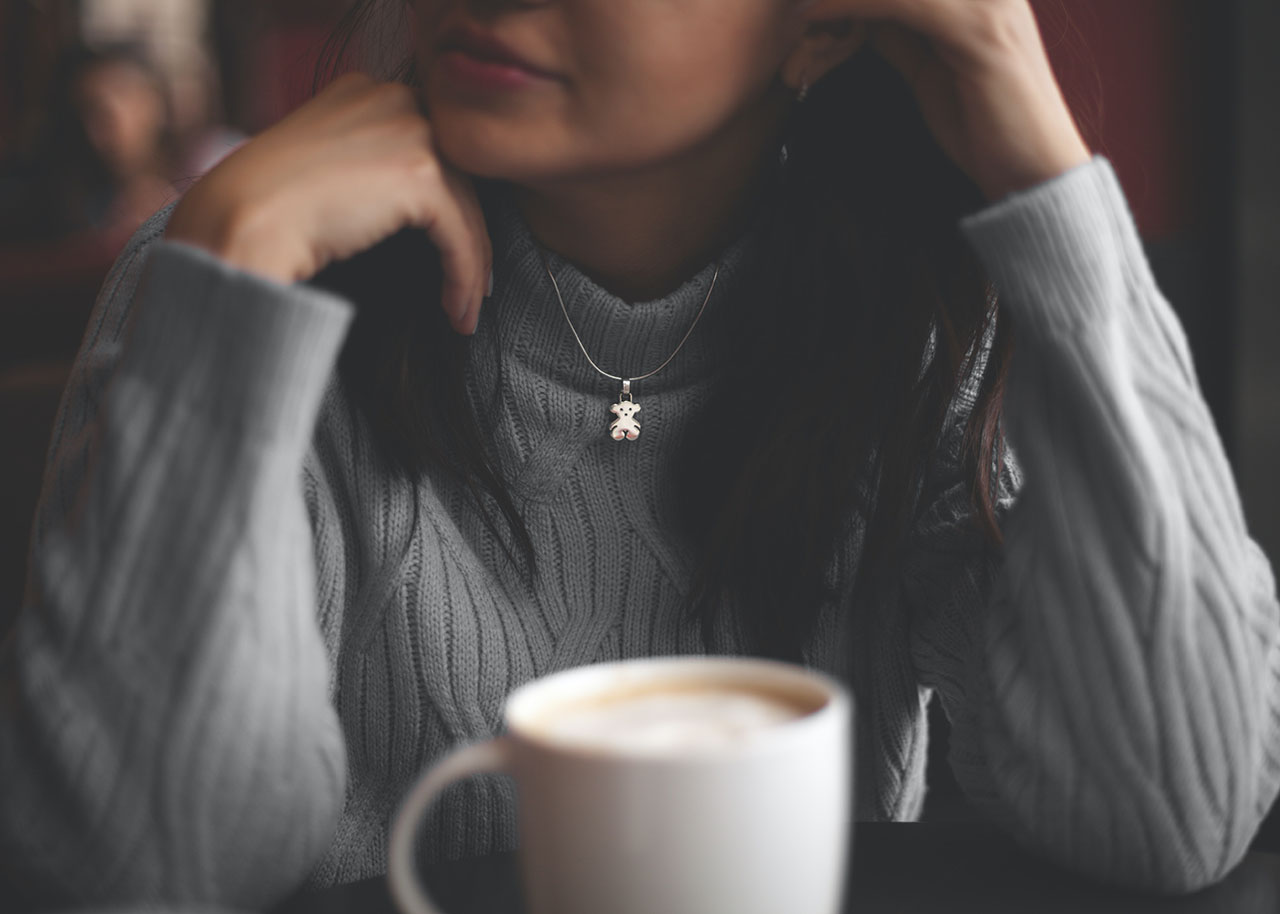 Remember the commitment you made to yourself. 
~to slow down
~to embrace a meaningful life
~to focus on the priorities that matter most to you
This looks very different for every member of the slow living movement. It's supposed to. What makes the movement so beautiful is that we're all from different walks of life. But, we are all connected by a common thread – the desire to live with intention and purpose. Whether you live in a cosy cottage or a plant-filled apartment – slow living is accessible to us all.
How can you incorporate slow living into your accessories?
Many of us are aware of the negative impacts the jewellery industry has had on our planet. This includes dangerous manufacturing conditions, the environmental effects of hazardous chemicals used and unfair pay with miners in some regions of the world earning as little as $3 per day.
Sustainability in the jewellery industry has seen a lot of progress over the years. And, you want to be a part of it. 
More attempts are being made towards an environmentally-conscious means of jewellery production. Countless brands are using recycled materials and fair trade practices. But, many continue to ship orders all over the world and are still in pursuit of fast fashion trends.
Where to find eco-friendly jewellery pieces for the 'slow living' woman?
It can be hard to pick out ethical jewellery pieces and accessories. Especially when everything looks shiny on the surface. Here are some questions you can ask yourself when you shop:
~are the products made local to you?
~are the products handmade?
~are there any natural materials used like linen and cotton?
~are there any recycled materials used like recycled silver and gold?
~does the brand adhere to fair trade practices?
~is the small business a member of the Responsible Jewellery Council (RJC)?
To help you get started, we've curated a list of stunning sustainable accessories from the loveliest eco-friendly jewellery & accessory brands.
1. Double coin necklace made with real flowers
Flower & Fable handcrafts all pieces in a small studio in Ludlow, England. Feel close to nature with these beautiful pieces made from real flowers. This statement double coin necklace captures the true language of flowers. Your necklace arrives in eco-friendly packaging wrapped with hand-dyed bamboo silk ribbons.
~Connect with the lost art of wax casting
~Includes a postcard detailing the botanical folklore of each piece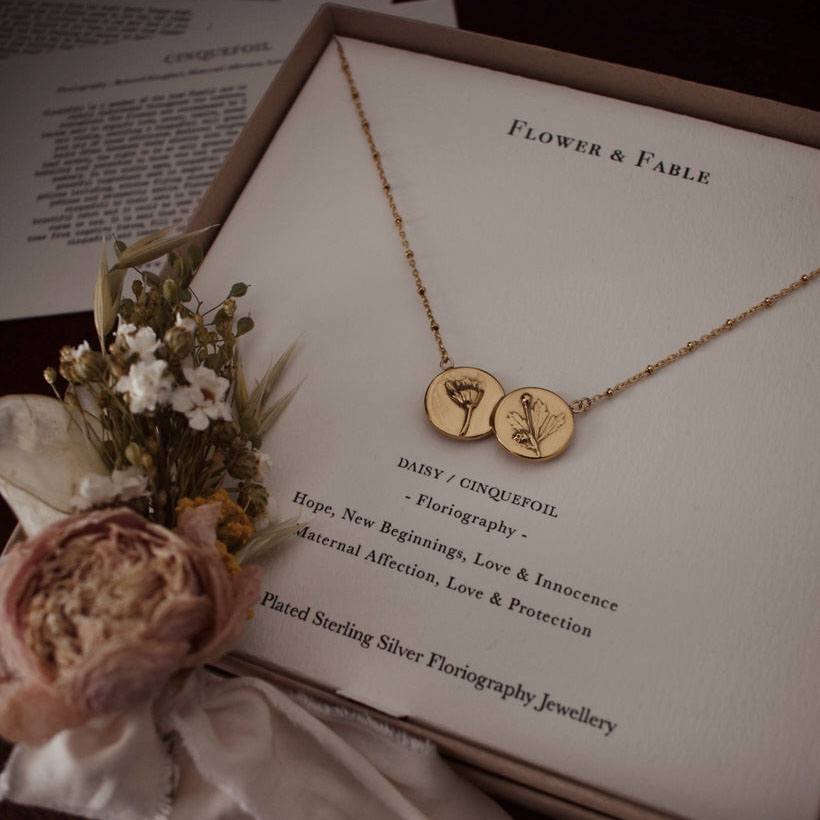 Double Coin Necklace (£157) – Flower & Fable
2. Sol circle necklace in recycled silver
Made from 100% recycled silver, the Sol Circle Necklace goes with any look in your wardrobe. Crafted with painstaking attention, each piece is hand-pierced, hammered, and soldered. No more rusty necklaces or repeat orders. Pair with the Sol Circle earrings or bracelet to complete your look.
~Made in a local studio in Sussex
~Pendant available to buy separately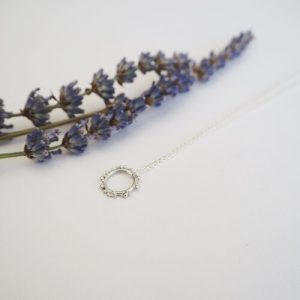 Sol Circle Necklace In Recycled Silver (from £45.00), Kate Wainwright
3. Vegetable-tanned leather belt bag
You need the perfect bag for your nature walks or trips to your local farmer's market. Made from supple vegetable-tanned leather, your belt bag is one with mother nature. Your hand-stitched bag also has a refurbished stirrup leather handle.
~Magnetic fastenings to keep your essentials safe
~Worn across your body or around your waist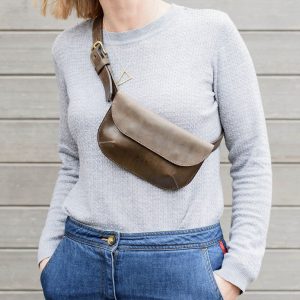 Belt Bag (£250), Red Bike Leatherworks
4. White freshwater pearl statement ring
Inspired by the wonders of the natural world, this ring sets you apart. The large white pearl shines at the centre of your ring as an ode to the ocean. Enjoy this addition to your jewellery collection for many summers to come.
~Each piece is made-to-order to ensure no materials wasted during the creation process
~Handmade in London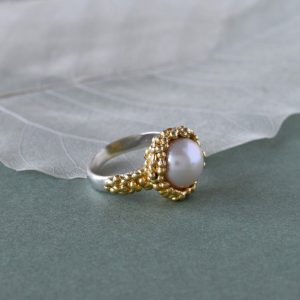 White Freshwater Pearl Statement Ring (£160), Militza Ortiz
5. Entwined birch twig ring
Crafted from a fallen branch, this ring compliments your jewellery collection. Become one with nature through the organic knots and textures captured in your ring. This token from mother nature is a family heirloom ready to pass down. Handcrafted with love and attention to detail, this ring is perfect for tree-lovers.
~Made from a fallen branch from a wild birch tree
~Arrives in eco-friendly jewellery packaging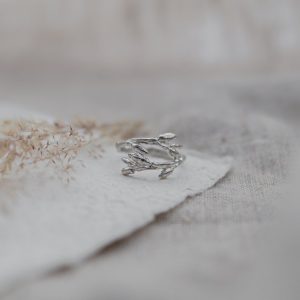 6. Handmade rose leaf necklace
This gorgeous rose-leaf necklace is handmade in Hatton Gardens, London. There is a subtle curve in your pendant which catches the natural light, symbolic of a leaf in the wind. Out for a stroll in the country? All packaging comes in a letter-sized box so, you won't have to worry about missing your order if you happen to be out.
~Traditional leaf shape elevates your sustainable jewellery collection
~Plastic-free packaging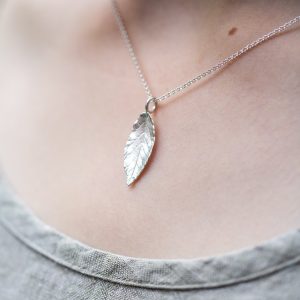 Sterling Silver Rose Leaf Necklace (from £55), Grace & Flora
7. Compact duck umbrella from recycled plastic
Summer weather in the UK is unpredictable at the best of times. This umbrella fits into any tote bag or backpack that you carry around with you. The canopy is made from 100% recycled plastic bottles with a sustainably sourced birch wood handle. Comes in a fun print with pineapples, mangoes, passion fruit and more. A must-have summer accessory!
~Strong steel frame which stays strong against winds
~Automatic open button so you can whip out your umbrella as and when you need to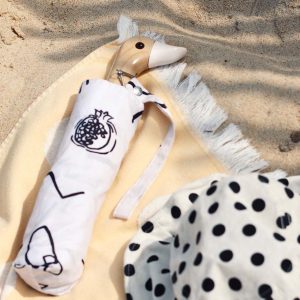 Fruits & Shapes Compact Duck Umbrella (£36), Original Duck Head
8. Moonstone teardrop earrings
Moon river, wider than a mile – we're doing summer in style. These teardrop-shaped rainbow moonstone earrings are handcrafted in South Wales. The gemstones are ethically sourced from trusted manufacturers. Your earrings are made from recycled scrap silver which is a great sustainable choice.
~Rainbow moonstone reflects a range of colours from red and yellow to blue and green
~Arrives in an eco-friendly gift box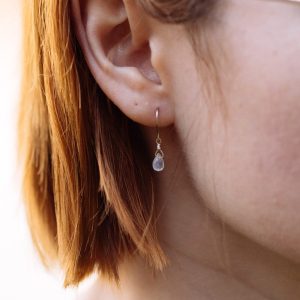 Moonstone Teardrop Earrings (£38), Honeydew Club
9. Audrey tote linen bag
Inspired by the swimsuits of the 1960s, the Audrey Tate tote bag is a classic addition to your wardrobe. Every bag is made from sustainably sourced linen with an unbleached calico lining. Your bag is not only durable but spacious too. It has plenty of room for your work laptop or your weekend getaway to the country.
~Collected scraps used to create the logo
~Made locally in Somerset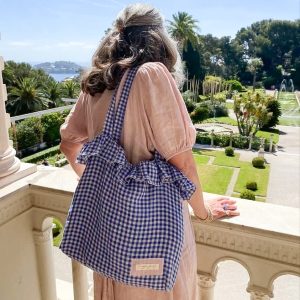 Audrey Tote Bag – Bright Blue Gingham (£58), Vanessa Rose
Join the slow living movement
There are many small sustainable brands out there that align with your slow living values. It can be overwhelming to find out about them. 
Sign up to our monthly 🐌 Snail Mail to receive gentle reminders to slow down in our busy world, seasonal inspiration and more. 
Monica Kauzeni builds content marketing systems for lifestyle & beauty entrepreneurs so they can do what they love and don't have to worry about unpredictable cash flow. 
Would you like to receive inspiration from The Slow Living Guide regularly?
Sign up for the newsletter here.
Transforming your living space into a warm and cosy haven doesn't have to come with a hefty price tag. In this guide, we explore practical and cost-effective measures to make your home snug without breaking the bank.
Revamping your home's exterior not only enhances its charm and comfort but it also elevates its curb appeal.
Practical, guilt-free tips to make sustainable Christmas gift shopping a mindful, purposeful and enjoyable experience.